Bayer has established a new 8,000-square-meteroffice in the iconic Parkview Green Building in Chaoyang District, Beijing, home to its Pharma, Consumer Health, Crop Science and Corporate business units.
Inspired by Bayer's scientific approach to improving lives and the planet, Gensler took the same approach to designing their workplace using The Science of Happiness. By understanding the cause and effect of happiness, we were able to design spaces and experiences that can directly influence the users within the space.
"People are more creative and productive when they are happy, and it's The Science of Happiness that inspired our concept for Bayer's new Beijing office."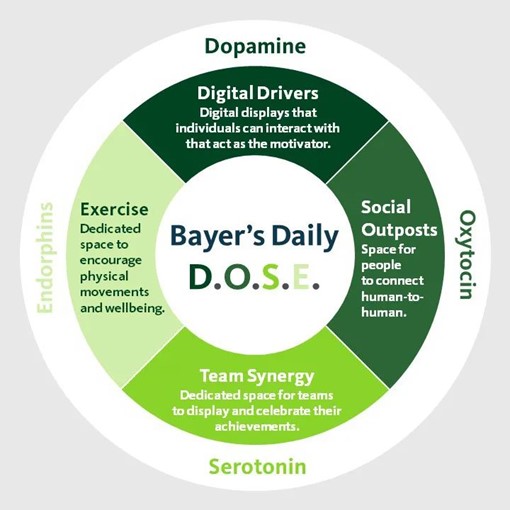 A Daily D.O.S.E.
There are four main chemicals that influence one's state of happiness – Dopamine, Oxytocin, Serotonin and Endorphins (D.O.S.E.) – that motivates, encourages, stabilizes, and sustains people every day.The daily D.O.S.E. of the Bayer workplace was designed as a set of strategic motivators that inform space planning and user experience with every intention to impact the happiness of users and in return have a positive impact on the business.
D – Digital Drivers – Digital displays are conveniently positioned within each pantry which is centrally located in each neighborhood. The digital display is an information hub that shows wayfinding directions, seat booking, community events, daily words of encouragement, the latest and greatest innovations by Bayer and more. The interactive digital drivers are designed to increase Dopamine levels and provide instant gratification. They are programmable for individual room or synced for single event.
O – Social Outposts – These are areas dedicated to human connection, where people can come together one-on-one or in larger groups to socialize and get to know one another, increasing Oxytocin levels and building relationships. Each neighborhood has two to three outposts varying in size.
S – Team Synergy – Dedicated team spaces are created to increase Serotonin levels, where teams can display their achievements or photos of fun moments to build a sense of team spirit. A community board has been designed into the pantry of every neighborhood throughout the office.
E – Exercise – Designed to boost Endorphins, it is critical to design dedicated spaces that encourage physical movement. The active spaces include a 150-square-meter gym with changing facilities

A High-Tech Office Fit for the Future
A vibrant illuminated feature wall attracts the attention of users from afar as they exit the elevators from across the atrium space, drawing them towards and into the reception area.
The use of perforated metal and light represents innovation and future-forward along with a strong brand presence throughout the entry experience. Vegetation and a touch of wood finish provide natural elements and a sense of life to contrast the innovative design elements.

Work Café – a Fully Flexible Space
A visitor's experience doesn't stop at the reception and waiting area. Visitors are encouraged to enjoy a coffee at the adjacent beverage bar and to explore more about the company – whether it is uncovering the history of Bayer located directly behind the reception wall, learning about Bayer's scientific research on the terrace, or seeing the latest achievements on the honor wall within the work café, the front-of-house is designed to be an experience for users to self-explore and discover more about the company.
A work café sits adjacent to the reception and blurs the lines between the front and back-of-house. It is a place where staff, vendors, and clients can meet, socialize, and collaborate or simply enjoy a cup of coffee or tea. The location of the work café is also unique in that it has been designed to be fully flexible space. It is adjacent to a smaller training room and can be easily transformed into a large multi-purpose training room or town hall space.
In the office area, the floor is divided into neighborhoods across the four towers, and they are connected by two bridges where color palettes inspired by Beijing elements provide a unique flavor for each. The open office is designed as agile workspace providing users with the choice and flexibility of where and when to work based on the task at hand.
Each neighborhood has a central community outpost, each with a subtle design feature based on traditional Beijing siheyuans providing a sense of comfort as well as a sense of social belonging.
Each pantry of Bayer's new office is equipped with a large interactive wayfinding and booking display to help users navigate through the large floor plate. These pantry digital screens also serve as communication boards for the entire office.
Additional social outposts are located throughout the space as well as on the terraces and bridges where teams can causally meet to discuss projects or simply enjoy a coffee together. The bridges, with a strong brand presence, creates an innovative, energetic, and fun community space, with eye-catching digital displays that can be seen throughout the building atrium.
Escapes such as yoga and meditation corners can be found on the quieter areas of the terraces to allow users to relax and re-center. Parts of the terrace are dedicated to more active fitness activities such as ellipticals or stationary bicycles to increase the endorphins and re-energize.
A key component to the design of the office is the Bayer brand. Bayer has an extensive history, is rich in innovation and has much to be celebrated. Throughout the office there is a strong use of brand colors and numerous locations where products or innovations are celebrated. Custom environmental graphic installations help to make these achievements a part of the office experience for both users as well as guests.
The Bayer Beijing Office is designed to promote happiness, creativity, and productivity of employees through a dynamic workplace that brings happiness and positive experience to all users.
Photo Credits: CreatAR