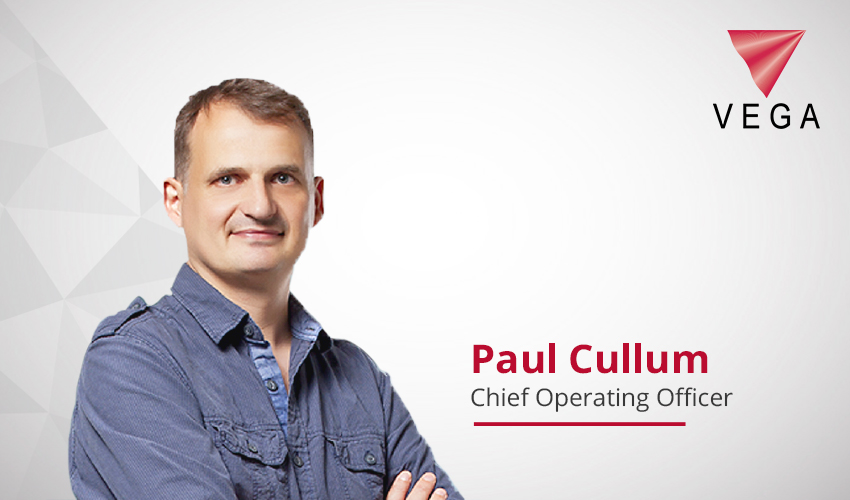 (July 7, 2020, Hong Kong) Vega Global, one of the market-leading end-to-end providers of audio-visual and video collaboration solutions across the Asia Pacific and Europe regions, announced the appointment of Paul Cullum to the role of Chief Operating Officer for the group. In this role, Mr. Cullum will be central to restructuring and transforming the Company's business operations, improving efficiency and building upon the Company's strong foundation for achieving growth. Mr. Cullum officially joined the Company on 6th July, 2020.
With extensive experience spanning over two decades, Paul brings valuable leadership to Vega Global's management team. He will ensure Vega is focused on effective recruiting, professional development, performance management, and employee retention. Plus, he will maintain and build trusted relationships with key customers, clients, partners, and stakeholders.
Paul has 25 years of experience working in the AV industry and has overseen some of the largest technology install projects in Asia. He is conversant in the fundamental principles of technology and communication systems across multiple engineering disciplines, knowledge levels and is a BICSI Registered Communications Distribution Designer (RCDD). His experience is not just in leading and building teams, but also in formulating and managing annual budgets, multiple projects, and inspiring staff to fulfil their potential. He is also a seasoned communicator with board-level executives and contractors. In 2012, he became the founding partner of Coherent Technology Consulting Limited, a company specializing in audiovisual design consultancy with offices in Hong Kong and Las Vegas, and Paul oversaw the audiovisual design of theatres, arenas, and hospitality resorts. He was also the force behind the growth of the company in Asia from 5 local employees to more than one million US dollars in annual turnover. In 2018, he joined Verrex (Asia) Ltd as the Asia Pacific Director and was tasked to standardize and unify their APAC operations.
Mr. Matthew Deayton, Vega Global's Deputy Chief Executive Officer, commented, "I would like to take this opportunity to welcome Paul to the team. I wish him all the best and am looking forward to working with him as we continue to grow our business across all regions."
Paul also commented on his appointment, "I am delighted to join Vega Global. Vega is the Premier AV System Integrator in the region and to be part of this team at this time in its journey is a great honour. I look forward to the exciting challenges ahead as we continue to advance the AV industry by implementing greater standardization, professionalism and quality." He will join the senior management team and will be based in our Hong Kong office.