(Hong Kong, 16 December 2015) — Hong Kong-based interior design studio, via. architecture has unveiled its latest project, designing the interiors for Vanimal, an innovative vegetarian restaurant in Kennedy Town. Working closely with owner and chef Paul Hui from the famed private kitchen Fa Zu Jie, the award-winning studio was tasked with designing a 30-seat vegetarian restaurant where quality and freshness characterise both the design and the food.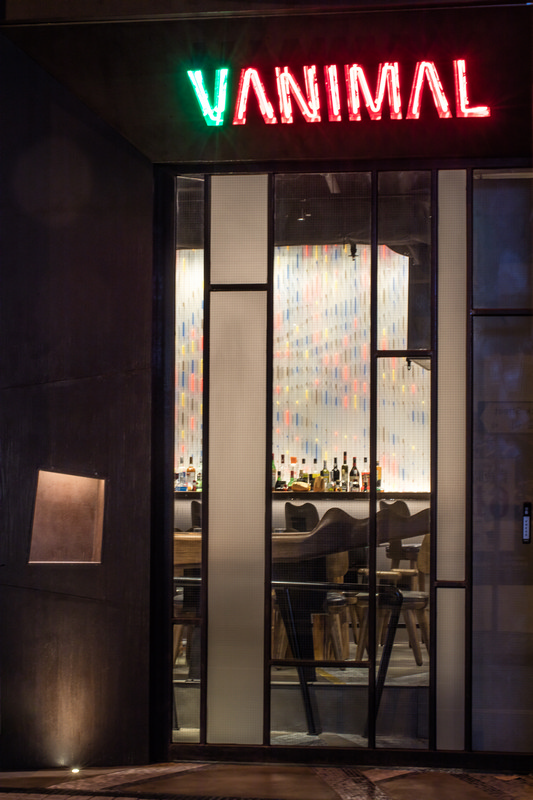 "VANIMAL" describes both the vegetarian menu and the guests' instinctive, animal-like appetite for meat-free cuisine.
Bringing the opposites-attract concept to life, via.'s principal designer Frank Leung studied the natural silhouettes of plants and animals closely. To create an urban, creative setting, he drew inspiration from iconic art works by Jean Michel Basquiat, as well as Antonio Gaudi's Park Güell. Since the restaurant's name combines opposing elements, the interior design juxtaposes vibrant colours and plush textures with raw, industrial materials and concrete surfaces to play with contrasts and create a sense of energy.
As guests enter, they are greeted by a five-metre long timber sculpture that depicts the mythical low-lying Vanimal. As well as defining the dining area, the curved sculpture doubles as a free-standing counter. The open kitchen and bar anchors the restaurant space, allowing diners to watch the chefs in action while admiring the jars of kimchi, preserved vegetables and specialty drinks on display.
At the centre of the restaurant, a long glass table supported by timber logs reinforces Vanimal's communal dining and sharing concept. Adding to the design's bespoke qualities, via. created a series of exclusive dining chairs that echo the natural elements and animal instincts.
via. also crafted several bespoke pieces for the space, including a neon dinosaur installation, and an abstract relief sculpture inspired by the textures of vegetables, executed in colourful Plexiglas blades.
"In designing Vanimal, we wanted to play on the dual identities contained in the name," explains Frank. "We aimed to convey contrasts, add dissimilar elements and embrace the way differences can bring surprising results. With Kennedy Town establishing itself as Hong Kong's restaurant hub, Vanimal will bring something new to the neighbourhood, both in its design and dining concept."