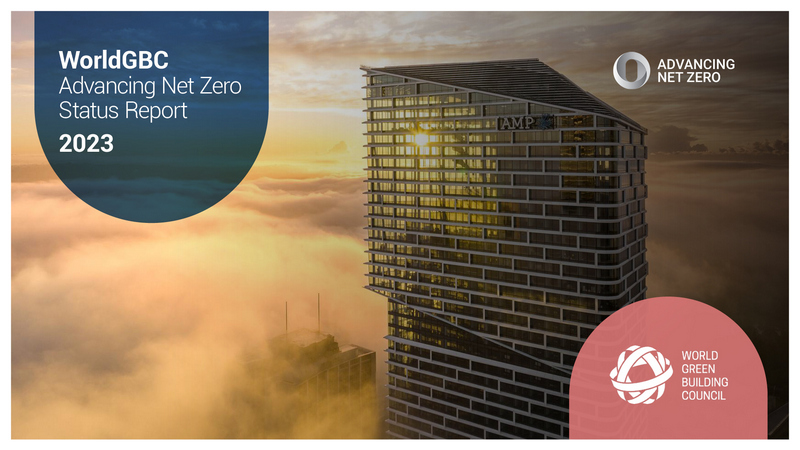 The World Green Building Council (WorldGBC) releases the fifth edition of the Advancing Net Zero Status Report that highlights action being taken now to decarbonise the built environment from businesses, governments and the global Green Building Council (GBC) network. The report is packed with examples of industry collaboration and accelerated action to address emissions from the built environment.
The report showcases breakthrough action from across the Green Building Council (GBC) network including the 35 GBCs participating in WorldGBC's global Advancing Net Zero programme, 175 signatories to the Net Zero Carbon Buildings Commitment, the wider GBCs network, partners and more. In addition, the report also highlights collaborative efforts from the market that support WorldGBC's mission to achieve 100% net zero carbon buildings by 2050.
As a member of the WorldGBC, Hong Kong Green Building Council (HKGBC) is proud to be one of the 35 GBC's participating in the WorldGBC's Advancing Net Zero programme, working towards achieving a breakthrough moment for the built environment and accelerating action towards a net zero future.
This year, HKGBC has made significant progress through the launch of Retrofitting Guidebook in January, with over 4,000 downloads including 40% from outside Hong Kong, and its Climate Change Framework for Built Environment in June, which has over 50 supporting organisations and over 10 major developers participating. In addition, the green building rating system BEAM Plus has been widely adopted, with an estimated 1,182,700 tons of carbon emissions saved per year from the certified new buildings.
Together, we're accelerating the total decarbonisation of the global building and construction sector by 2050 through roadmaps, projects, tools, certifications, and resources driven by WorldGBC, GBCs, and partners.
Advancing Net Zero programme's progress in 2022-23:
A global movement being driven by 35 GBCs, with initiatives designed to deliver greater awareness around the urgency and achievability of net zero buildings
All five regional networks of WorldGBC are collaborating on Advancing Net Zero related projects to equip industry with resources to accelerate uptake
22 national Whole Life Carbon (WLC) decarbonisation roadmaps published or in development by GBCs, with more being produced externally
The Net Zero Carbon Buildings Commitment (the "Commitment") now has 175 signatories (including businesses, organisations, cities, states and regions), with 140 business signatories that are responsible for around $400 billion annual turnover, holding nearly 20,000 assets collectively across 75 countries, taking action at scale to decarbonise their portfolios and beyond
Built environment will be established as a critical climate sector at the UN Climate Summit COP28 in Dubai, UAE, with this WorldGBC report reflecting the thematic agenda "Multi-level Action, Urbanisation and Built Environment/Transport" on 6 December 2023
Nine global programme partners are accelerating industry action and overcoming barriers to net zero through innovative business activities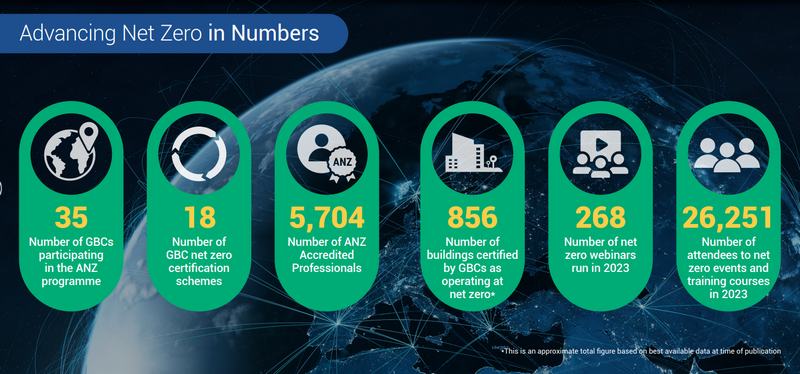 The report includes:
● Advancing Net Zero: Accelerating Towards Critical Mass
The Intergovernmental Panel on Climate Change (IPCC) released the AR6 Synthesis Report earlier this year, which served as a 'final reminder' that the global community urgently needs to mobilise and scale available solutions to deliver a decarbonised, sustainable, and resilient future. Across the global network, efforts are being made to advance net zero and accelerate action on built environment decarbonisation. Since the last Status Report, significant progress has been made towards achieving the Whole Life Carbon (WLC) Vision, with the release of three additional WLC roadmaps, numerous reports and guidance releases from GBCs, ANZ activities across all five regional networks, and advocacy actions at COP27.
● NZCB Commitment: Stakeholders Delivering at Scale
Over the last twelve months, more signatories are moving from making their commitments to taking action, including the delivery of Sydney's Quay Quarter Tower, featured on the front cover. The Commitment continues to showcase the leadership of stakeholders from across the built environment who are delivering decarbonisation at scale. Examples of action from across the globe are showcasing how each stakeholder category is initiating change throughout the building life cycle.
● Regional Updates
WorldGBC's regional networks have been actively tackling net zero carbon emissions, hosting events and webinars that reached more than 26,000 people, to educate and elevate the sector. To support widespread engagement, other regional initiatives such as net zero readiness frameworks, knowledge hubs and projects have been established.
● Whole Life Carbon Roadmaps
Whole Life Carbon (WLC) roadmaps continue to be an important way that GBCs adopt WorldGBC's WLC approach and provide guidance for local markets on how to decarbonise their built environments. So far, GBCs have released, or are developing, a total of 22 national Whole Life Carbon roadmaps to guide respective countries on their road to sustainable development. This year, the map has been expanded to highlight all GBC roadmaps, those already published and those in development, as well as external roadmaps linked to the building sector.
● Trends & Innovations
This year, the issue of 'The Problem With Net Zero' is being tackled, with success stories shared from across the network and beyond. The focus is on the work already being done to overcome a wide range of challenges facing net zero buildings. These challenges include access to finance, electrification, offsets, existing buildings, embodied carbon, NDCs, EPDs, definitions, and benchmarks.
● Gearing up for COP28
The 28th session of the Conference of the Parties (COP28) to the United Nations Framework Convention on Climate Change (UNFCCC) will take place in Dubai, United Arab Emirates from 30 November to 12 December 2023. COP28 will build on the successes of COP27 where the 2030 Breakthrough for the Built Environment was introduced, outlining the levers of change required to transition the sector. Together, we can accelerate action and achieve a breakthrough moment for the built environment.
● Building Resilience Across the Value Chain Towards Decarbonisation
Building resilience is crucial to mitigating emissions and adapting to the effects of the climate crisis. Industry leaders are accelerating action to decarbonise their own portfolios and engaging with their value chains both upstream and downstream to facilitate change. Advancing Net Zero Global Programme Partners share their actions towards decarbonisation and building a sustainable, resilient, and equitable built environment for everyone, everywhere.
Read about the breakthrough action and collaboration being taken across our global network in