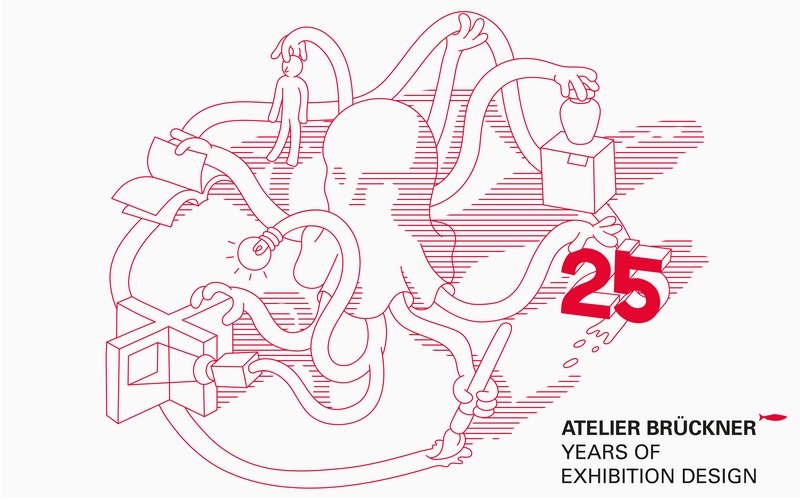 ATELIER BRÜCKNER took part in International Museum Day with an Open Atelier. On 15 May, the Stuttgart scenographers opened up their spacious atelier rooms at Krefelder Straße 32 offering a look into their creative laboratory. Here, exhibitions such as the Grand Egyptian Museum in Gizeh, the Forum Wissen, Göttingen, and the Natural History Museum in Oslo were conceived. Recently, the Museum of the Future in Dubai and the Novartis Pavillon in Basel were opened. Well-known projects include the BMW Museum, Munich, the Shenzhen Planning Exhibition in China and the Parlamentarium in Brussels. The Wagenhallen Stuttgart are an architectural project that has received numerous awards.
ATELIER BRÜCKNER was established in 1997. It is one of the world's leading offices for exhibition design – with 120 employees at the company's premises in Stuttgart and Seoul. Management of the business is in the hands of the four partners Shirin Brückner, Prof. Eberhard Schlag, Britta Nagel and René Walkenhorst, who are backed up by the associated partners Michel Casertano, Jana Fröhlich, Cord-Hinrich Grote, Dominik Hegemann, Stefanie Klinge, Wassim Melki, Kathrin Milic-Grunwald, Bernd Möller, Marco Müller, Nicolo Piana, Elisabeth Ramm, Rana Rmeily and Tanja Zöllner.
"On the occasion of our 25th birthday we take a moment to introspect and probe what makes us who we are", says Rana Rmeily, Lead Experiential Visual Designer. "What makes us exhibition designers? – Several team members answered this question and shared their own visual interpretation through artworks that were displayed in our open studio in May, as well as online."
"Exhibition design is the orchestration of different disciplines", says Shirin Brückner, founding partner and managing director. "Together, they determine the scenography. We create walk-in narratives within a three-dimensional space. They offer the potential for unexpected encounters and physical touch – a spatial experience that cannot be transferred into the digital world."
The Open Atelier allowed insights into some of the projects and processes of ATELIER BRÜCKNER. The visitors will be able to see designs, models, test structures, material patterns and animations that portray the profession of the exhibition designer. In conversations with the project leaders, they will have a chance to familiarise themselves with current tasks and design areas.
A fabric bag with silkscreen printing that visitors can make themselves on site can be taken away as an individual souvenir. The contribution (3 euros) towards costs was donated in full to ICOM4Ukraine, supporting the currently necessary protection of cultural assets in Ukraine. "Discovering museums with pleasure" is the slogan of International Museum Day. It was organised by the International Council of Museums (ICOM) – in 2022, for the 45th time. In Germany, it is coordinated by the Deutscher Museumsbund and traditionally takes place on a Sunday. ATELIER BRÜCKNER is a member of ICOM Germany.
Further information on International Museum Day is available at: www.museumstag.de