(Hong Kong, 31 May, 2017) – Hong Kong media got an early 'sneak peek' of the all-new ArtisTree today, in anticipation of the month-long series of artistic events, commencing on 8 June, to celebrate the launch of the dynamic performance arts venue.
(中文简体版请按此)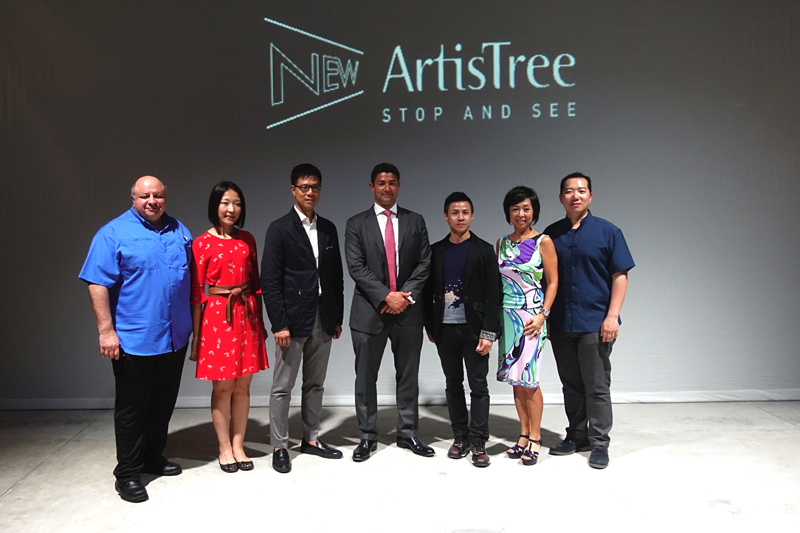 From left: Nic Muni, Artistic Director of 'La Traviata' presented by 'More than Musical', Lucy Choi, co-founder of 'More than Musical', Frank Leung, Principal of via., Don Taylor, Director, Office, Swire Properties, Daniel Yeung, Artistic Director of 'ContempoLion', Rumiko Hasegawa, co-founder of 'More than Musical' and Wei-En Hsu, Artistic Director and pianist of 'La Traviata'.
Situated in Cambridge House within Taikoo Place, the new ArtisTree has been upgraded into a flexible 650m² dynamic space completed with professional theatre-standard stage lighting and audio-visual technologies.
ArtisTree hopes to foster the emergence of new art forms and host a diverse range of original works by mid-career, young talent and artists, as well as to present original and creative productions that have never been staged in Asia or Hong Kong.
The new ArtisTree is a key element of a wider vision, part of a HK$15 billion redevelopment project being undertaken within Taikoo Place. As an integral part of Taikoo Place, ArtisTree provides a compelling venue that can host events and creates that lifestyle 'stickiness' after work hours. It is endeavouring to make arts and culture more accessible to everyone. The new venue will continue to introduce the Hong Kong public to unique arts programmes and contribute to the cultural life of Taikoo Place and Hong Kong.
In celebration of the new ArtisTree's official reopening on 8 June, audiences can enjoy four intriguing productions by local and international artists, including ContempoLion, La Traviata, Folk and Animatorium. All complimentary tickets were snapped up in just five days. To nurture local talent, Swire Properties will also offer masterclasses for aspiring performers a rare opportunity to be coached by an award-winning dance choreographer Caroline Finn and for opera-buffs to witness award-winning opera director Nic Muni at work while he is coaching professional singers. The masterclasses are now available at Ticketflap (www.ticketflap.com) on a complimentary basis for both performers and audiences.
For more information on Taikoo Place and ArtisTree, visit www.taikooplace.com.
Follow Taikoo Place at www.facebook.com/taikooplacehk.