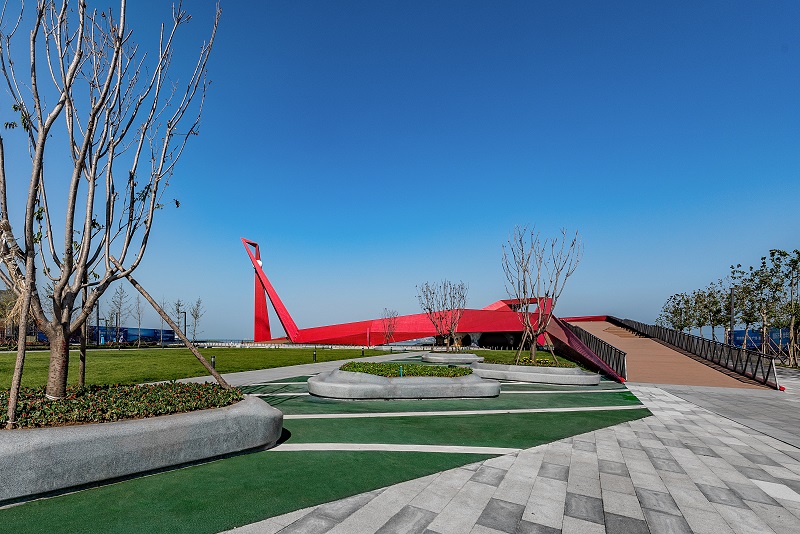 Located in Qingdao of China's Shandong province, Xifeng Bridge was conceived by PT Architecture Design (Shenzhen) Co., Ltd, with its overall design reflecting the image of a phoenix ready to take off. Wanda Group is the project's developer and PT Landscape was responsible for its landscape design. In Chinese mythology, the phoenix is an auspicious bird and a symbol of peace. As the bone oracle scripts of "phoenix" and "wind" are identical, the bird is believed to be omnipresent and commands the spiritual power of this natural element. Furthermore, the phoenix is pronounced as "fenghuang" in Chinese, part of which sounds like "emperor" (huang). Not surprisingly, it is also associated with imperial power and often mentioned in the same breath as another mythical creature, the dragon, to connote luck and harmony.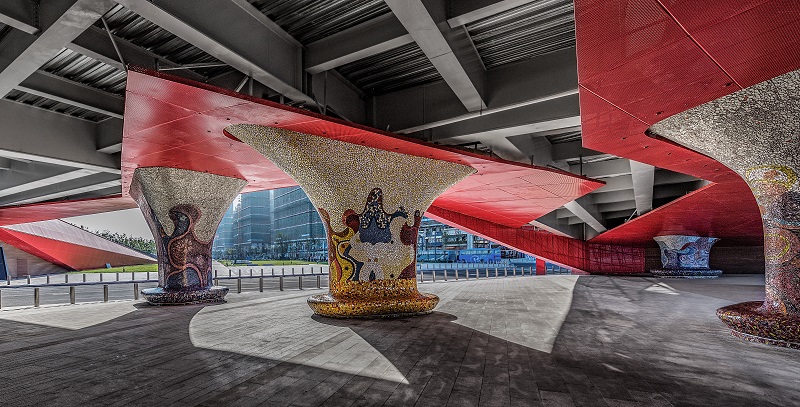 Xifeng Bridge combines the use of red and wood colours. Red symbolizes passion, vitality, willpower, fire and strength, besides being an auspicious colour featured in traditional Chinese festivals and celebrations. In contrast, wood stands for steadfastness and warmth, imparting a "back to the basics" impression. The phoenix's polyline form combines the red colour and wooden texture to create a spatial ambience that could be described as simple, clean, cozy and trendy.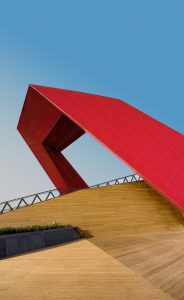 The bridge is paved with granite material in dark and light grey tones that give it a streamlined and contemporary look. Combined with its dynamic lines, the infrastructure exudes vibrance and warmth that echo with its polyline form, to provide a modern waterfront promenade for a relaxing stroll. Various irregular-shaped plant beds are featured, alongside benches for seating, with greenery that line both sides of the steps to give them a softer touch.
The bridge-pier design is inspired by the traditional Chinese motif of "auspicious clouds", which implies symbiosis, harmony and inclusiveness. Since antiquity, mythological creatures have been depicted with their feet planted on auspicious clouds. When combined, mythical animals and auspicious clouds are thought to bring remarkable luck and thriving developments. Dating back millennia, auspicious clouds have evolved into a symbol representative of Chinese culture. The "auspicious cloud" design first appeared in the Chu region during the late Zhou dynasty. Since then, the design pattern of cloud forms, particularly that of their integration with animal motifs, gradually evolved into a mainstream design theme in the Chu region. Reaching a pinnacle in the Chin and Han dynasties, this aesthetic trend gripped the whole country at that time. Magical and magnificent, the cloud design offers much room for imagination.
Clouds were considered by the ancient Chinese as not only a divine creation, but also the precursor of fortune and status elevation. Distinguished by a streamlined design, the bridge pier was created to resemble the auspicious cloud under a phoenix's claws. The structure is made of the same material as the ceramic mosaic art of Antoni Gaudi's creation, which not only enriches the space below the bridge but also complements the coastline.