(23 May 2022, Singapore) A study of 32 global urban centres revealed that the real estate sector accounts for an average 60% of overall carbon emissions, exceeding the World Green Building Council's current estimates of 40%. This contribution is even higher in some of the largest business centres in Asia Pacific such as Tokyo (73%), Seoul (69%) and Melbourne (66%), according to new research from JLL.
Yet, JLL's latest report – titled "Decarbonising Cities and Real Estate" – finds that there is a significant gap between the policies enacted in cities, the impact of the real estate industry, and the climate science that indicates the need for swift action to limit global warming.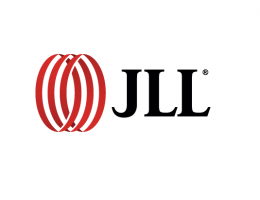 According to the research, city governments are setting ambitious sustainability targets, often well ahead of national goals. In Asia Pacific for example, cities like Sydney and Shanghai are aiming to achieve a 70% and 65% reduction of carbon emissions respectively by 2030. However, plans to tackle the carbon emissions from buildings are frequently given insufficient attention – with some cities such as Hong Kong, Shanghai and Mumbai lacking concrete targets to deliver net-zero carbon buildings.
To deliver a holistic and effective decarbonisation plan for buildings, JLL's report emphasised that partnerships with landlords, investors, developers, and occupiers are paramount.
"Buildings are both the problem and the solution for our climate crisis, and partnerships between the private and public sector are critical to driving tangible progress in decarbonising the economy. For Asia Pacific, this is especially important in cities like Hong Kong, where 85% of buildings are over 10 years old and extensive retrofitting is required of existing building stock. Yet no targets have been set to decarbonise buildings," said Kamya Miglani, Head of ESG Research, Asia Pacific, JLL. "If this doesn't happen, we can expect local governments to introduce heavy regulation and penalties on building standards – there will be winners and losers as cities race to net zero carbon."
JLL's research identified that the cities most likely to be successful in advancing decarbonisation will be those that balance regulation, incentives, innovation and accelerators. Several cities were called out for their innovative approaches to reduce emissions from buildings, such as Singapore's Green Building Masterplan which targets to green 80% of buildings by 2030. Meanwhile, Tokyo has in place a cap-and-trade programme, which incentivises building owners to reduce emissions and use renewable power.
However, the study also warned that policy and regulations across the globe are lagging behind the science today, and this puts a greater onus on the private sector to take the lead in climate action. This is especially pertinent for Asian cities like Shanghai, Hong Kong, and Mumbai, which stand out in terms of climate vulnerability and are under the greatest pressure to improve resilience against heat, drought, fire and precipitation.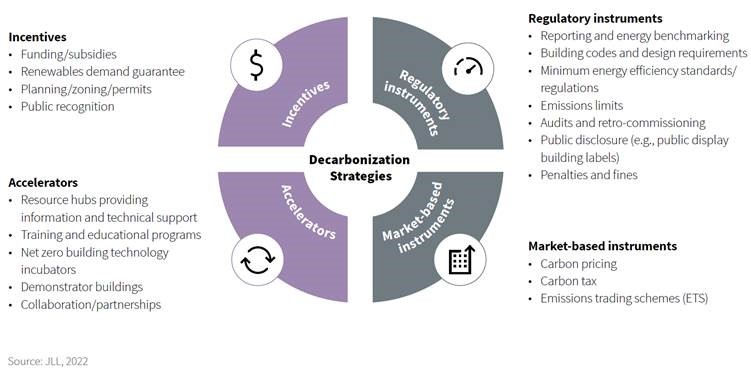 Time to act is now
Rather than waiting for regulations to kick in before taking action, building owners, investors and occupiers are encouraged to act now to develop more resilient assets and create a competitive advantage. This involves doubling down on energy efficiency initiatives and exploring onsite and offsite renewables – which in turn requires city governments to move in lockstep and provide green local energy grids. Knowledge sharing and accelerator programmes will also play a pivotal role in facilitating the retrofitting of existing buildings, particularly for small owners and occupiers.
Beyond carbon, JLL's research highlighted that cities must go beyond decarbonising the built environment to consider regeneration, circularity and resilience. This involves embracing the circular economy to eliminate waste and investing in urban greening and biodiversity to develop sustainable, healthy and liveable cities.
JLL's "Decarbonising Cities and Real Estate" research covers a wide array of regulations and reporting structures being rolled out by governments, and different metrics and definitions being adopted across Asia Pacific and the rest of the world. Download the full report here.
For further information, visit jll.com.