(23 May 2022, Hong Kong) Despite tourist arrivals to Hong Kong remaining non-existent due to measures to contain the spread of COVID-19, demand fundamentals for medical services remain firm and are set to drive solid requirements for real estate, according to the latest research paper by CBRE Hong Kong.
In 2019, CBRE forecasted that medical centres would require an additional 1.0 million+ sq. ft. of commercial space for expansion in Hong Kong. While much of this demand has been delayed due to recent economic volatility, the combination of evolving demographic patterns, expenditure allocations, and recent changes in policies backed our insight that pent-up demand will be unleashed once the COVID-19 pandemic stabilises.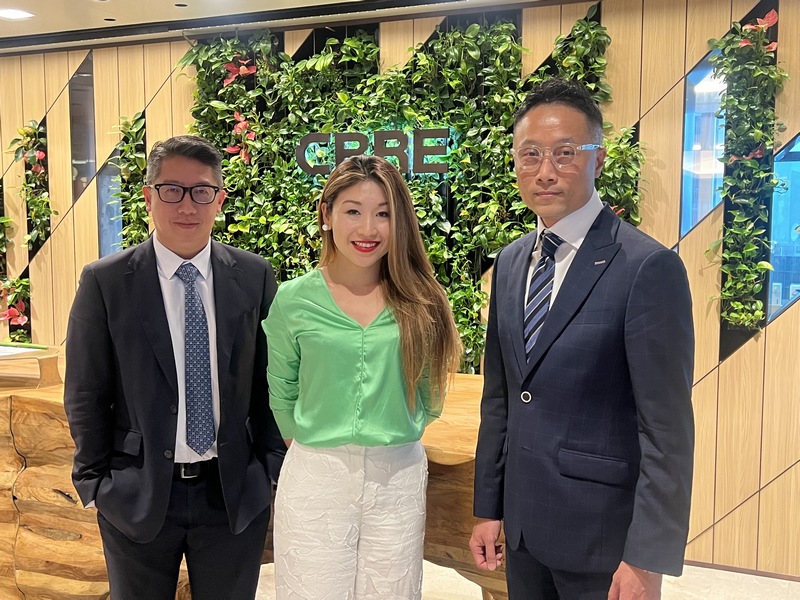 Marcos Chan, Head of Research, CBRE Hong Kong said: "Hong Kong's ageing population, rising medical spending by wealthier individuals and wider insurance coverage are set to spur strong demand for healthcare and medical services in the coming years. Rising IPO and M&A activity within the healthcare sector will also accelerate expansion by medical providers. Another driving force is the growing pool of medical talent, with the Government setting up a pathway to introduce non-locally trained doctors via the passing of the Medical Registration (Amendment) Bill 2021 in October 2021."
Hong Kong's "silver hair" population (>65 years of age) is set to rise from 1.5 million in 2022 to 2.7 million by 2047, raising its proportion of the overall population from 20% in 2022 to 33%, with life expectancy extended to 88 years old by 2047, up from 85 years old currently.
Meanwhile, Hong Kong's medical expenditure as a percentage of GDP per capita rose from 5.1% in 2009/2010 to 6.5% in 2019/2020. Despite the steady gains, the ratio remains low compared to other major economies, suggesting significant potential for future expansion by Hong Kong's medical services sector.
Over the past 30 years, medical expenditure in Hong Kong paid by insurers, including both personal and employment schemes, has risen more than four-fold from 8% to 35%. The number of individuals covered by privately purchased medical insurance schemes has increased from 1.8 million in 2011/12 to 2.4 million in 2020/21, representing growth of 32.9% in a decade.
Driven by substantial local demand with the prospect of reviving medical tourism once the border reopens, the medical industry's growth is set to accelerate. The currently active healthcare sector M&A and cross-sector collaboration between medical centres and insurance companies are also generating new requirements for office space. In 2021, several private medical groups already resumed expansion as the economy showed signs of picking up.
With just under 14 million sq. ft. of new supply due to come on stream from 2022 to 2026, Hong Kong's Grade A office market will provide substantial expansion opportunities for medical occupiers over the next five years.
Ada Fung, Executive Director, Head of Advisory & Transaction Services – Office Services, CBRE Hong Kong, said: "The high availability of commercial units for lease at attractive rents during the current economic downcycle is providing medical tenants with opportunities to secure suitable premises to accommodate their long-term strategic needs. Landlords and investors are becoming more amenable to leasing space to medical tenants, who are extremely desirable tenants with stronger financial stability and the capacity to pay higher rents, in order to achieve high and stable occupancy for their buildings."
"After having relocated to upper office floors following the onset of the upward rental cycle in 2011/2012, CBRE believes that medical centres should once again consider leasing space in street shops now that rents have fallen by 40% from their 2019 peak," said Lawrence Wan, Senior Director, Advisory & Transaction Services – Retail, CBRE Hong Kong. He advises medical services companies to consider leasing space in retail properties, provided the land use and building specification requirements are met.
From the investment perspective, discounted prices combined with rental premium and stable occupancy highlight the investment potential for medical-centric commercial buildings. The medical sector also represents a fast-growing sector that commercial landlords should consider given that it offers a better hedge against market downcycle and hence better investment returns.