ATELIER BRÜCKNER designed the premiere of the furniture manufacturer Kusch+Co in Milan, which was seen at the same time as the furniture show from 17 to 24 April in Superstudio Più. With the motto "Past – Present – Future" the Stuttgart scenographers  set the scene for the company's seventy-year history.
Awaiting the visitor was an installation in the form of stage scenery that is composed of 50 historical and current chair models. The installation places the treasures of design history in a context of new products.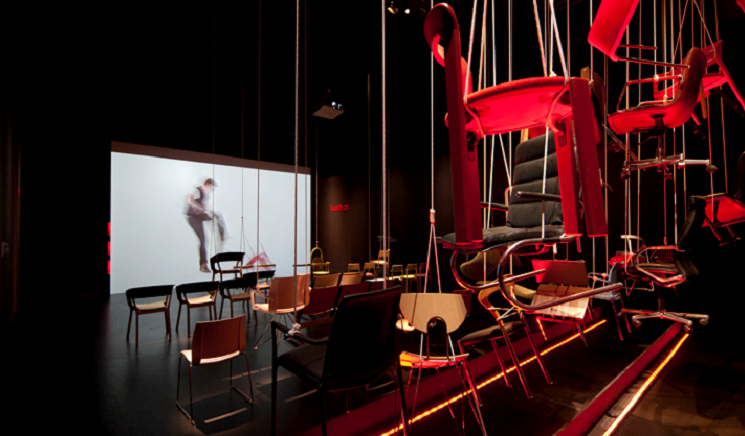 They were presented chronologically under spotlights in an exhibition area of 180 square metres. The design classics from Kusch+Co, featured by red accents and suspended in front of a mirror wall, formed a gallery of ancestors, which continued in rows of chairs on the parquet. Against this background of history, the present became tangible. The visitors themselves were integrated into the staged setting, standing together with the chairs on the stage, and are invited to take a seat. The stage became the auditorium. Films tied the seating items into narrations. In these short films, the visitor experienced the chairs as protagonists. They become active, changing their role from a prop to the main actor. The six to seven metre-high mirror reflects these stories into the installation. The narrative space becomes a living setting.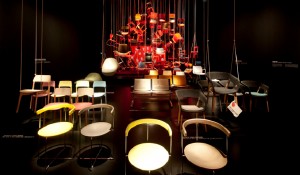 The "Temporary Museum for New Design" of Superstudio Più, which is located in the Via Tortona, offers an attractive forum for designers and exhibitors from all over the world, who are ready to brave innovative presentations according to the maxim "less fair more museum". This year's settings were dedicated to the theme "Telling a Story". With "Past – Present – Future" the highly traditional furniture company Kusch+Co, established by Ernst Kusch in Hallenberg (North Rhine Westphalia) in 1939, is wqas showing its high quality products for the first time in the context of the Salone Internationale del Mobile.
The company stands for design and quality "made in Germany".
Photos: Michael Jungblut
Press Contact: Claudia Luxbacher at [email protected]