The Hong Kong SAR Government is in the process of developing Hong Kong's long-term decarbonisation strategy up to 2050 through stakeholders' engagement and public consultation. Being a key player in climate mitigation, the business sector is determined to contribute to a low carbon Hong Kong.
This conference will explore the recent developments, progress, and the next steps in Hong Kong's transformation towards a low carbon city – feeding into Hong Kong's long-term decarbonisation strategy. Business champions will share and demonstrate their commitment to decarbonisation through business strategies, innovation and technologies, investment, integrated solutions, partnership and sectoral target-setting. It is hoped that their leadership and action will inspire their peers and the wider community to step up to the challenge of reducing carbon.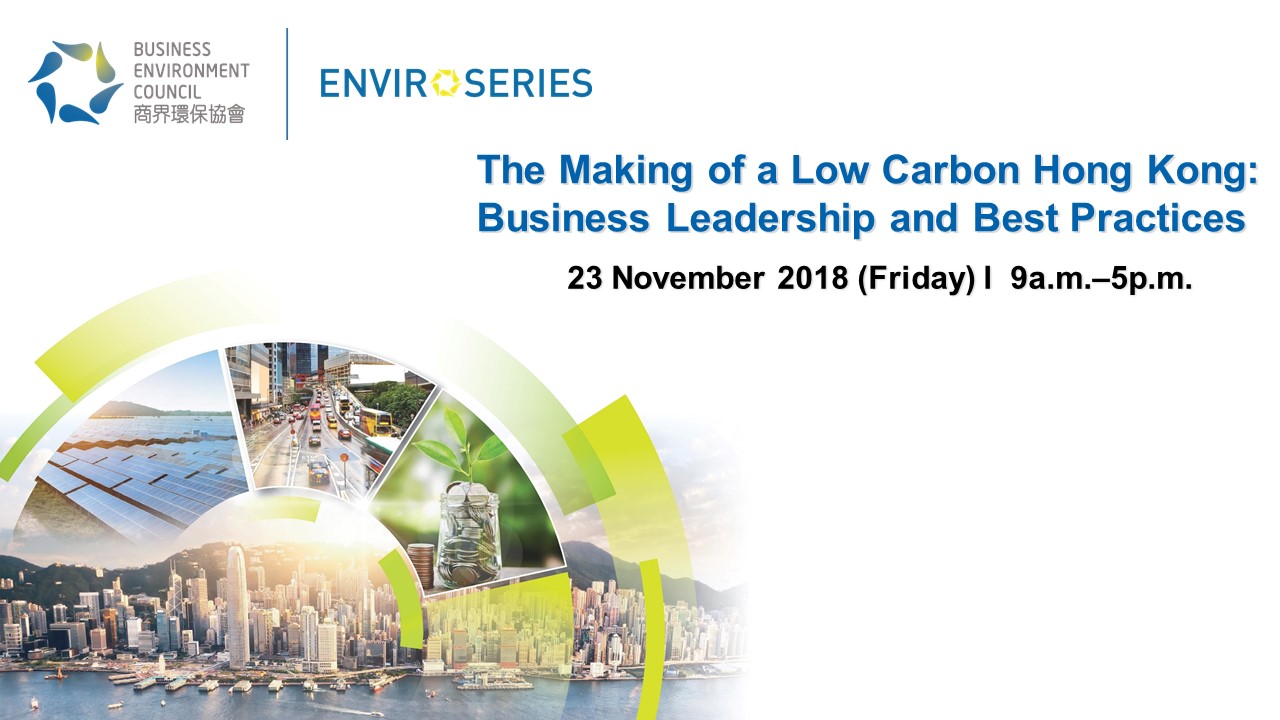 Guest of Honour and Keynote Speaker
Mr Wong Kam-sing, GBS, JP, Secretary for the Environment, HKSAR Government
Speakers (arranged in order of appearance)*
Mr Shailesh Sreedharan, Director of Global Operations, World Resources Institute
Dr Zhang Jian-yu, Vice President, Environmental Defense Fund
Dr Thomas Tang, Sustainability Consultant
Mr Sebastian-Hartmut Schenk, Digital Champion Asia Pacific, Head of BASF Management Consulting Asia Pacific
Mr Jonathan Drew, Managing Director in Infrastructure, Real Estate Group, The Hong Kong and Shanghai Banking Corporation Ltd
Mr Keith Cheng, Head of Hong Kong Digitalization Hub, Siemens Ltd
Mr T. K. Chiang, Managing Director, CLP Power Hong Kong Ltd
Dr Nadira Lamrad, Assistant Director – Sustainability & ESG Advisory, BEC
Ms Suzin Ahn, Associate Director for Asia Pacific, CDP
Mr Yuming Hui, China Director, The Climate Group
Dr Calvin Kwan, General Manager, Sustainability, Link Asset Management Ltd
Dr Jeanne Ng, Director of Group Sustainability, CLP Power Hong Kong Ltd
Mr Mike Kilburn, Assistant General Manager, Sustainability, Airport Authority Hong Kong
Mr Nicholas Lewis, Director, Business Development, K. Wah Construction Materials (Hong Kong) Ltd
Ms Amie Shuttleworth, Global Director of Sustainability, Cundall
Dr Raymond Yau, General Manager, Sustainable Development, Swire Properties Ltd
Mr Andy Yeung, Head of Technical Services and Sustainability, Hongkong Land Ltd
*More speakers to be announced
Event details
Date:
23 November 2018 (Friday)
Time:
9 a.m. – 5 p.m.
Venue:
The Mira Hong Kong
Fee:
HK$1,800(Early bird up to 40% off before 5 November 2018; special discounts apply for BEC members or group booking)
Details and registration:
http://bit.ly/BECESNov2018
Sponsorship Enquiries: Ms Jill Chow (E: [email protected] | T: 2784 3942) or Ms Idy Cheung (E. [email protected] | T: 2784 3968)
Ticket Reservation Enquiries: Ms Shania Cheng (E: [email protected] | T: 2784 3958)
Please visit below website for further details,
https://bec.org.hk/events-current/bec-enviroseries-conference-2018-november