22 teams of pupils drawn from 13 schools across Hong Kong and Macau will be brushing up on their team racing rules this week in preparation for the annual Inter-School Sailing Festival, sponsored by international law firm, Boase Cohen & Collins and organised by Royal Hong Kong Yacht Club at their Middle Island sailing centre located near Repulse Bay on the south side of Hong Kong Island.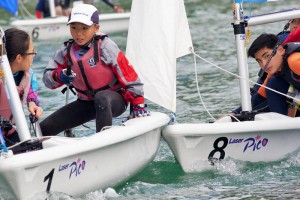 Two divisions will compete in a round robin format over an intense two days, featuring in excess of 100 races. With six boats loaned by neighbouring Aberdeen Boat Club, Division A will be contested in 12 RS Feva Dinghies, while Division B will fight it out in 12 Laser Picos.
Each race pits one team of three boats against another, with two sailors per boat. Teams must work together rather than focusing on simply crossing the finishing line first, as their combined result is what is important and this encourages a different way of thinking amongst Hong Kong's Youth Sailors.
In the words of World Sailing: "Team Racing typically consists of two teams each of three boats competing against each other. It is a fast paced racing style which depends on excellent boat handling skills and rapid tactical decision making. The teams will race to try and achieve a winning combination of places – the lowest score wins…. If one boat in the team wins the race they are not guaranteed glory as their combined score must be ten or less to win… If a team is lying in 1, 4, 6 then the boat in first place will go back and try to help his team mates through to 2, 3, 5 or better."
The 2016 event celebrates the 15th anniversary of this competition, which was originally launched by the RHKYC's parent-led Youth Sailing Class to encourage more schools to take up sailing and sail training. With the support of Boase Cohen & Collins, this year's Festival offers the added incentive of a new Sail Training Scholarship, which will be awarded to the winning team in each division.
BC&C Senior Partner Colin Cohen commented: "The response from our clients and the legal community to our support for this festival has been hugely positive and encouraging. We are working closely with the RHKYC to ensure it is a memorable weekend for all involved – our guests, the RHKYC and, of course, the many young sailors taking part."