(08 March, 2016 – Hong Kong) Canon, the world leader in business imaging solutions, showcased its latest office and professional printing products in today's "Passion in Color" exhibition. Held at the Silverbox Ballroom at Hotel ICON in Tsimshatsui Kowloon, the "Passion in Color" exhibition demonstrated how innovations in printing technology are used to enhance color displays and enrich images in all facets of life.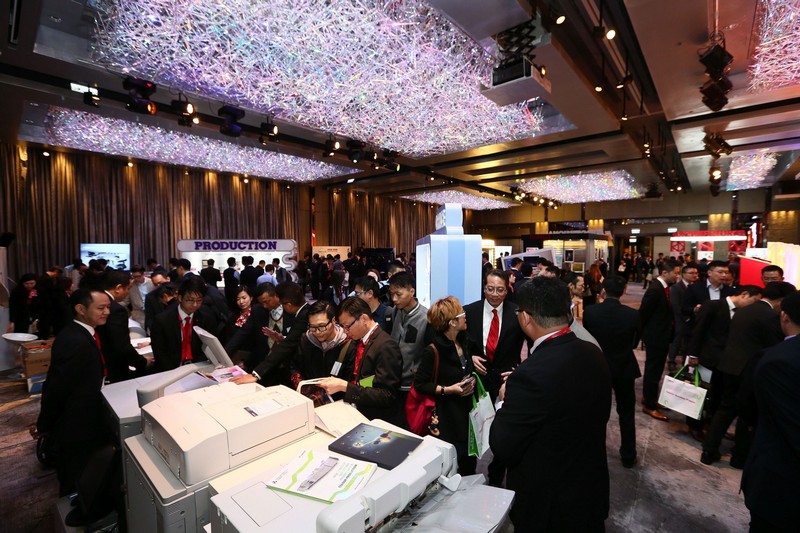 The "Passion in Color" exhibition displayed a series of newly-launched and awardwinning printer offerings with its product range extended from offices and photography studios to more professions including designers, architects and the construction industry as well as engineering in need of consistent high quality printed materials.
At the opening ceremony, Ms. Noriko Gunji, the Executive Vice President of Canon Hongkong said, "Canon has combined its expertise in innovative technology with outstanding product performance to create ground-breaking new standards. We launch this new series of business and professional printing products to provide our customers with superb image quality output, which will improve the impact of color displays in communication."
Ms. Gunji added, "Most importantly, coming from a corporate philosophy of "KYOSEI", meaning "Cooperation Spirit", Canon strives to integrate many green technologies in our products. It's our way of helping to protect the limited, precious, natural resources we all share."
Mr. Philip Chan, Director of Domestic Business Imaging Solution and Production Printing Group, Canon Hongkong elaborated further, "Canon brings years of R&D expertise in printing technology into play to provide the best solutions in the professional color display market. Our products solve the unique needs of customers in business and industry from offices, schools to specialist printing, retail businesses, photographers and Architect, Engineering and Construction (AEC) companies."
He continued, "Canon has also been a core business partner of small-to-medium enterprises. Our quality products, reasonable prices and one-stop services we offer have all aimed to help their businesses to develop and thrive.
Among Canon's brand new color print applications, one of its flagship products has drawn considerable attention. The imagePROGRAF PRO-500 is making waves in the industry. Despite its compact desktop footprint, it provides superb performance and outstanding functionality, and is most suitable for small-to-medium sized businesses with limited office space. The imagePROGRAF PRO-500 adopts the 12-color inkjet printing technique, which creates offset-like professional quality. By keeping the printing in-house, it will help save the time and costs having jobs contracted to printing companies. It will also reduce the possibility of confidential information leakage.
The image PROGRAF PRO-500 can also support multiple paper sizes from A4 right ptoA2.So whether it's a sales report,a poster,or even a large scale design blueprint from an architectural or interior design firm, the print quality will be excellent. TheimagePROGRAFPRO-500issettoredefinethemulti-function,wideformat, professional inkjet printing systemsmarket.
Another key product on display at the "Passion in Color" exhibition was Canon's new efficient on-demand digital production printing system, the image PRESSC10000VP series. This flexible and highly-reliable digital color production printing system provides one-stop professional solutions. Thanks to its impressive print speed of 100 A4 pages per minute,either in black and white or color,the system can handle a monthly output of about 1.5 million print pages at ease in offset-like quality.
In addition, the imagePRESS C10000VP is equipped with built-in spectrophotometric sensors and a 2400 x 2400 dpi resolution. It can print on ultra-thin, smooth surfaces or even film as well as paper as heavy as 350gsm. The upgraded built-in server realizes smooth printing process, with automatic operation from printing, slip-sheet insertion to binding. As a result, it saves labour, time and cost, generating infinite business potential.
Canon's exhibition also featured the launch of the award-winning OcéArizona1280 GT UV flatbed printer, specially designed for display graphics industry. Thestandard flatbed table can deal with objects as large as 125 x 250 cm and up to 50.8 mm thick. It can also print on ultra-thin or irregular objects, like wood, tiles, glass and metal.
Its vacuum system enables consistent and easy loading of rigid media inperfect register for texture printing. It could also be used to produce signage,packaging prototypes, or even building material decorations. Its unique Océ VariaDotimaging technology delivers fine details and smooth gradations, producing near-photo quality.
The exhibition featured four special zones,including:
OfficeCOLOR            – Infuse power intocommunication
Professional COLOR  – Deliver color excellence for specializedbusiness
Industrial COLOR       – Unleash creativity & versatility in rigid materialprinting
Production COLOR    – Drive productivity with digital printingworkhorse