(22 February 2022, Hong Kong) CBRE, together with Savills, have been appointed by Sino Group and Empire Group as the joint lead marketing agents for the companies' first Grade-A commercial cooperation project, LANDMARK SOUTH, located on 39 Yip Kan Street, Wong Chuk Hang. Under the appointment, the two real estate services companies will provide leasing and marketing consulting services to the developers for this new project.
Situated in the heart of Hong Kong Southside's new business district, LANDMARK SOUTH enjoys a prime location that is within three-minutes walking distance from the Wong Chuk Hang MTR Station and is seamlessly connected to the Greater Central district via an 8-to-10-minute MTR ride and other means of public transportation. Slated to be completed in Mid-2022, the 31-storey complex will boast a total area of ​​256,957 sq. ft. over 16 levels of Grade-A office space, 3 levels of retail shops and art galleries, a 9,000-sq.ft. sky garden on the eighth floor, a restaurant level on the second floor and a Sky Farm to provide tenants with space for after-work farming. The completion of LANDMARK SOUTH not only heralds the arrival of a fully integrated working environment that fosters healthy living and sustainable development, but also positions it as a new cultural, creative and art hub for Hong Kong and the region.
Driven by the government's Invigorating Island South and the Industrial Buildings Revitalization initiatives, LANDMARK SOUTH is being transformed into a Grade-A commercial skyscraper dedicated to sustainability and wellness and will serve as a permanent home for the Hong Kong Arts Development Council (ADC), a statutory body tasked with the development of arts in the City. ADC will launch and operate a 5,000-sq.ft. multi-purpose event space, an art information center and approximately 28 art studios in LANDMARK SOUTH.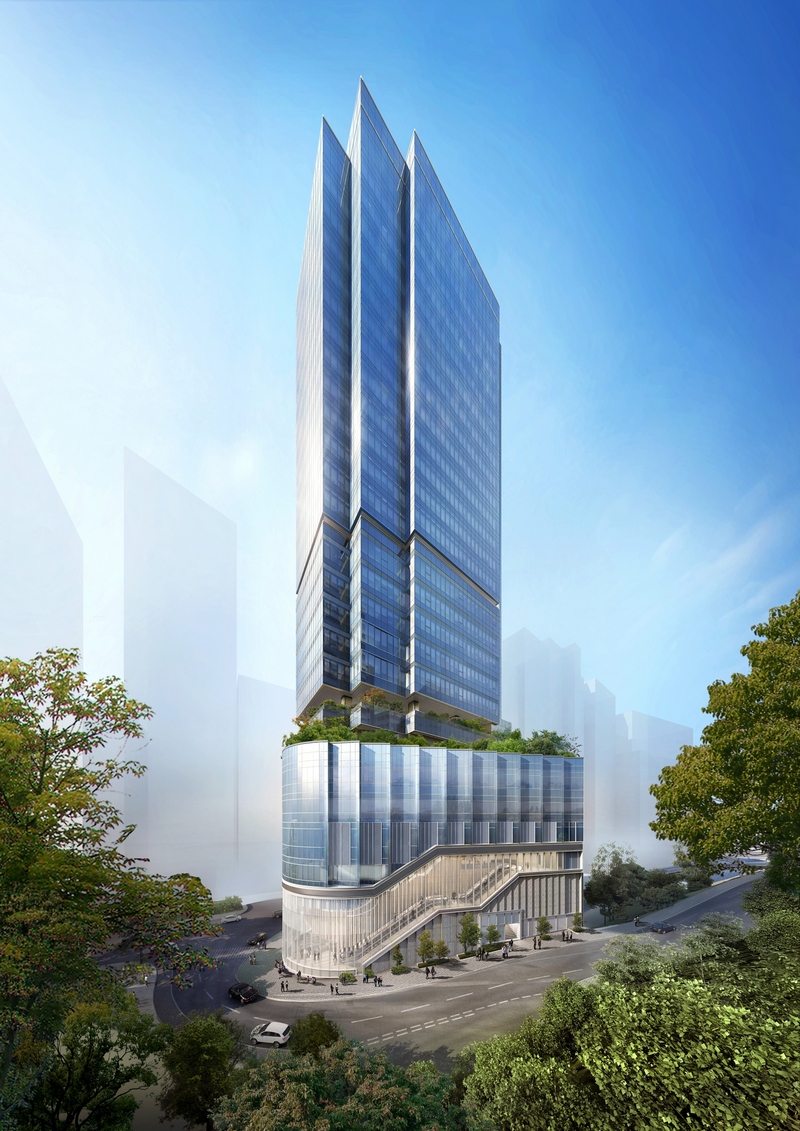 Ada Fung, Executive Director, Head of Advisory & Transaction Services – Office, CBRE Hong Kong, said: "We are pleased to be appointed as a lead marketing agent for this exciting development. As an emerging major residential, cultural and commercial centre, Wong Chuk Hang stands out from the other office submarkets in Hong Kong Island owing to its adjacency to the city's CBD and its price advantage at only around 40% of the average rent level of other submarkets on the island. With its focus on healthy living and sustainable development, LANDMARK SOUTH is bound to appeal to corporates including creative companies who are looking for flight to quality, large floor plates as well as fostering employee wellness."
Ricky Lau, Deputy Managing Director & Head of Office Leasing of Savills Hong Kong, said: We are very delighted to work with Sino Group and Empire Group as the Joint Lead Marketing Agent for Landmark South. This is a very exciting opportunity as we work towards shaping a new community for artists, creative and upcoming businesses. By prioritising wellbeing and collaborations, we believe Landmark South is well positioned to meet the latest demand of different office tenants and will successfully refine the style of work and shape a vibrant business cluster in Wong Chuk Hang.
Bella Chhoa, Director of Asset Management of Sino Group, said: "Government policy addresses over the past two years have highlighted the development plans for invigorating Island South and the Northern Metropolis. To leverage the growth potential in these two areas, LANDMARK SOUTH will take advantage of the regional transformation and lead the trend in modern work culture by fulfilling its commitment to enhance the working environments in the city with a focus on health and wellness, while strengthening our Group's focus on sustainability."
Bella Chhoa added that the government is determined to develop Hong Kong Southside, and that the Group is very optimistic about the prospects in the area. She believed LANDMARK SOUTH will complement the Group's joint venture residential development project – La Marina and Phase 4 of The Southside at the Wong Chuk Hang MTR station, also The Fullerton Ocean Park Hotel Hong Kong, to create a synergy that will strengthen the Group's diversified property portfolio in the precinct.Albert Yiu, Executive Director of Empire Group, said: "The Group has always been optimistic about the land on Hong Kong Island, especially in light of several ongoing new land development projects in the Wong Chuk Hang area including the five-phase joint-venture residential project above MTR Wong Chuk Hang Station, the former Zung Fu Centre Grade-A office development project, and The Fullerton Ocean Park Hotel Hong Kong. With the opening of MTR's Hong Kong South Island Line, the footfall in Wong Chuk Hang continues to increase, and the development of the area is becoming increasingly sophisticated."