(11 April 2023, Hong Kong) As Hong Kong gradually returns to normalcy following the border reopening, the improvement in office and retail leasing demand observed in Q1 2023 points to a brighter outlook for the commercial real estate market. However, global market headwinds have posed challenges to the industrial leasing and investment markets, resulting in divergent trends across sectors, according to CBRE Hong Kong's 2023Q1 Market Review.
"In Q1 2023, we witnessed the return of a significant number of tourists to Hong Kong within a few weeks after the border reopening, yet to reach the pre-pandemic level. The commercial real estate market delivered a mixed performance this quarter, with improvements seen in leasing sentiment and momentum in both the office and retail sectors. However, investment and industrial leasing activities have slowed down amid the recent Fed rate hike, financial market turbulence and tightened credit availability. As the tourists return, and the latest unemployment rate dropped to 3.3% for the December to February period, marking the 10th straight monthly decline, we foresee that property market sentiment and consumption demand will further improve for the remainder of the year despite the challenging macroeconomic environment," said Marcos Chan, Executive Director, Head of Research, CBRE Hong Kong.
Review and Commentaries
Grade A Office
Office leasing sentiment improved in Q1 2023 following the full border re-opening with mainland China and the lifting of all pandemic restrictions. Gross leasing volume increased by 42% quarter-on-quarter to 1.1 million sq. ft., from the preceding quarter's low base. Leasing activity, however, was mainly driven by relocation of a few sizable firms.
Net absorption stayed positive for a third consecutive quarter, registering 159,200 sq. ft., the bulk of which was contributed by Kowloon. Net absorption on Hong Kong Island remained negative. Flight-to-quality leasing activity drove relocation in decentralized areas.
With no new supply due to come on stream in Q1 2023, positive net absorption ensured vacancy fell 0.2 percentage points to 15.1%. While this marked the first decline in vacancy since Q4 2018, total vacant space remained substantial, at 12.9 million sq. ft.
Overall rents fell 1.5% quarter-on-quarter, the 16th consecutive quarterly rental contraction. Greater Tsim Sha Tsui was the only submarket to register rental growth, posting a gain of 0.3% quarter-on-quarter, thanks to the positive net absorption. Hong Kong East was one of the softest submarkets, with rents falling 3.8% quarter-on-quarter, marking the sharpest decline since Q1 2021 as vacancy pressure continued to mount.
Ada Fung, Executive Director, Head of Advisory & Transaction Services – Office Services, CBRE Hong Kong: "For Q1 2023, new leasing activity has improved q-o-q, thanks to the return of business travellers and strengthened economic momentum. Positive net absorption was recorded for the third consecutive quarter and vacancy declined for the first time in four years, although leasing activity was mostly for relocation purposes for a few sizable firms. Looking at specific industries, insurance companies have posted a noticeable rebound, contributing more than a quarter of leasing volume for the quarter. Moving forward, with companies' cost control policies still in effect and further new office supply from the pipeline, vacancy is expected to trend higher and ensure pressure on rents for the rest of 2023."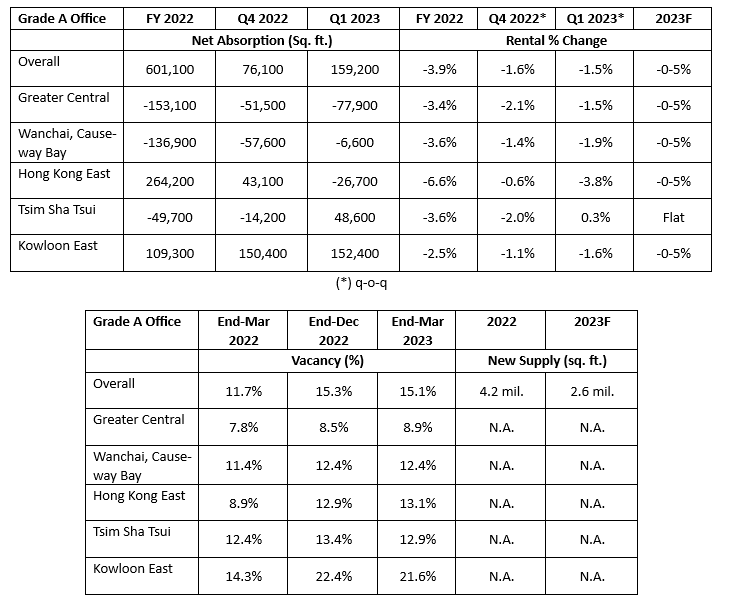 Retail
Retail market sentiment improved noticeably in Q1 2023 with the gradual return of inbound tourists. By the end of March 2023, the seven-day moving average of inbound visitors stood at approximately 50% of the pre-pandemic level in 2017-2019. Improved sentiment saw total retail sales rise by 7.0% year-on-year to HK$36.2 billion in January, the highest monthly total since January 2020.
Leasing momentum accelerated over the quarter, propelled by demand from pharmacies and cosmetics retailers, partially offsetting the impact of units on first-tier high streets returned by mask stores. Vacancy fell by 0.5 percentage point to 14.9% with Mong Kok logging the largest decline.
Despite the gradual return of tourists, luxury brands were not particularly active.
Rents on high-streets rose by 1.2% quarter-on-quarter, adding to gains of 0.2% quarter-on-quarter logged in the preceding quarter. Lower vacancy ensured Mong Kok rents outperformed those in other submarkets, registering a growth of 1.5% quarter-on-quarter.
Lawrence Wan, Senior Director, Head of Advisory & Transaction Services – Retail, CBRE Hong Kong: "The retail market has been picking up due to the significant increase in tourists, particularly from mainland China. Leasing momentum has accelerated, primarily driven by demand from tourist-oriented trades including, pharmacies, cosmetics and beauty products stores as well as F&B. Retailers are now considering brick-and-mortar expansion to tap into tourist-driven opportunities as rents on high streets are approximately 40% lower than the mid-2019 peak. Luxury brands, however, were still mostly cautious and continue to hold a wait-and-see approach for the time being. High-street rents have climbed up by 1.2% quarter-on-quarter. We expect retail leasing to continue to soar and high street rents to grow 5-10% over the course of this year."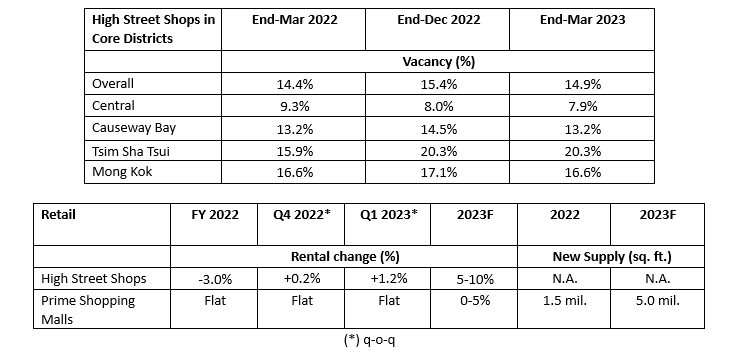 Industrial
Despite the Hong Kong PMI index moving into expansion territory in the first two months of the year, aggregate trade in January-February fell by 22.1% year-on-year, primarily due to a 30.9% year-on-year decline in merchandise exports to China. Container throughput and airfreight dropped by 9.3% year-on-year and 12.9% year-on-year, respectively, over the same period.
Leasing momentum reduced further in Q1 2023 amid global economic uncertainty and limited space availability.
Some small-to-medium sized units were released during the quarter, pushing up warehouse vacancy slightly by 0.2 percentage points to 2.7%
Despite softened demand, low vacancy continued to drive up warehouse rents by another 0.4% quarter-on-quarter in Q1 2023, a similar rate of growth to Q4 2022.
Samuel Lai, Executive Director, Head of Advisory & Transaction Services – Industrial & Logistics, CBRE Hong Kong: "Global economic volatility has put some expansion plans on hold, resulting in reducing leasing volume. Despite a mild uptick in vacancy levels, warehouse rents edged up a further 0.4% quarter-on-quarter as overall space availability remains tight. While economic headwinds might not warrant a fast and strong recovery in global aggregate demand, the rebound in local retail sales will drive storage space demand growth this year."
Capital Markets
Commercial real estate investment volume (deals worth over HK$77 million, excluding pure land or related transactions) fell 43% quarter-on-quarter to HK$7.6 billion in Q1 2023, marking the lowest quarterly total since Q4 2020. Only two deals worth HK$1 billion or above were closed this quarter. Retail deals accounted for over half of this quarter's investment volume, the first time this has occurred since Q4 2020.
Despite the U.S. Federal Reserve hiking rates by another 50 bps in Q1 2023, Hong Kong's major banks left their Best Lending rate unchanged. The 1-month HIBOR fell from 4.4% in December 2022 to 3.2% in March 2023. Property funds were generally cautious in view of recent financial market turbulence and high financing costs.
Banks, in general, have turned cautious towards lending in Q1 2023. Tightened credit availability and negative gearing combined to discourage investors from making investment commitments.
The most notable transaction during the quarter was the sale of KOHO in Kwun Tong for HK$1.7 billion by New World Development. Other highlights included Asiasec Properties purchasing Concord Square in Tsuen Wan for HK$1.0 billion via a mortgagee sale.
In the land sale market, Sun Hung Kai Properties acquired a commercial site in Sai Yee Street, Mong Kok for HK$4.7 billion (HK$3,103 per sq. ft. accommodation value), the second lowest accommodation value for a government commercial site recorded in Kowloon since February 2005.
Reeves Yan, Executive Director, Head of Capital Markets, CBRE Hong Kong: "Despite the improved business and market sentiment at the beginning of the quarter, fund investors have turned cautious in light of high interest rates, uncertainties stemming from the financial market turbulence and tightened credit availability. Inbound tourism recovery and domestic consumption, however, will continue to improve the outlook for retail and hotel properties. Luxury flats and houses will also be in strong demand as mainland Chinese investors and expatriate demand recovers."