(9th January 2014)      RICS (Royal Institution of Chartered Surveyors) held an international conference on heritage conservation today at the Hong Kong Jockey Club. With the theme of "Towards a Sustainable Model for Adaptive Re-use of Heritage Buildings," the conference featured a diverse array of speakers and projects from both Hong Kong and overseas. Speakers from the Government, the private sector, and academia shared their insights and inspired discussions on conservation with over 240 delegates, including business leaders and industry professionals.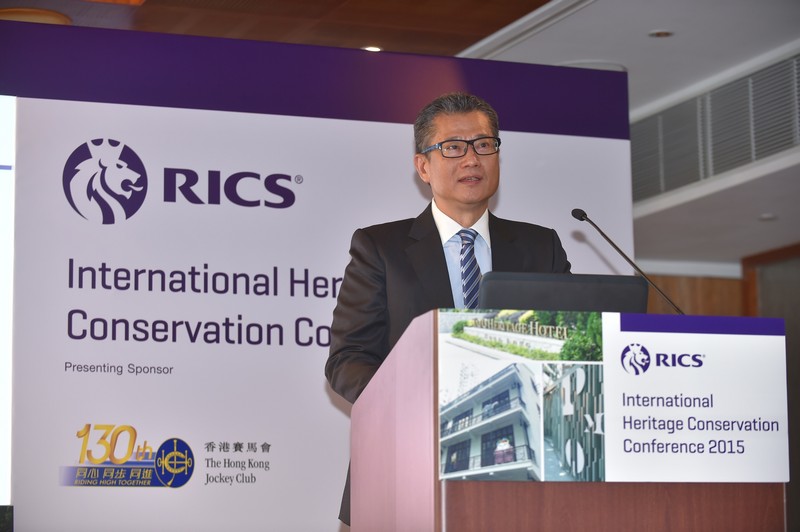 The Conference highlighted heritage conservation projects in both Hong Kong and overseas. Following the presentations in the morning, four breakout sessions in the afternoon explored the financial sustainability, design concepts, interaction with governmental policies, and regulatory challenges of built heritage conservation in Hong Kong.
Mr Paul Chan, MH, JP, Secretary for Development of the HKSAR Government and Guest of Honour of the Conference said: "There are three key success factors contributing to the success of projects showcased today which all have turned idle historic buildings into sustainable businesses.
First, there must be a viable business case so that the proposed social enterprises can be self-sustaining, with profits reinvested for the pursuit of the social objectives that they pursue. Second, the projects should be able to attract the general public's interest in visiting them. Third, the project should be supported by the local community."
Discussions and case studies shared at the Conference reached an overall consensus that significant progress has already been made in Hong Kong, but many more opportunities and challenges still remain. Dr Daniel Ho, Chairman of the Organising Committee said: "Heritage doesn't only preserve the integrity of a nation or city, but also provides a natural sense of unity and belonging to a society and its people. Conservation in Hong Kong has a lot of opportunities for further development, and industry experts are always looking to attract creative minds to come up with solutions for conservation."
RICS regularly submits recommendations and reports to the Hong Kong SAR Government on a range of issues. As the RICS mission is to promote and enforce the highest professional qualifications and standards in the development and management of land, property, construction and infrastructure, following the completion of this conference, RICS will be submitting a report on heritage conservation to the Hong Kong SAR Government.