(Hong Kong, 9 January, 2015)  Following a HK$10 million makeover, the redefined J Plus Hotel by YOO has resulted in a clutch of 2014 industry awards recognizing this distinctive and much favoured accommodation which celebrates Hong Kong's "Urban Renaissance".  This edgy makeover introduces an original approach to architecturally inspired design featuring fresh "street art" twist to the existing building exterior.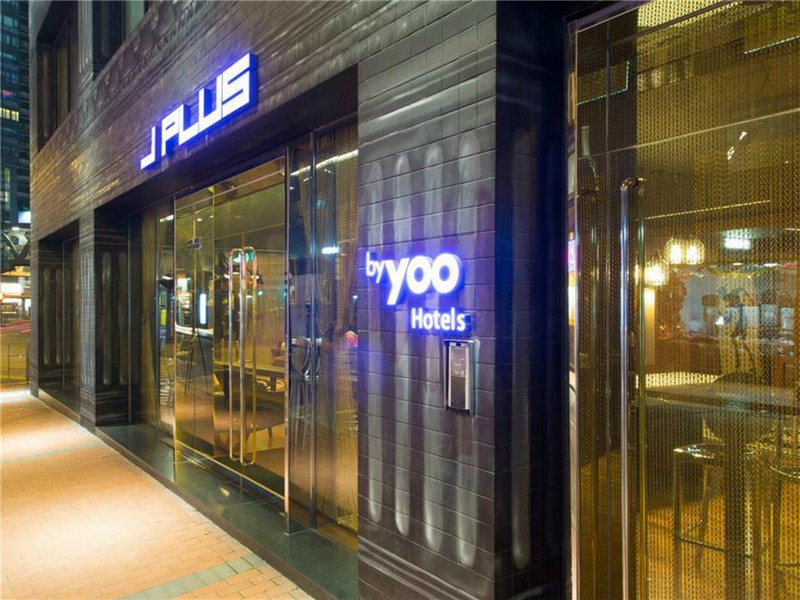 The roster of prestigious 2014 international industry accolades received by J Plus Hotel by YOO includes 2014 World Luxury Hotel Award Country Winners – Luxury Design Hotel (Hong Kong), TripAdvisor's 'Certificate of Excellence' 2014, and Smart Travel Asia's 'Top 10 Boutique Hotel' 2014.
"We are proud of the fact that this iconic Philippe Starck-designed hotel stands as a leading example of refreshing, dynamic and eclectic characteristics, complemented by seamless service and luxury – whilst still remaining respectful of its rich history.  We are more than just a boutique hotel.  We embody a declaration of love for fine design, fine living and unforgettable experiences," stated J Plus Hotel by YOO General Manager, Ms Vivian Chau.
The extensive and award-winning makeover has seen refreshingly bright designs applied to each of the hotel's 32 luxurious studios and 24 stylish spacious suites, while unique ceiling graffiti stickers echo the inspired artistry of street art displayed on the hotel's exterior walls.  This burst of fresh art adds a further dimension to these welcoming, personal sanctuaries, while plush handcrafted carpets add the final touch of luxury to each studio and suite.
Hong Kong also welcomes an eclectic new exhibition space – Art@JPlushk – at the Ground Floor of J Plus Hotel by YOO which will be the launchpad and home to a series of pop-up art exhibitions in the hotel during 2015.
In celebration of 'J+YOO Style', J Plus Hotel by YOO will partner with like-minded art organisations and galleries to engage Hong Kong's creative audience through various programs aimed at growing awareness of local and international artistic talents based in Hong Kong. This initiative will further contribute to the city's growing creative industry, fostering its growing presence and ensuring its continued prosperity.
"We are very excited to launch this dedicated new exhibition space where our guests can enjoy an exclusive opportunity to view and appreciate works by artists from all over the world," stated Ms Chau.
"In January 2015, 'J+YOO Style' launches its inaugural art exhibition in conjunction with the city's leading contemporary art gallery, The Cat Street Gallery.  Timed to coincide with Hong Kong's annual season of art exhibitions and fairs, we are confident that 'J+YOO Style' will also become a "must see" for both local art enthusiasts and international visitors alike; and will work closely with artistic talents from around the world."
The collaboration between 'J+YOO Style' will be a permanent fixture after its launch at the start of 2015, ensuring that contemporary international and local artists enjoy the opportunity to showcase celebrated art pieces to jetsetting visitors around the world, and act as a cultural hub for local art aficionados.
Moreover, 'J+YOO Style' also plans to dominate cyber space with the influential and much-talked about "Instagram Takeover" campaign, which invites celebrities and trendsetters to channel their inner photographer, and showcase Hong Kong through their personal lens to an international audience.
On course to becoming a destination in its own right, award-winning J Plus Hotel by YOO sets a new benchmark in luxury hotel accommodations in Hong Kong, with artistic and architectural features that not only cater to today's hip and informed traveller, but also as a major drawcard for those wishing to immerse themselves in the city's latest cultural offerings.
J Plus Hotel by YOO is located at 1-5 Irving Street, Causeway Bay, Hong Kong.  For reservations, please call (852) 3196-9000 or email [email protected].
For more information, please visit www.jplushongkong.com.