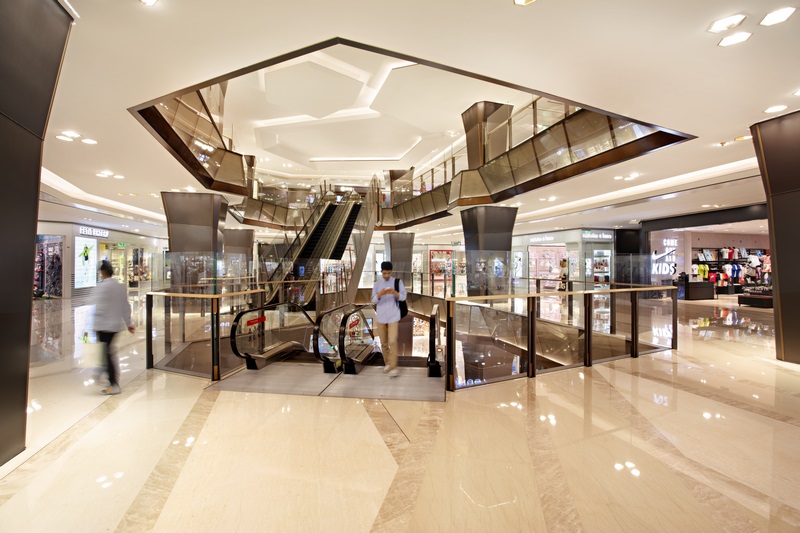 Grand Gateway 66 is a flagship commercial mixed-use development located in Xijiahui, Shanghai, developed by Hang Lung Properties.
(按此瀏覽中文版)
The revitalisation project undertaken by Elena Galli Giallini Ltd., as design architect and interior designer, has involved the rejuvenation of the existing retail complex through a complete transformation of the 20- year old North building and a full renovation of the South building, which is currently undergoing implementation on site.
With a GFA of approximately 315,118m2 on a site of 50,788m2, the development consists of a retail centre, serviced apartments and twin offices towers. The reimagined design of the 185,720m2 ground floor area retail centre is based on the need to address new factors of contemporary society. As such, the development has undergone a radical retransformation from what Giallini describes as a 'cathedral of consumerism' to a hub for modern urban lifestyle and leisure.
African-born Italian architect and designer, Giallini has worked in Asia for the past 25 years, first in Japan and more recently China. Her experience and insight into different cultures have reinforced her belief that architects and designers should do more than rely on what she calls 'fixed style formulas' to generate creative output. Indeed, her methodology revolves around finding solutions to specific places and conditions.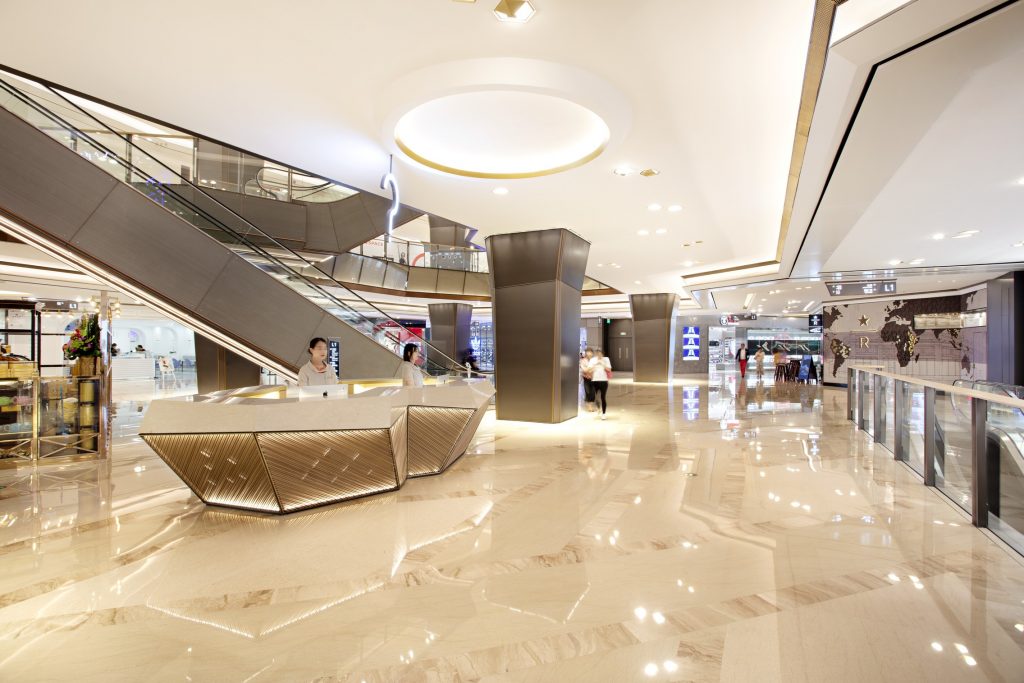 Unique perspectives
"My work is based on a persistent search for novelty, both aesthetic and functional, within a specific time and place. For each project we consider the 'genius loci' or 'the spirit of the place', which represents all the conditions of a particular location, including its surrounding, environment, culture, history and traditions," she explains.
"Our design strategy is also informed by peoples' lifestyle and the particular purposes of the project. In this sense every design should generate a strong identity, which requires interpreting a sense of history as well as a direction for the future."
As co-founder of her boutique architectural and design practice, Giallini's interdisciplinary approach encompasses architecture, interior design and industrial product development. With a portfolio that boasts projects in Italy, Japan and China, her involvement in Grand Gateway 66 is key to understanding her philosophy and her multi-cultural influence.
An embodiment of the "new"
The North Building, which is made up of six floors above ground and three below, was the first phase of rejuvenation, and involved integration of the existing retail centre with surrounding areas.
"Our approach was to think creatively about how to turn limitations into opportunities and how to infuse this huge retail complex with a special identity and transform it into a unique destination relevant to the place and time," Giallini explains.
"For the South Building, where an outstanding glass domed atrium and skylights topping the arcades allows the natural light to inundate the space below, the major aspects to overcome were related to the rigorousness of its spatial composition and the rigid constraints on site.
In contrast, in the North Building, we had a greater amount of freedom for the new design, both in terms of architecture and interior design, which provided us with an almost blank canvas. Yet the main challenge, was to offset a total absence of natural light. Light thus became one of the key factors of the whole ambiance design" she adds.
Creating harmony and appeal
Above all, Giallini's overarching strategy was to find a way to harmonise the two buildings and integrate them into a new complex where the two parts could work together in synergy through their distinctive differences in character.
"One of the main targets of the project was to lift the image of the existing retail complex and to increase its economic value by transforming it from a functional to a pleasurable and experiential destination. Our focus laid on aspects relating to the creation of a sensory experience, aiming to achieve a unique 'look and feel' which is what sets it apart from other retail destinations."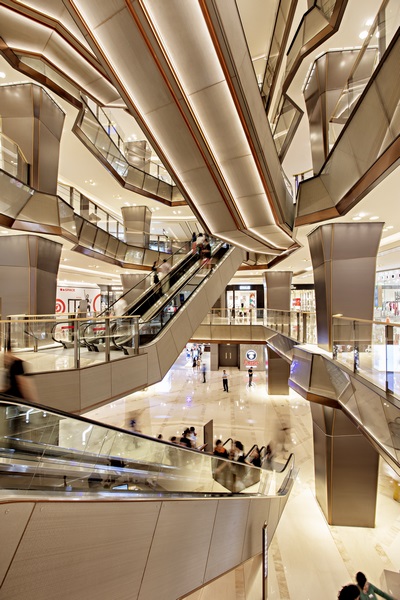 As a specific characteristic of her working method, Giallini uses a holistic approach, tailored to generate a harmonious and coherent ambience where each single part relates to the whole in terms of functionality and elements of visual appeal.
"The concept of 'Place Making' was also what we draw particular attention to. It refers to the process of creating 'quality places' with a strong sense of identity and unique aesthetical characteristics; spaces that people want to shop, work, live, play and learn in. With this in mind, our emphasis was put on creating new spatial configurations to define a fluid and dynamic space with improved circulation, enhanced spaciousness and a feeling of interconnectedness, while adding distinctiveness. To this effect the lobbies are presented as internal 'plazas', offering attractive spaces for socialisation, participation and discovery" she says.
All design features exemplify Giallini's specific design method, with each part solved using unconventional and customised solutions that display great attention to detail and unique craftsmanship.
Ceiling design was key in defining the visual appeal: planes, folds and illuminated troughs accentuate major architectural elements, providing distinctive highlights while solving ceiling constraints.
Lift lobbies, featuring natural patterned-stoned cladding and bespoke lifts in laser cut metal and meshes display a calibrated contrast between the bold and the delicate. Floors are further characterised using various nuances of beige and brown stripes, which overlap and weave through the vast expanse of the mall's atrium on each floor, while washrooms emphasise a unique and subtle refinement complete with contemporary and bespoke cubicles, freestanding washbasins, mirrors and lighting fixtures.
Giallini's selection of natural materials also plays an essential role. A quality of natural authenticity infuses the ambiance, where materials such as stone, metal, glass, wire mesh and wood are presented in various arrangements of different finishes and patterns to enhance novelty and sophistication. Meanwhile, interplays between strong and soft hues, enriched with metallic bronze and copper overtones add to the effect. The peculiar combinations of materials and colours created distinctiveness and dynamism to the overall experience.
"We believe that all the qualities inherent to aesthetic values will become crucially relevant in defining the future of contemporary malls," she concludes.