Hong Kong ranked 8th overall on a recent Sustainable Cities Index covering 50 cities globally, but it ranked only 19th in terms of environmental performance.  While Hong Kong has been enjoying economic prosperity as a world-class metropolis, what should the business sector and the Hong Kong Government do to preserve natural capital and ensure environmental sustainability of the city?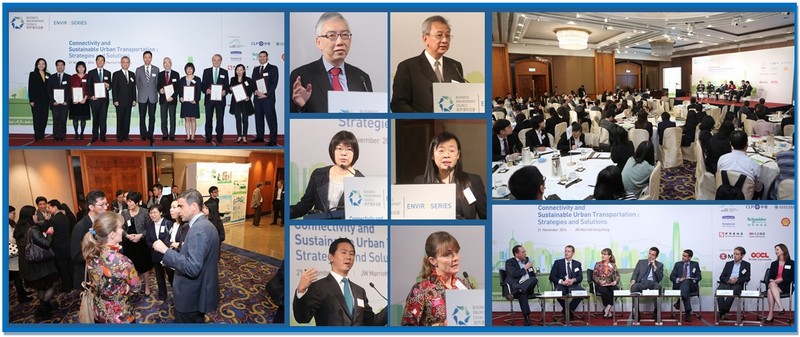 Natural capital represents the stocks of natural assets encompassing air, water, geology and all living things that provide ecosystem services in making human life possible.  Clean air, clean water and other natural assets are becoming increasingly more important to policy makers and business leaders in their planning and decision making process.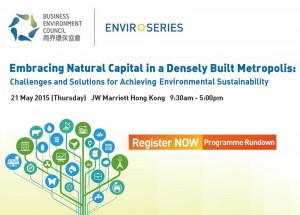 According to the Chief Executive's 2015 Policy Address, the Hong Kong Government is formulating the first Biodiversity Strategy and Action Plan ("BSAP") for the city with a view to stepping up conservation efforts and supporting the sustainable development of Hong Kong.  The business sector is well-positioned to provide inputs to the Government on developing a successful BSAP that can facilitate Hong Kong's development agenda.  What elements should be incorporated in the BSAP to enhance transparency and predictability of the development planning process, while avoiding duplication with the existing regulatory regime and potential increase in the cost of doing business?
Clean water, as an important natural asset, also requires careful long term planning and management. The Hong Kong Government has forecasted that fresh water demand will grow to 1,315 mcm by 2030 if no additional water demand management measures are introduced after 2015.  With a population of over 7 million and still growing, maintaining reliable water supply is a challenge for Hong Kong.  What are the possible measures and solutions that can facilitate our planning and better management of this natural asset?
Hong Kong is a city bursting at the seams with dense population and is struggling to meet the needs of its citizens. However there is no simple formula for converting a congested metropolis into a green and low-carbon urban environment.  Strategic planning, innovative business solutions and cooperation among different sectors are needed to balance economic growth and protection of natural capital.  In this Conference, BEC will bring together industry experts, policy makers, business leaders and academics to discuss and explore innovative solutions and technologies that can preserve Hong Kong's natural capital and bring benefits to businesses at the same time.
Key Topics:
Policy Directions in Enhancing the Conservation of Hong Kong's Natural Capital as an Important Pillar for Sustainable Development
Overseas Case Study – Win-Win Scenario in Driving Growth and Conserving Biodiversity
Balancing Infrastructure Development and Environmental Sustainability – Innovative Approach in Preserving Natural Capital in Infrastructure Projects
Biodiversity in Urban Planning Process – Perspectives from Property Development
Business Opportunities in Ecosystems Services – Challenges, Success Factors and Future Development
Win-Win Scenario in Driving Growth and Conserving Biodiversity
Panel Discussion – The Role of the Business Sector in Facilitating Biodiversity in Hong Kong and the Business Considerations
Developing the First City Biodiversity Strategy and Action Plan for Hong Kong
Water Management in Hong Kong as a Water-Scarce City and Strategic Measures to Improve Water Security
Embracing Water Efficiency – Business Case and Innovative Solutions
Showcasing Water Footprint Reduction as a Successful Business Strategy
Water Resource Management in a Service Economy – Overseas Experiences
Panel Discussion – Water Resource Management for Different Industry Sectors including Risk Assessment and Mitigation
Government / Policy Perspective on Connectivity and Sustainable Urban Transportation
Government / Policy Perspective on Sustainable Transport Development
Overseas Showcase – Connectivity in Urban Planning and Conservation
Sustainable Urban Connectivity Design and Development – Private Sector's Perspective
Improved Connectivity Through Urban Redevelopment – Challenges,  Innovative Strategies and Impact
How does "Connectivity" improve and maintain Hong Kong's competitiveness among Asian cities?
Low Carbon Transportation – Latest Technologies and Solutions
Renewable Fuels – Demand Side and the Business Case
Sustainable Biofuel Development – Sourcing and Supply
"Kai Tak Fantasy" – Challenges, Opportunities and Improved Connectivity
Presentation on Development Proposals
Speakers/ Panellists/ Moderators:
OPENING REMARKS – Prof John CHAI, Chairman, Business Environment Council Limited
KEYNOTE – Mr K S WONG, JP, Secretary for the Environment, Hong Kong SAR Government 
Dr Siu Fai LEUNG, JP, Acting Director of Agriculture, Fisheries and Conservation, Hong Kong SAR Government 
Ir Chung Leung WONG, Deputy Director of Water Supplies, Hong Kong SAR Government 
Mr Alistair MONUMENT, FSC Asia Pacific Regional Director, Forest Stewardship Council®
Mr Anderson LEE, Chairman, Sustainable Fashion Business Consortium
Mr Ben RIDLEY, Sustainability Affairs – APAC Regional Head, Credit Suisse
Mr Gavin EDWARDS, Director of Conservation, WWF-Hong Kong
Mr John HERBERT, Director, BEAM Society Limited
Dr Joyce TSOI, Environmental Program Responsible, H&M Hennes & Mauritz (Far East) Limited
Prof Kin Chung HO, BBS, JP, Dean of School of Science & Technology, The Open University of Hong Kong
Dr Michael LEVEN, Director, Asia Ecological Consultants Ltd
Mr Mike KILBURN, Senior Manager, Environment, Airport Authority Hong Kong
Ms Natalie CHAN, Director, Corporate Responsibility and Sustainability, Hongkong & Shanghai Hotels, Limited
Prof Nora TAM, Chair Professor of Department of Biology and Chemistry, City University of Hong Kong
Ms Pat Gallardo DWYER, World Economic Forum Young Global Leader, Class of 2015
Mrs Rita HÄMMERLI-WESCHKE, Consul-General, Consulate General of Switzerland in Hong Kong
Mr Samuel KWONG, Group Sustainable Development Manager,John Swire & Sons (Hong Kong) Limited
Mrs Shirlee ALGIRE, Executive Manager, Sustainability, The Hong Kong Jockey Club
Mr Tony IP,  Deputy Director of Sustainable Design, Ronald Lu & Partners
Mark HARPER, Manager, Policy Research & ESG Advisory, Business Environment Council Limited
Language

English
Registration Details
$1500.00
20% discount for BEC Council members; 15% discount for BEC Corporate members; 10% discount for BEC General/ Affiliate members; 10% for Members of Supporting Organisations; Additional 5% discount for any registration for 3 or more participants
(Subject to a maximum discount of 20%)
Contact Person
Ms Jill Chow, Officer – Events & Communications, +852 2784 3942
Further Details
http://bec.org.hk/events-current/bec-enviroseries-conference-2015