(21st October 2019, Hong Kong) Weave Co-Living's first co-living project for millennials, Weave on Boundary, which opened its doors in Prince Edward in August 2018, has been bustling with young professionals. This autumn, we present a brand-new co-living community in the heart of Hung Hom — Weave on Baker, which aims to be a unique combination of private and shared spaces for youngsters. First residents are expected to move into their new home from 1 November onwards.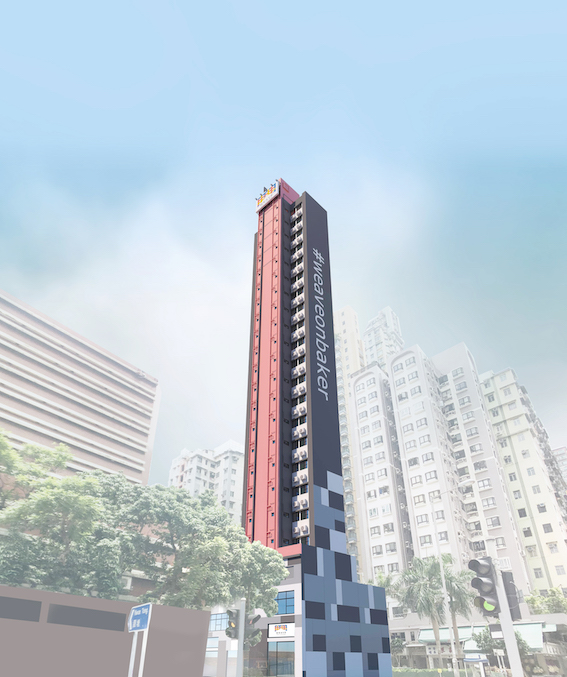 Weave on Baker's all-inclusive rent begins from HK$8,100 per month with a minimum of 6 months leasing period, and covers management fees, high speed Wi-Fi, all utilities and regular room cleaning services, to deliver an enjoyable, hassle-free city living experience.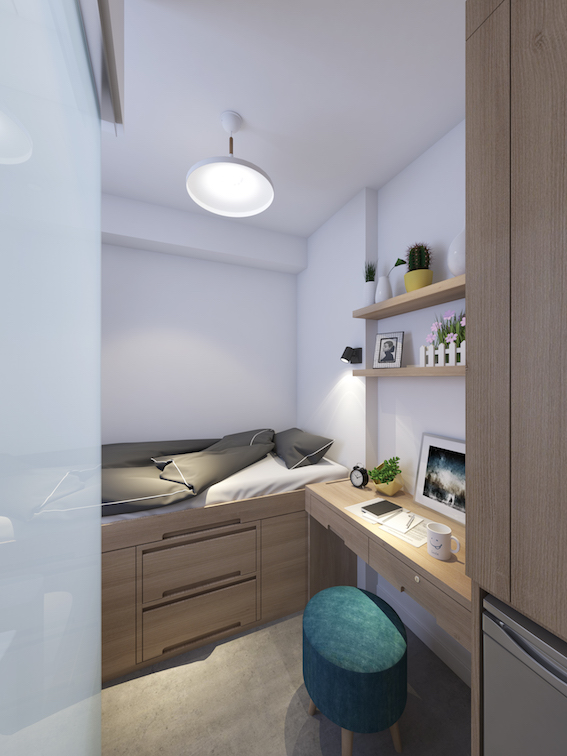 Bedroom Types
There are 2 categories of bedrooms – Standard En-suite Bedrooms and Trio Bedrooms.
Standard En-suite Bedroom (left) features a private bathroom with a rain shower, a luxury hotel-grade single bed, high storage capacity, a personal fridge, a work area with desk and seating, a large-screen TV, and smart-home equipment; a limited number of the en-suite bedrooms feature a separate balcony. In addition, some bedrooms offer views of the highly sought-after skyline of Victoria Harbour. For Trio Bedrooms (right), there are bathroom facilities shared with 2 other residents in a private cluster equipped with rain showers. Trio Bedrooms feature a luxury hotel-grade single bed, a small fridge, work area with desk and seating, a large-screen TV and smart-home equipment. All bedrooms have plenty of natural lighting and windows.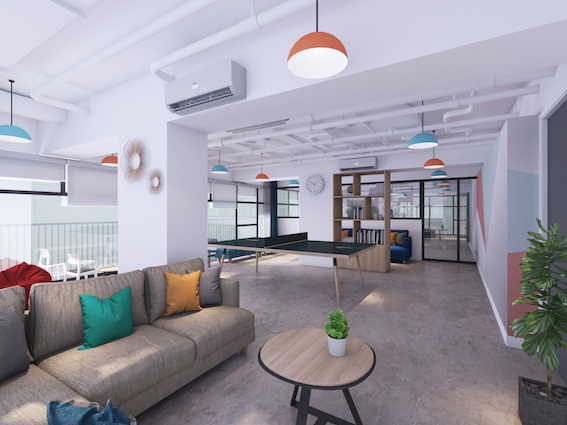 Shared Facilities and Activities
Similar to Weave on Boundary, Weave on Baker also has ladies-only floors to provide a more secure living environment for women. Designed with a minimalist style, the extensive shared spaces are composed of facilities which include a gym, living room, reading corner, games centre, fully-equipped kitchen with stainless steel appliances, rooftop area, an outdoor BBQ deck, laundry machines, personal mailboxes, as well as couches, window seating and bean bags where residents can sit back, relax and connect with their fellow residents.
To create the ultimate and now famous Weave experience for its residents, regular activities across multiple pillars will be organised by our Experience and Community Teams: entertainment & lifestyle, arts & culture, wellness, social responsibility and personal development. Residents at Weave on Baker can look forward to meeting like-minded people through the many engagement activities curated by Weave. From sharing personal experiences and knowledge with one another to enhancing individual skillsets, Weave on Baker aims to build a supportive community while creating a sense of belonging for everyone.
Supporting Local Art and Culture
Weave Co-Living has specially invited 2 HK-origin alumni from international art university SCAD; painting artist Blessy Man and game designer Henry Lau, to curate the beautiful "Lion Rock At Dawn" mural in the shared living room space at Weave on Baker. Inspired by Hong Kong's urban landscape and the iconic mountain Lion Rock, the mural's outlook and use of low-poly painting techniques creates a playful yet zen view of our beautiful city, bringing to life the culture, character and uniqueness of Hong Kong to Weave on Baker.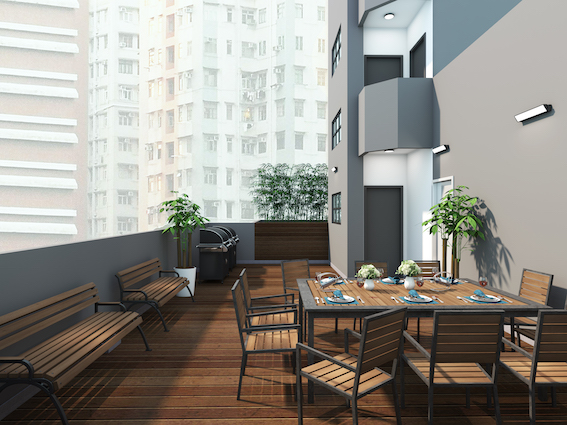 Weave on Baker Residences Benefits
Apart from creating experience for the residents, special benefits are made available as well such as exclusive discounts for Gweilo craft beers brewed in Hong Kong and meal plan discounts at Youni, a healthy café that specialises in designing delicious and nutritious meals in the comfort of dining at home.
Xccelerate, a Hong Kong start-up that provides accessible and cutting-edge technology education, will also be offering special discounts for their programs and workshops for those who wish to advance their technology skills for all Weave residents.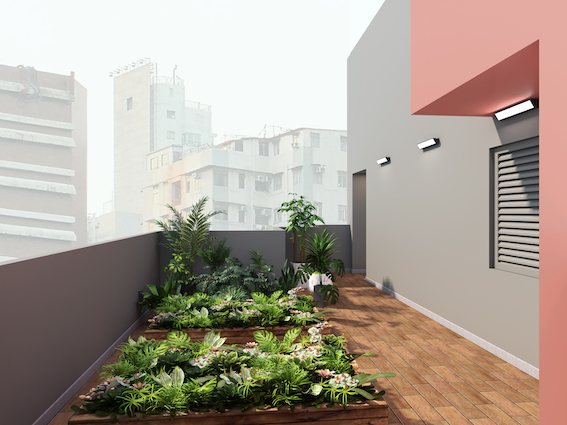 Convenient Access
Thanks to the convenient transportation system of Hong Kong, residents can easily travel to and from Weave on Baker from multiple points throughout the city whether by MTR, ferry, bus or car. The property is also conveniently located less than 10-minutes away from some of Hung Hom and Whampoa's best gourmet restaurants.
Weave on Baker: Open House
Weave on Baker will be hosting a fun Open House evening on 25 October, 2019 (Friday) 6 – 9 PM with a special sneak peek and first-hand experience of the brand-new property. Wander through our well-designed common areas, taste refreshing drinks and bites in our shared kitchen, spot the art around the space, meet like-minded people and discover the bedrooms during a tour by the Weave Community team. Limited spots available, register now at: https://www.eventbrite.hk/e/weave-on-baker-open-house-tickets-73524077495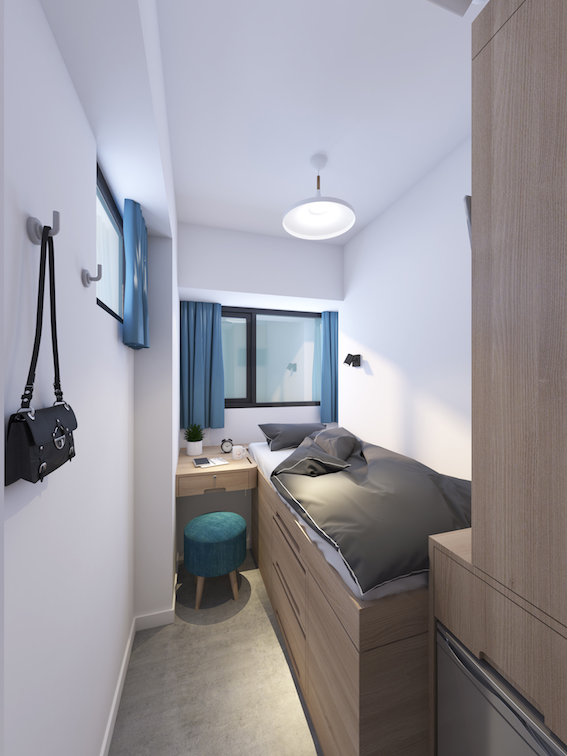 Special Reader Offer
To celebrate the launch of Weave on Baker, we are offering readers HK$588 off per month for the Standard En-suite Room and HK$388 off per month for the Trio Rooms, with a minimum booking of 6 months. Promotion is valid from now until 31st January, 2020 and not available for use in conjunction with other offers. Enter promo-code: readeroffer at https://www.weavecoliving.com/application-details. Terms and conditions apply.
About Weave Co-Living
Weave Co-Living is a leading co-living company in Asia. In response to the rising property prices and expensive high rents for millennials across Asia, Founder and CEO Sachin Doshi established Weave Co-Living to provide young people in our cities a beautifully designed, stylish and comfortable home that delivers superior value for money with a strong sense of community.
Weave Co-Living is committed to developing close-knit communities for millennials and young professionals in a hassle-free city living environment, where residents can enrich their lives by sharing experiences and inspirations to achieve aspirations and ambitions. The company curates stunning shared spaces as well as social and cultural events. We will soon be launching the Weave App, a smart-management platform, to enhance our provision of services, benefits and information to the Weave community.