Atkins' has vast experience in the architecture design and planning of large Mixed-Use Buildings and Transport Buildings.  With Transport Orientated Development (TOD) emerging as an important new building type in both China and South East Asia, Atkins is uniquely positioned as an industry leader to lead this emerging trend of integrating these two building types together.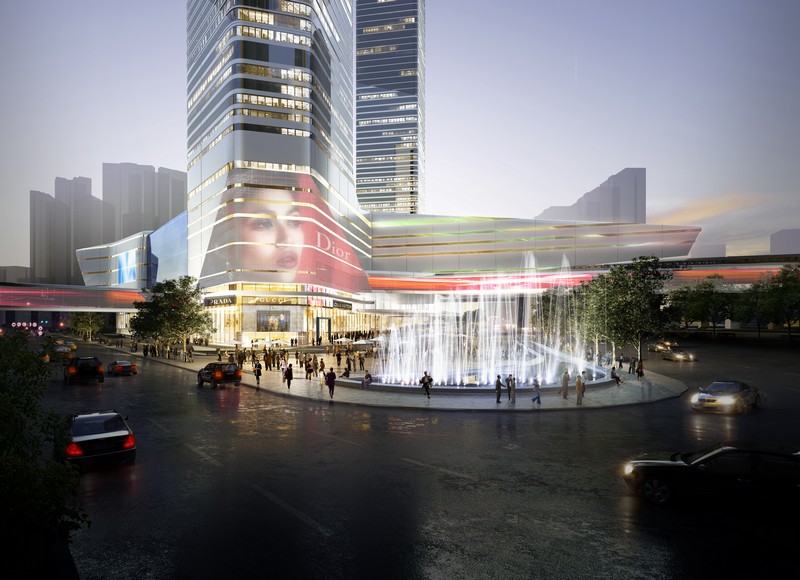 Cadre City Plaza is a transformational example of this new building type.  In urban and transport integration terms, it brings together places for people to work and live with East Guangzhou's important transport hub. This project evolves a sustainable model of high density, mixed-use development that Atkins have consistently promoted.  It will be China's first fully integrated Transport Orientated Development (TOD) project, keeping Atkins at the forefront of TOD design in China.
This mixed-use project integrates a number of transportation facilities and will be a major attraction to visitors, interchanging passengers and the people working or living in the development. The connections between the transportation hub, the adjacent high-speed rail station and the surrounding developments have been optimized to ensure an efficient people flow that benefits the passengers and the 250,000 sqm of commercial property on site.
The transportation hub itself includes the elevated intercity railway station that dramatically punches through the podium of the development, an underground high-capacity metro interchange station and a bus and taxi interchange located at ground level. These three transportation facilities are interconnected via the podium that consists of six levels of shopping mall above ground and two levels of shopping mall below ground.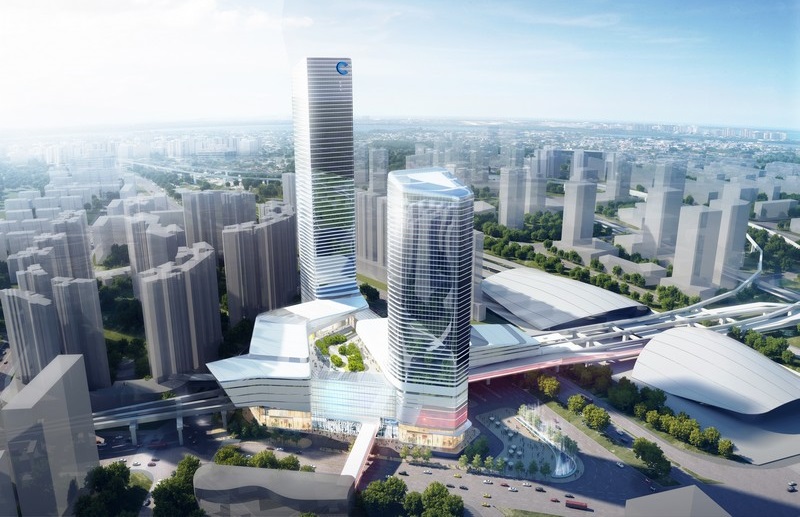 The shopping mall can be accessed directly from the railway station concourses or via entrances from the three facing elevations of the triangular plot.  All the entrances bring visitors into large and dramatic sunlit atriums that accommodate escalators that interconnect all eight levels of the mall. The upper levels of the shopping mall have indirect connections to the transportation facilities, and enjoy their own attractions including a multiplex cinema, a food court and large public roof garden surrounded by cafes and restaurants that will draw visitors to these upper levels.
Two tall towers are located on the east and west sides of the podium. The larger 260 metre high tower accommodates a five star hotel, grade A office and SOHO residential apartments. The shorter 182 metre high tower accommodates SOHO residential apartments. The powerful forms of the towers create a welcoming gateway to visitors. The smooth rock strata-like facades give Cadre City Plaza a timeless quality, while the dynamic curves of the podium creates a visual interest and movement that represent the modes of transport that interconnect on the site.
Outside the development large areas of public space, including a civic plaza at the north-east of the site and green garden areas on the south and west of the site will ensure this landmark project fits well into its context and greatly benefits the surroundings.