Designed by Swiss architects Herzog & de Meuron, Hamburg's spectacular new Elbphilharmonie concert hall was officially opened in January 2017. Its glass structure and fluid wavelike roof is perched on top of a 1960s Werner Kallmorgen warehouse. Lying at the western point of the new HafenCity, Europe's largest inner-city urban development project, and in direct proximity to the Speicherstadt warehouse and Kontorhaus business districts, the site looks set to become a new social and cultural hub for locals and visitors alike.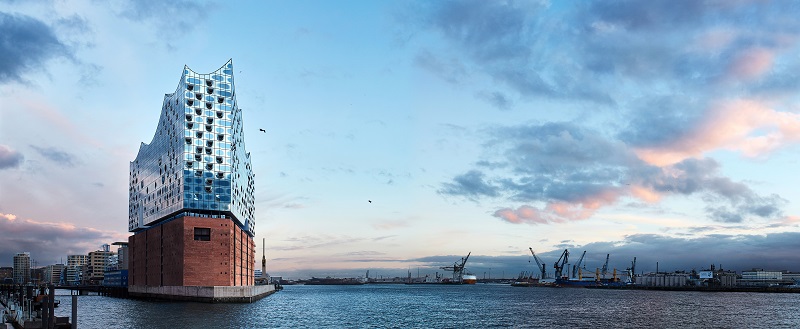 The development is made up of three concert halls; a 37 metre high public Plaza that features panoramic views over Hamburg and the port; a music education area; a selection of food and beverage outlets; and a hotel. The external shell of the Elbphilharmonie's glass structure is composed of around 1,100 glass elements that mirror the sky, the city and the waters of the River Elbe. The façade is a constantly changing projection surface, reflecting its surroundings and the different weather conditions. A slightly curved escalator, known as The Tube, is approximately 80 metres long and leads the way into the building, with walls encrusted with countless glass chips. This leads up to the sixth floor to a large panoramic window from which the port and landing stages are visible. A second, shorter escalator transports visitors up to the roof.
At the top lies The Plaza, which links the two parts of the building. Its internal and external areas act as a meeting place from which visitors can access the foyers of the new concert hall. At 50 metres high and with 2,100 seats the Grand Hall is the true centrepiece of the Elbphilharmonie. Musicians are seated at the heart of the audience in the middle of the hall, while seats rise in a steep incline to encircle it. The rows of seats extend virtually to the top of the room, almost forming part of the walls and ceiling. Despite its size, no member of the audience is seated more than 30 metres away from the conductor. In collaboration with star acoustician Yasuhisa Toyota the architects designed a special wall and ceiling structure.
Known as the "White Skin" it features 10,000 individually shaped gypsum fibre panels cut with millimetre precision to reflect sound, and optimise acoustics. The reflector under the ceiling of the hall also acts as the hall's central light fitting and conceals critical elements of the hall's technical functions. A bespoke pipe organ features 4,765 pipes situated in, next to and behind the audience seats.
On the east side of the Elbphilharmonie is the Recital Hall, designed to seat up to 550 people. The wave-shaped wooden panelling here ensures perfect acoustics and provides the ideal venue for chamber music. The third hall, Kaistudio 1, designed for around 150 visitors, is part of a seven-roomed music education area, which underlines the broad spectrum of potential uses of the Elbphilharmonie's outstanding and world-ranking facilities.
Information & images: Elbphilharmonie Hamburg