MIA Design Studio have unveiled a Vietnamese food pavilion in Hanoi to showcase the country's rich culinary history. Set over a site of approximately 72m2, the project's design philosophy draws from elements of traditional Vietnamese life that many feel are being lost in the wake of continued urbanisation and rapid economic development in the country's ever-expanding metropolitan areas.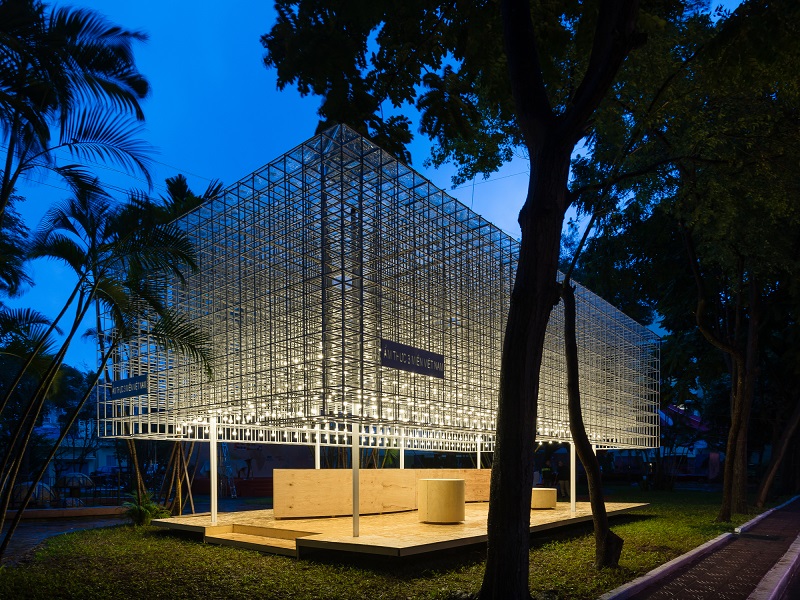 In contrast to, and in protest of, Hanoi's creeping urban homogeneity, MIA Design Studio have sought to reinvigorate the past in a strikingly modern fashion by incorporating elements of the host country's architecture, food and geography into a build at the heart of the Vietnamese capital.
The project's defining feature is its extended modular roof. Taking up over two thirds of the build's elevation, the stark white lattice structure is composed of 4000 individual steel beams representing 4000 years of Vietnamese history. The sides of traditional roofs tend to be flat and angular but are then lifted at each corner, as inspired by the prows of boats commonly found in riverside villages and rural areas.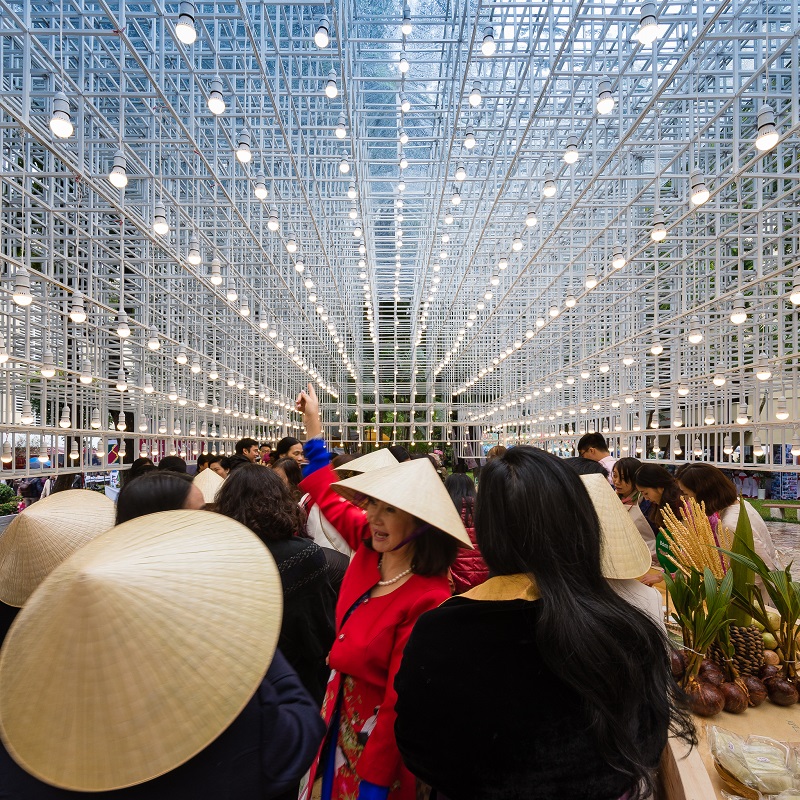 The roof's significant size echoes this traditional approach to architecture and has connotations of warmth, reunion, inclusivity and family. The transparency created by the lattice structure of the pavilion gives a sense of openness and interactivity to the building expression, helping to create an inviting social space for visitors below. The underside of the canopy is lined with rows of LED fixtures to illuminate the structure above and shine a light on Vietnam's
rich cultural identity.
Three timber units displaying culinary delights from across three regions of Vietnam populate the pavilion's base. The large central display counter has been distinctively crafted to resemble the S-shape of Vietnam itself, whilst the two standing tables represent the Paracel Islands and Spratly Islands of the South China Sea. These two smaller tables were included by the architects to represent Vietnam's willingness to "assert [its] territorial sovereignty" over the disputed islands. This declaration is a bold stance, one that evidences the designers' desire and passion to protect their cherished identity and people regardless of reprisal from foreign nations. This dedication to heritage and cultural conservation is the cornerstone of the architects' design of this project.
Describing their building concept as "open but closed, closed but open", with this pavilion MIA Design Studio have created a welcoming landmark that invites locals and tourists alike to celebrate the diversity of experience available in Vietnam. Architectural projects such as this, that recall and reinvent traditional elements of the host culture, can be key in ensuring cities and nations across the world retain a sense of identity in an increasingly globalised world.