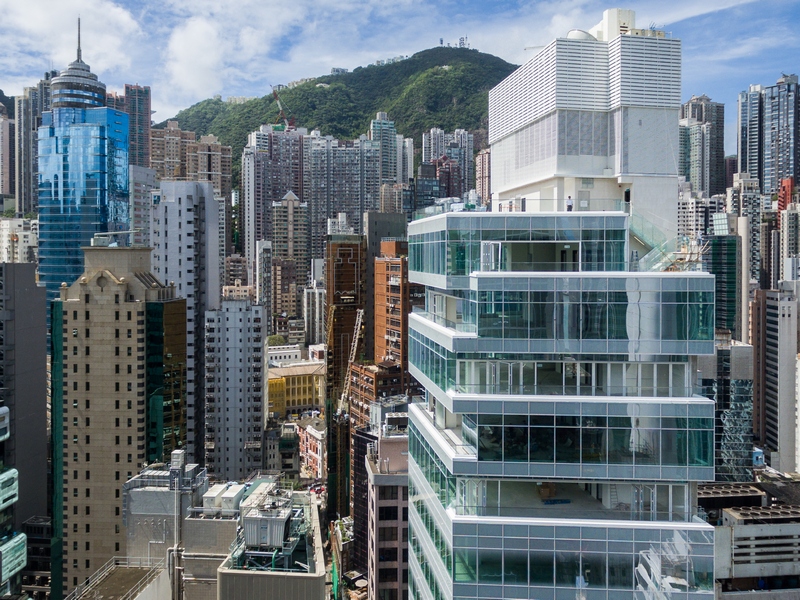 In May 2017, Hong Kong developers, Henderson Land paid a record HK$23.28 billion (US$3 billion) for the government's commercial plot at 2 Murray Road in Central, setting a new benchmark for the local property market. Expectations over the Murray Road plot, the first commercial site in Central to be put up for tender by the government in two decades, has already spilled over to surrounding commercial properties, boosting capital values by as much as 11 per cent.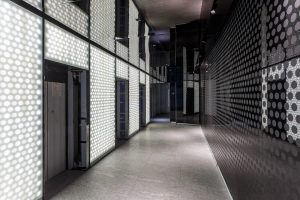 Currently occupied by a five-storey public car park, Henderson plans to develop the site into a 31-storey office and commercial development. Upon its scheduled completion in 2022, the development is poised to feature as a landmark building and is likely to attract strong occupier demand from Mainland Chinese firms and multinational corporations. The purchase highlights Hong Kong's fast changing commercial development industry, and Henderson's economic commitment to expanding its development land bank to meet the city's increasing commercial demands.
In this issue of PRC we take a look at a number of award-winning recently completed and on-going developments in Henderson's commercial portfolio that are testament to the developer's commitment to the sustainable and commercial growth of the city. From sustainable smart buildings, through to the rejuvenation of old alleyways and promotion of the arts, the ethos of this local developer promises to have Hong Kong's commercial, environmental and cultural interest at its heart.
---
H Queen's – Completion/Opening date: Sept 2017
Awards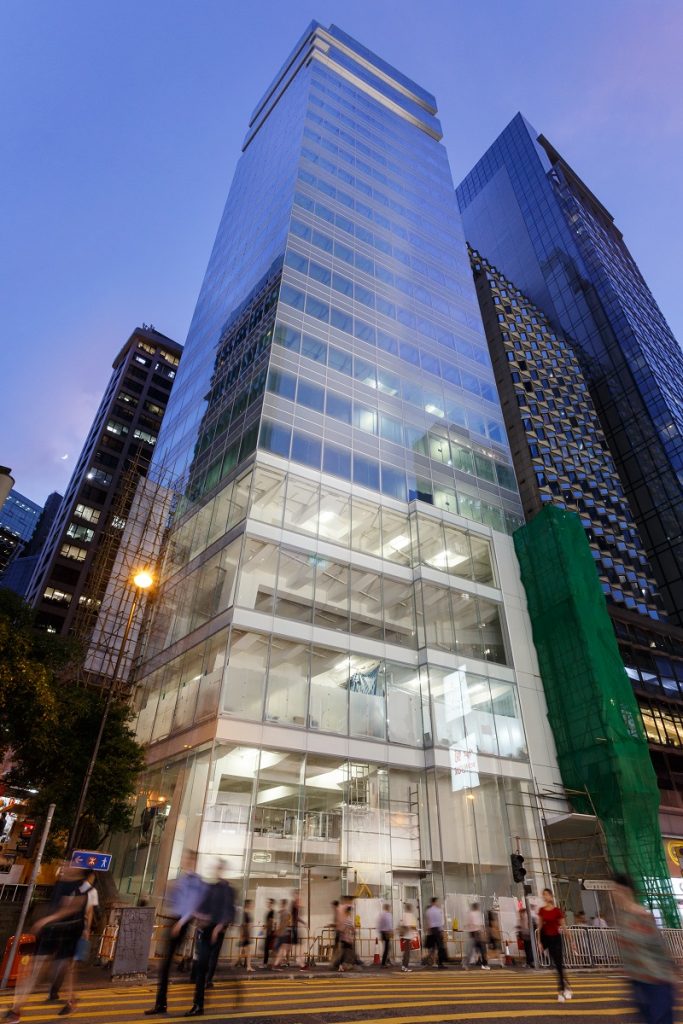 • 2014 China Property Awards – Best Commercial Development
(Hong Kong) Award
• 2014 LEED Core & Shell Precertification Gold Level
• 2015 China Green Building Design Label 3-Star Rating
• 2015 Asia Pacific Property Awards – Best Retail Architecture
Hong Kong – 5-Star
• 2016 MIPIM Asia – Best Futura Project – Gold Winner
An architectural icon in itself, H Queen's, is designed as the centre of Hong Kong's art and lifestyle scene. With entrances on Queen's Road Central and Stanley Street, this development is set to provide the city's Central district with a revolutionary networking platform, inspired by unique space planning, urban integration and social interaction. The location of the development provides maximum exposure to one of Hong Kong's highest foot corridors and is designed to provide a centre point for Hong Kong's art and lifestyle scene.
Just footsteps away from MTR transport and many prominent Hong Kong Island landmarks, the development incorporates modern design in a premium space that capitalises on the urban backdrop of Central. The tower houses nontraditional spaces for exhibitions in a bid to promote art in the city and to expand its audience.
The building's design boasts multifunctional layouts, optimum floor-to-ceiling heights, bi-folding doors and expansive balconies to accommodate a wide range of exhibition and entertainment needs. The integrated building maintenance unit was designed to facilitate the smooth delivery of artwork and includes a custom-made mechanical system to protect valuable art pieces.
Designed by CL3, an award-winning architecture and interior design firm based in Hong Kong with offices in Beijing, Shanghai and Shenzhen, H Queen's façade combines advanced glazing technology, ceramic fritted glass, and low-e coating to achieve an unparalleled aesthetic effect. The building's design also emphasises the concepts of spaciousness, functionality, eco-friendliness and energy efficiency.
---
18 King Wah Road – Construction start date: 27 Nov 2014 | Completion/Opening date: 31 Aug 2017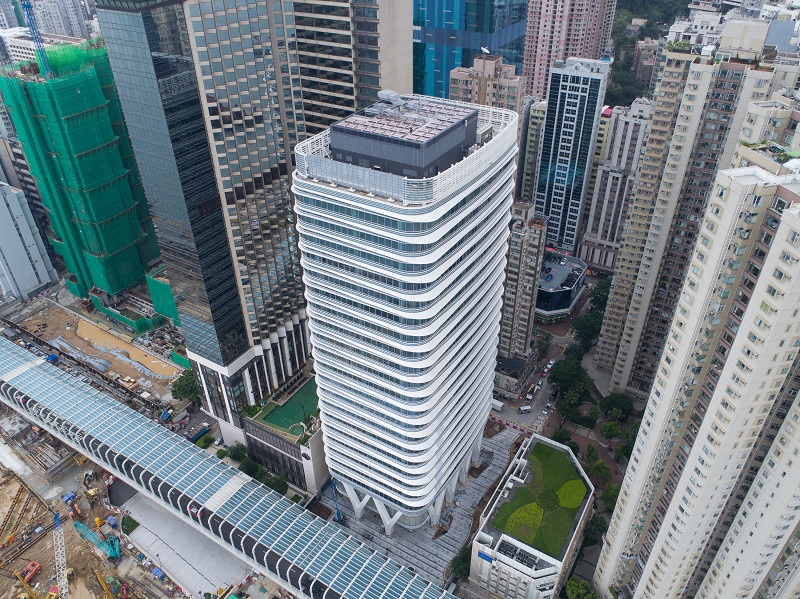 Awards
• 2014 BEAM Plus Provisional Platinum Rating
• 2014 Green Building Award Merit Award
• 2014 China Property Awards – Best Green Development (China) Award
The underlying design goal of 18 King Wah Road (KWR) was to go beyond technologically advanced architecture and to strive to achieve greater harmony between people, the city and the environment. This award-winning development has achieved the highest rating of local and international green building labels and shows Henderson's commitment towards leading Hong Kong to a sustainable future. KWR is a revolutionary, intelligent and green commercial building which has created a low carbon work environment for businesses and the community. For Henderson, KWR represents the developer's commitment to providing a local solution to Hong Kong's emissions problems, and provides an answer to the wider global question of how to create harmony and balance between economic development, society and the environment.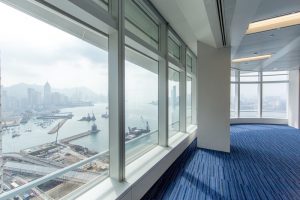 Incorporating three intelligent systems, four innovations and 13 green features, KWR is a sustainable solution designed to demonstrate synergy between comfort, energy and safety. Green features and leisure facilities set within the communal areas allow visitors to enjoy shaded seating areas and recreation space.
With this Grade-A office development offering magnificent and expansive views of Victoria Harbour, one of the key objectives is to enhance the inherent view asset of this Harbour-front site and to create a visually attractive yet environmentally sustainable building. Pelli Clarke Pelli Architects (PCPA), working collaboratively with DLN Architects and Arup's Sustainability Team, put forward an innovative solution to the inherent conflict between the harbour views and unfavourable afternoon sunlight using a solar responsive façade. A series of computational analyses to augment the "passive design strategies" was also adopted for this development. Benchmarking with Henderson's other offices designed by PCPA, namely Two IFC in HK and WFC in Beijing, this state-of-the-art 'smart building' offers premier office space to its tenants, without detracting from the public's enjoyment of and access to the harbour.
---
218 Electric Road – Construction start date: 3rd October 2016 | Completion/Opening date: 31 March 2020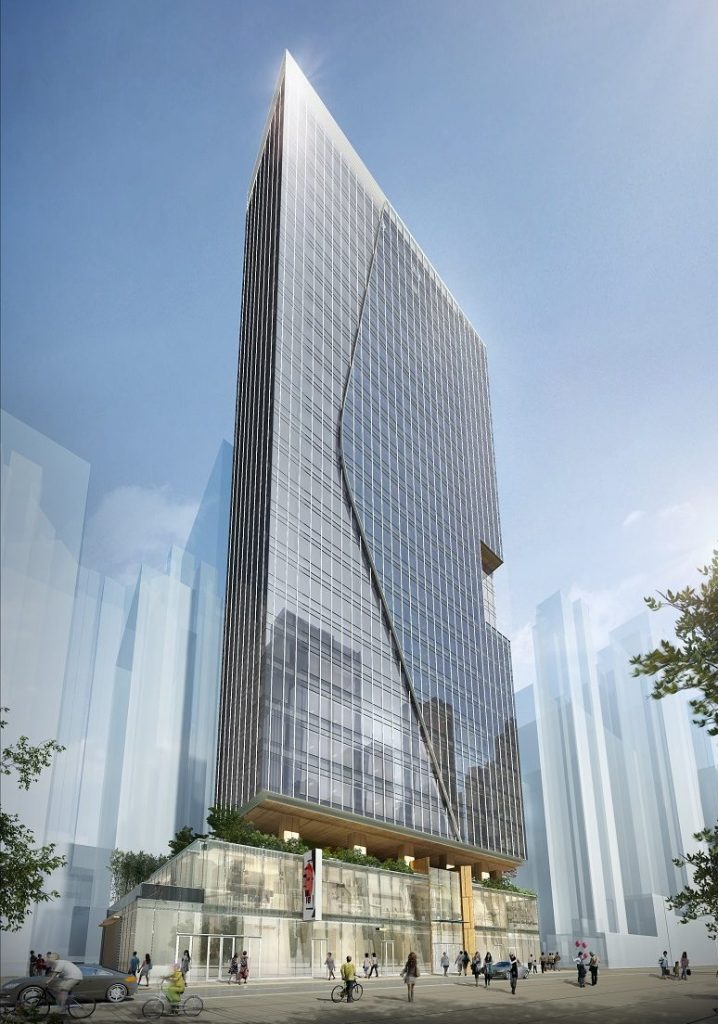 Awards
• 2015 MIPIM Asia Best Futura project – Silver award (King Wah Road
and HK Newton)
• 2016 Green Building Award – Merit – New Buildings – Projects Under
Construction and/or Design (Commercial Building)
• 2016 LEED Platinum Pre-Cert Core & Shell
• 2017 BEAM Plus Provisional Platinum Rating
Representing the next chapter of green building this commercial office development on Hong Kong Island, has a GFA of 13,378m2. It showcases the commitment towards a human-centred healthy building design.
Henderson's mission is to create a natural and healthy work environment that improves productivity by focusing on the well-being of the end users. Air quality, sickness prevention, internal thermal comfort, good daylighting and user controllability are the focus for Electric Road's user-oriented design. The façade design has been described as a marriage of science and beauty.
Daylight simulation, solar irradiance simulation, AVA, indoor natural ventilation CFD study and façade curvature optimisation were performed to provide a thorough understanding of the external environmental elements that would affect the building's exterior and interior.
The design team examined different options available to provide sufficient reduction in solar irradiation, incorporating these seamlessly into the architectural design which has since obtained "platinum" rating in both LEED and Hong Kong BEAM Plus environmental accreditations.
---
H Code – Construction start date: Mid 2015 | Completion/Opening date: Mid 2018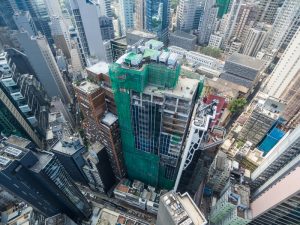 AWARDS
• 2016 Cityscape Awards for Emerging Markets
• 2016 China Property Awards Best Mixed Use Development (Hong Kong and Macau)
Dubbed as an icon of urban aesthetics, H Code is Hong Kong's first purpose-built art lifestyle building and looks set to become the city's new dining and entertainment landmark. Situated at the top of Pottinger Street overlooking the former Central Police Station complex, two building blocks provide opportunities for wining and dining, creative collaboration, work, play and design experiences, created in a versatile and vertical real estate environment that reacts to the ever-changing commercial profile of Hong Kong's Central district.
The project sets a new standard as the leading catalyst for a functional transformation of a city block, upgrading the neighbourhood to modern day social and entertainment standards. One major character of 45 Pottinger Street is its highly perfected balance between commercial exposure, and the subtle softening of urban impact with the use of building set-back, piazza creation and carving up ground level to maintain the original alley-way character of the local city block.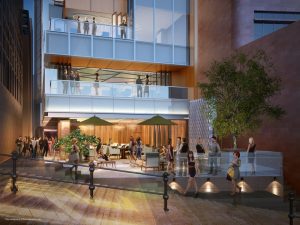 Interstitial spaces, coupled with a kinetic façade treatment that extends the internal restaurant experience to an exterior city landmark, are transformed into social and cultural vistas. Following the concept of connecting the heritage of this once hidden location with new and existing culturing destinations in the area, the project is targeting towards boutique establishments, as well as exclusive and flagship eateries.
The two building blocks, the High Block and the Low Block, consist of 12,486m2 across 24 storeys, and 2,215 m2 across 11 floors respectively. A link bridge on the 11th floor connects the two blocks and provides direct access to the roof terrace of the Low Block's external sky-garden.