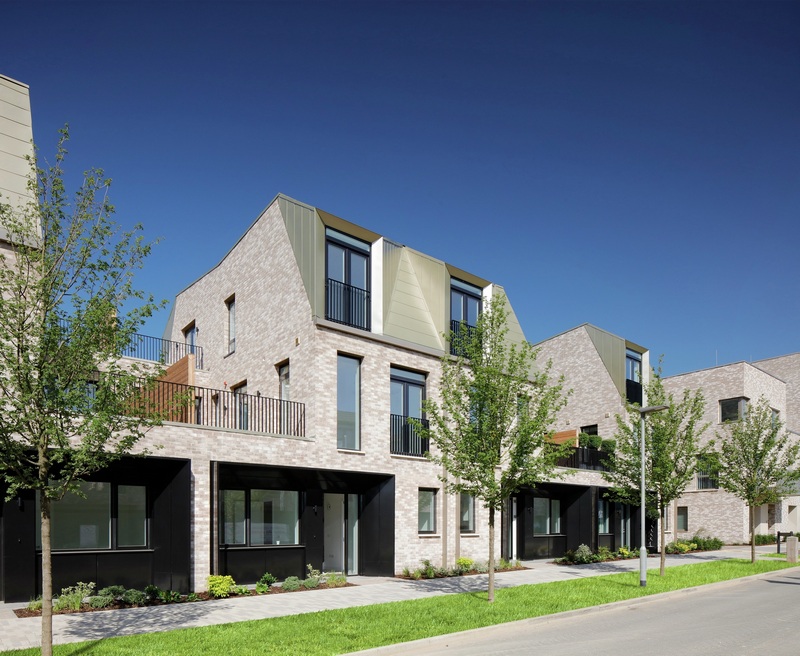 (22 January 2021, Hong Kong) Hill, the third largest privately-owned housebuilder in the UK, has launched a new collection of Knights Park homes set within the new community of Eddington, 1.9 miles from the historic centre of Cambridge.
(按此瀏覽中文版)
A modern and sustainable place to live
Comprising 249 studios and one- to four-bedroom apartments, Knight Park offers spacious and light-filled flexible spaces to suit 21st century living. The calm, clean palette of materials creates an understated elegance and reflects the ethos of Knights Park: living well and in balance. Rooms open out to courtyard gardens, terraces and balconies, all of which bring the outside closer and make the most of the available light and space.
Homes are designed to be highly energy efficient with eco-friendly features that benefit the environment, meet the Code for Sustainable Homes Level 5 and reduce their energy and carbon dioxide emissions by at least 85% from 2010 levels.
Safe pedestrian and cycle routes and a comprehensive public transport network enable ease of travel around the site and into Cambridge, while green infrastructure and energy efficiency support the eco features of the homes. A central energy system provides heating and hot water direct to every home, while a sustainable underground urban drainage system collects, stores and filters rainwater, before pumping it back to homes for washing machine and toilet use. The natural landscape has also been carefully considered, incorporating wetlands, meadows and planting schemes to create a rich environment that promotes sustainable living at Eddington.
A visionary new community
Eddington is a place in its own right, with all the elements needed for a community to thrive. These include a hotel, school, nursery, shops, market square, community centre, sports facilities and over 50 hectares of open space.
Storey's Field Centre, a landmark community centre and arts performance hall, is positioned at the heart of Eddington and a series of sculptures and artworks have been installed throughout the area. There will also be a four-star hotel with restaurant, rooftop bar and well-equipped gym, and Market Square with shops and stores for everyday essentials, along with cafés and restaurants just a short walk from the development.
Eddington also offers plenty of open space, including parks, playing fields and playgrounds. The newly created parkland Brook Leys, part of almost 60 acres of natural landscape along Eddington's edge, features lakes and lagoons surrounded by paths for a tranquil natural landscape. Home to sports pitches, a running track and tennis courts, the community also provides allotments for gardening.
Excellent educational facilities in an ideal location
Five minutes' walk from Knights Park is the University of Cambridge Primary School. Rated Outstanding by Ofsted, it is the first primary University Training School in the UK. For older children, there is a choice of Good or Outstanding rated secondary schools across the city, while the Cambridge Academy for Science and Technology offers a STEM curriculum at GCSE and A-Level.
There are also a number of independent schools in the area catering to students of all ages, in addition to the historic and internationally renowned University of Cambridge.
Fast trains from Cambridge Railway Station reach central London in less than an hour, and there are also direct services to Peterborough and Norwich. For international travel, Stansted Airport is just a 30-minute train journey away.
Mandy Wong, Head of International Residential at JLL in Hong Kong said, "Knights Park points the way to an enduring neighbourhood while looking to the future, with exceptional performance and sustainability built into every home. It is ideally positioned for buyers to make the most of this famous and ancient city of Cambridge: its thriving tech economy, magnificent architecture, cultural attractions, beautiful riverside parks and the globally renowned University of Cambridge. As the city is now at the heart of an exciting technology hub and offers fantastic career opportunities, Eddington looks set for demand for residential investment opportunities to soar given its unparalleled convenience of location for education, work and leisure." Homes at Knights Park start from £369,950 (HKD 3.92 million).
For further information, please contact Mandy Wong, JLL, tel: +852 3759 0909, email: [email protected], or visit eddington-cambridge.co.uk.