(31 May 2017, Hong Kong) Organized by The Hong Kong Institute of Architects (HKIA), with the support from Create Hong Kong (CreateHK) of the Government of the Hong Kong Special Administrative Region (HKSAR) as the lead sponsor, "HKIA Cross-Strait Architectural Design Symposium & Awards (CADSA)" has been held biannually since 2013. The upcoming one will be the third edition scheduled for 17 June 2017 at JW Marriott Hotel Hong Kong.
Collaborating with the organizations from Mainland, Taiwan and Macau, namely Guangzhou Exploration & Design Association, Shenzhen Registered Architects Association, Taipei Architects Association and The Architects Association of Macau, the HKIA set the theme of CADSA this year as "Speed, Density and Diversity – Cross-Strait Architecture". The event aims to build up a platform for fostering communications among eminent architects in the region, and to recognize brilliant architectural work in the past decade that helped create superior environment with diversity initiatives and contributed to economic development.
The HKIA is honored to have the Honourable C Y LEUNG, GBM, GBS, JP, Chief Executive of the HKSAR, and the Honourable Paul CHAN Mo Po, GBS, MH, JP, Financial Secretary of the Government of the HKSAR, as officiating guests of the Symposium and the Awards Presentation Dinner respectively. The awards for professional and student categories will also be presented at the Dinner.
The Cross-Strait Architectural Design Symposium (CADS) this year features prominent architects and scholars from different regions who will share their insights on the challenges and opportunities facing future architectural projects in the cross-strait region, examine current situations and possible solutions, and explore the potential of diversified designs in accommodating the needs of different users in the community.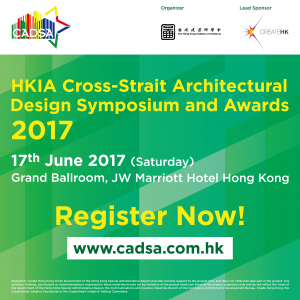 The Professional Category of the Cross-Strait Architectural Design Awards (CADA) provides a vital platform to celebrate design excellence in the region and recognize outstanding work that contributes to better living, economic advancement, social impact and the building of a body of knowledge through innovation and creativity, whereas the Student Category invites architecture students to prove their creativity by bringing innovative ideas on architecture design in future along the theme of "Speed, Density, Diversity and at any out-of-the box concepts proposed by the students".
Mr. Daniel CHI Wuh Cheng, FHKIA RA, Chairman of Organizing Committee of CADSA 2017 remarked that, "This year's CADSA will ride on the success of the past two sessions to bring together the elites from the architecture industry in the four places in one location here, to discuss various topics with a view to improving the quality of architectural design in the region."
The CADSA 2017 is proud to have AREA China, City Outlook, Construction+, INTERIOR DESIGN CHINA, Perspective Magazine, PRC Magazine, Taiwan Architecture, Xin Architects, Time+ Architecture Journal, World Architecture and Urban Environment Design as official media partners.