Widely regarded as Australia's most iconic and recognised building and currently celebrating its 40th anniversary since completion in 1973, the construction of Sydney Opera House was itself a dramatic production worthy of Shakespeare or perhaps more aptly Australia's own playwright, David Williamson, himself renown for chronicling the eccentricities of the Australian psyche.   
Commanding. Controversial. Costly.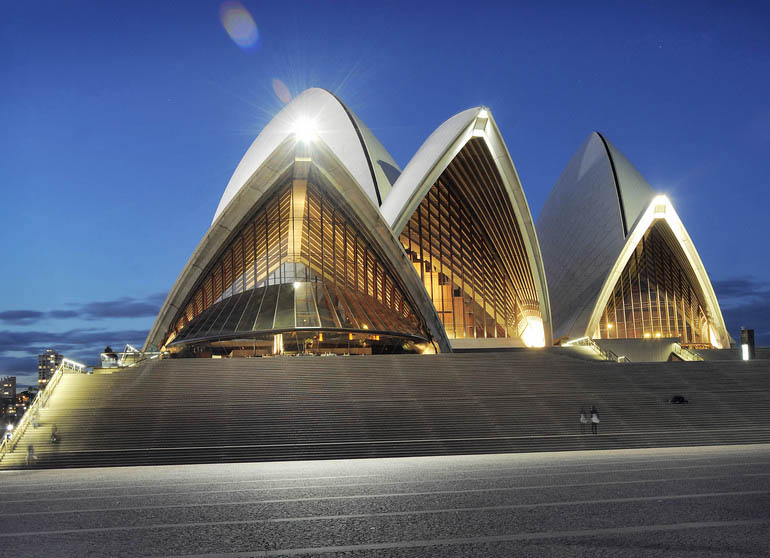 Budget blowouts, a sacked architect, political agendas and a lengthy and protracted period of construction did not bode well for Australia's proposed national cultural centre at the end of Bennelong Point on Sydney Harbour, however, completely to scale in relation to the Harbour Bridge, viewed from a ferry, the air or approached on foot, its vision is dramatic and unforgettable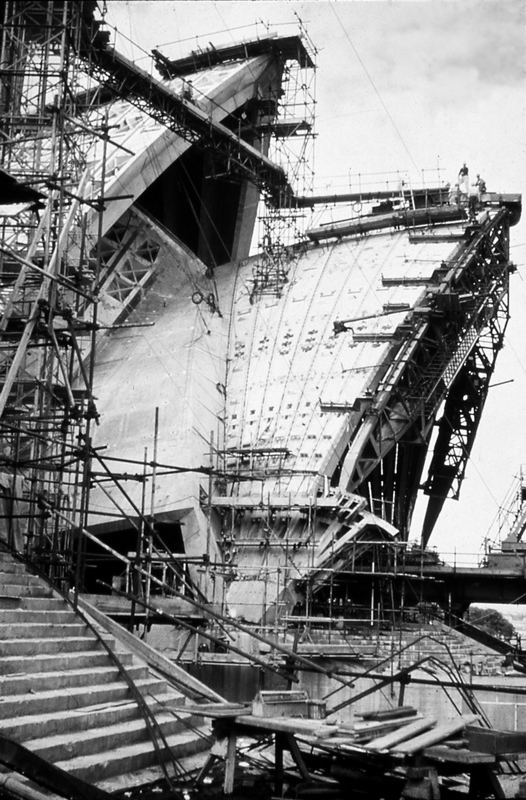 Taking 16 years to build from 1957 to 1973, Sydney Opera House stands as a masterpiece of modern architectural design, engineering and construction technology in Australia and exhibits the creative genius of its designer, Pritzker Prize winning Danish architect Jørn Utzon.
With its soaring white roof shell-shaped sails atop a massive red granite platform, it has been internationally acclaimed as an architectural icon of the 20th century. Complex engineering problems, including the four-year period it took to address the challenge of how to construct the roof sails, and escalating costs made it a source of endless public debate that only subsided when the completed building placed it firmly on the world stage.
Today, Sydney Opera House is a national cultural treasure that has gained widespread recognition as a performing arts venue that includes a concert hall, opera and drama theatres, a playhouse and a studio and is a fitting showcase for many of the world's leading performers.
Evolution of an icon
Back in 1952, then-Premier of New South Wales, Joe Cahill, announced the government's intention of putting Sydney on the world map by building an opera house. An international design competition was finally announced in January 1956, attracting more than 220 final entries from 32 countries. Jorn Utzon's design won the competition in 1957 and in September of the same year the New South Wales Government announced the establishment of an Opera House Lottery to pay for the construction, which over the next 16 years yielded just over $100 million.
However, associated problems ensued and in 1965 there were added difficulties between Utzon and a new NSW Government. The project experienced cost blowouts and in 1966 the situation reached crisis point. Finally, the government refused to pay Utzon, who subsequently resigned in February 1966. As a result, the government appointed new architects who basically redesigned the rest of the project, in particular the interiors, and blew the budget out even further from $18.4 million to $102 million.
The structure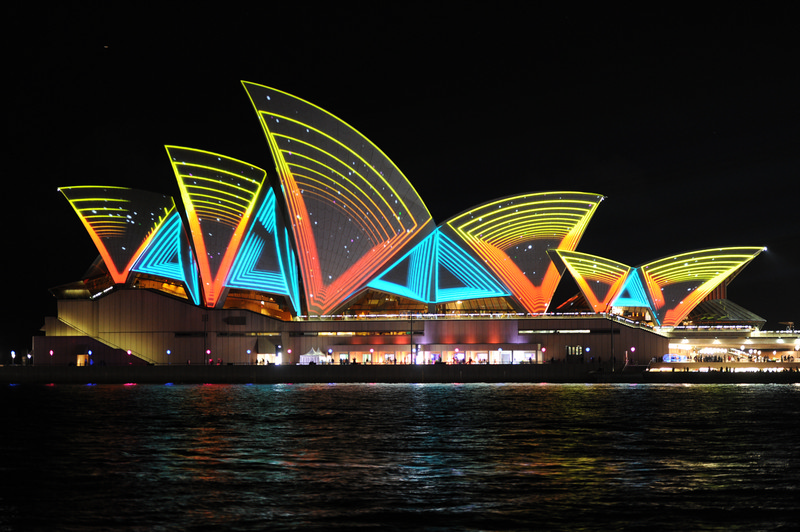 Sydney Opera House features a modern expressionist design, with a series of large precast concrete "shells" each composed of sections of a sphere of 75.2-metres radius, forming the roofs of the structure, set on a monumental podium. The building covers 1.8 hectares of land and is 183-metres long and 120-metres wide at its widest point. It is supported on 588 concrete piers sunk as much as 25-metres below sea level.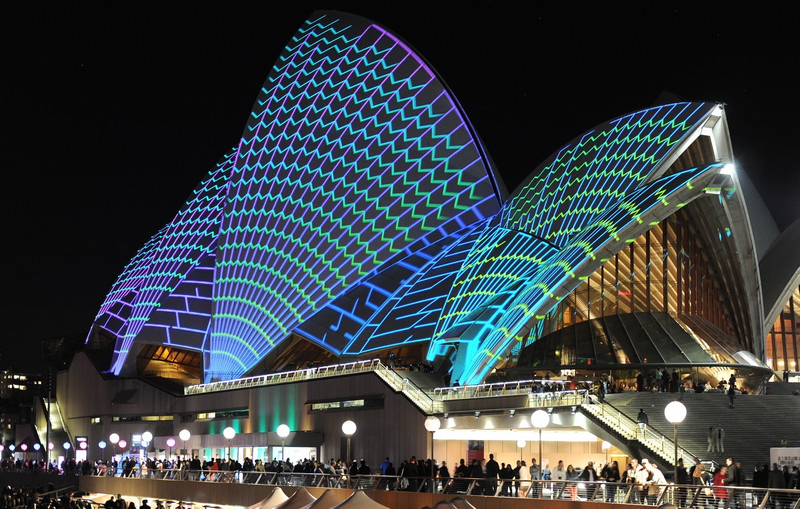 Although the roof structures are commonly referred to as "shells", they are precast concrete panels supported by precast concrete ribs, not shells in a strictly structural sense. And although they appear uniformly white from a distance, the shells actually feature a subtle chevron pattern composed of 1,056,006 tiles in two colours – glossy white, as well as matt cream.
Of the two larger interior spaces, the Concert Hall is located in the western group of shells, while the Joan Sutherland Theatre is located in the eastern group, with the scale of the shells chosen to reflect internal height requirements, with low entrance spaces, rising over the seating areas up to the high stage towers. The smaller venues (the Drama Theatre, the Playhouse, and The Studio) are within the podium, beneath the Concert Hall. A smaller group of shells set to the western side of the Monumental Steps houses the Bennelong Restaurant. The podium is surrounded by substantial open public spaces and the large stone-paved forecourt area with the adjacent monumental steps is regularly used as a performance space.
Performances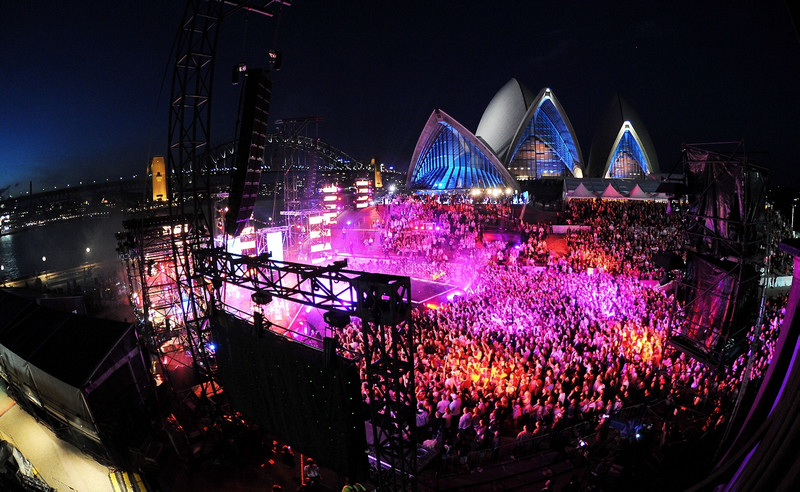 Performances have taken place at Sydney Opera House since before completion and the venue now boasts hosting the world's leading opera, drama and theatrical performers.
In fact, during construction, when lunchtime performances were often arranged for the workers, Paul Robeson become the first artist to be able to claim that he presented the inaugural performance at a cultural centre that was to become a national and global icon of the arts.
Various other performances were also presented prior to the official opening, including first solo piano recital by Romola Costantino in the Concert Hall on 10 April 1973. The first operatic performance of Sergei Prokofiev's War and Peace took place on 28 September 1973 and the first public all-Wagner orchestral concert with Birgit Nilsson as the soprano soloist took place on 29 September 1973.
Global attraction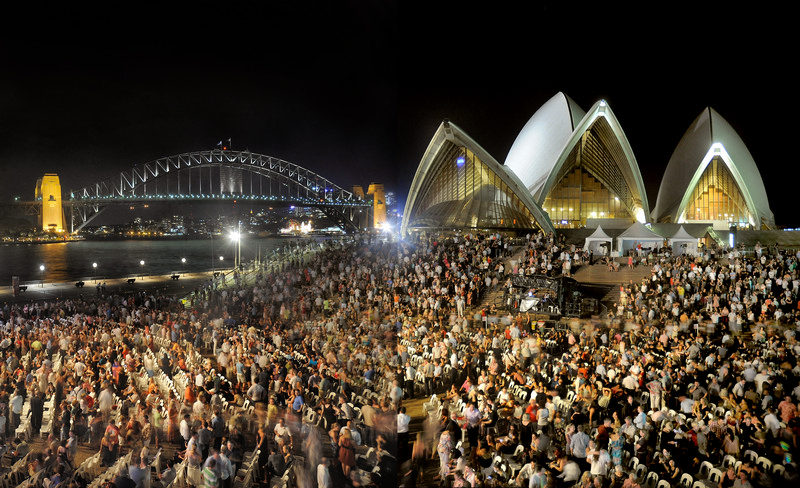 A major draw card for cultural aficionados and tourists alike, today Sydney Opera House hosts 3,000 events, provides guided tours to 200,000 people each year and boasts an annual audience of two million for its performances. This iconic structure includes 1,000 rooms, is 185-metres long and 120-metres wide, has 2,194 pre-cast concrete sections as its roof and roof sections weighing up to 15 tons held together by 350-kilometres of tensioned steel cable. It has over one million tiles on the roof and uses 6,225 square metres of glass and 645-kilometres of electric cable.
On 20 October 1973 the Sydney Opera House was officially opened by Queen Elizabeth II. In 1998, the Sydney Opera House Trust began negotiations to reconcile with Utzon and to re-engage him with the building. The following year Utzon formally accepted the invitation and over three years worked with his architect son, Jan Utzon and architect Richard Johnson to draw up his design principles, including the refurbishment of interior spaces.
The Sydney Opera House is one of Australia's key assets, contributing $775 million to the Australian economy every year and with a cultural and iconic value of $4.6 billion, according to a new report by Deloitte released for the 40th anniversary. In October 2013, Sydney Opera House celebrated its 40th anniversary.
All images courtesy of Sydney Opera House.