Rimba Jimaran Bali Resort celebrated its grand opening on 1 November 2013 as the newest member in the family tree of the AYANA Resort Bali. St. Legere principal and landscape architect for both the Rimba and Ayana properties, Dennis Selinger, provided PRC magazine with some insights into their inspired landscape designs.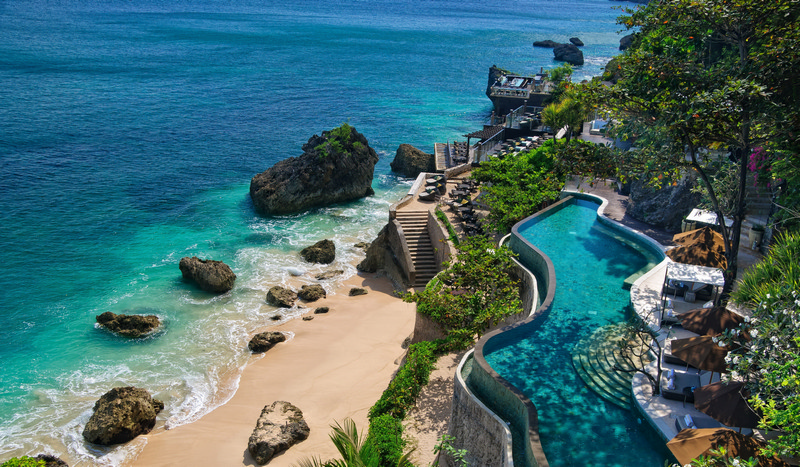 While the Ayana Resort occupies a dramatic ocean cliff location, the Rimba Jimbaran is an 8 hectare site, set back from the ocean on a lush jungle hillside within the 77-hectare Ayana Resort complex.  The 282 guestrooms & suites Rimba resort is designed as a more modern alternative, with jungle ambiance and horizon views, yet still has priority access to the "must see" Rock Bar at Ayana.  Being set back from the ocean put extra emphasis on the landscaping and pools as the resort's main source of entertainment & relaxation.
Named after the Indonesian word for "jungle", Rimba Jimbaran Bali sits on pristine landscaped surroundings comprised of tall trees, lush greenery and abundant displays of spectacularly coloured tropical flora made complete with six multi-level pools that seemingly create the illusion of being on your own deserted island paradise surrounded by water.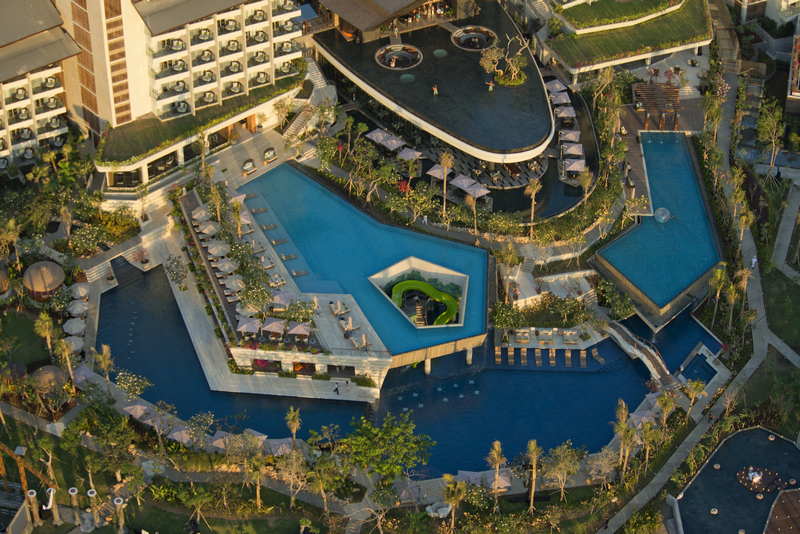 Unique St. Legere philosophy
Designed by St. Legere under the inspired guidance of principal landscape architect, Dennis Selinger, completion of Rimba Jimbaran Bali resort's landscaped tropical gardens and water features also celebrates the latest chapter in a working relationship between owner and landscape architect that has gone from strength to strength over the last two decades.
"My relationship with developer Karang Mas dates back to in 1991, when I worked with Sasaki Associates in Los Angeles", states Selinger.  "Back then, I was the project manager working with owner Rudy Suliawan to design and launch the Ritz Carlton, which Rudy later took independent as Ayana.  Since then, I've worked with Rudy expanding the Ayana property and developing many other commercial, residential and hotel sites in both Bali and around Jakarta, like the InterContinental Hotel Jakarta."
"I think we forged our relationship with Karang Mas by first understanding Rudy's desires and then delivering on them at all levels – aesthetically, functionally, and cost effectively.  Rudy says I'm usually right about things, but I think that is largely due to the fact that I understand and can share in his vision for a project. As such, we continue to be on the same page, so my ideas are aligned with what he is trying to achieve.  It is really fun to work like that, and the results are great!  Between our mutual understanding and delivering successful projects, we have built trust and an ongoing relationship of 22 years and counting.  Our current projects with Rudy include expanding areas at Ayana, like creating a new Cliff Bar as an auxiliary to the popular Rock Bar which is overflowing with visitors, and working with him in Jakarta on various projects."
Rhimba's clean, modern design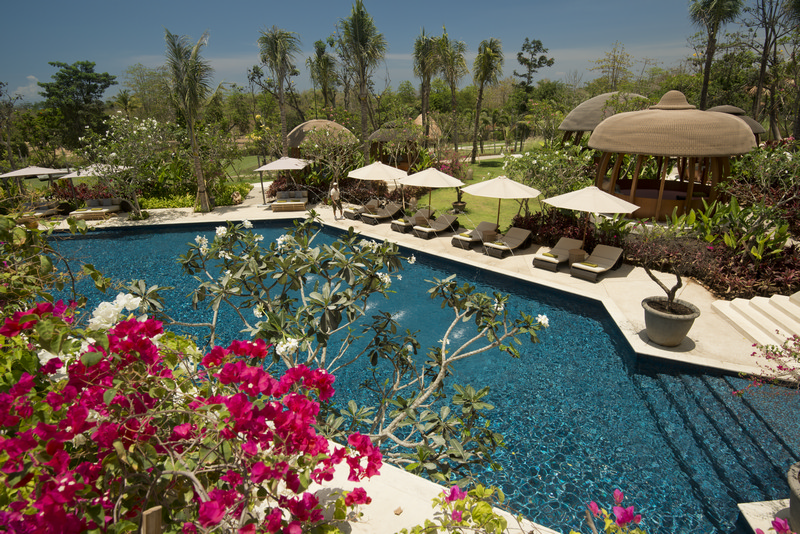 St Legere developed Rimba's overall project concept, including the site planning, site grading, architectural massing and the beginnings of some architectural styles.  While not a "huge" site in terms of landscape design, landscape grading (land forming) helped to create the feeling of grandness of size and openness.
Selinger explains that the style differences between Ayana resort, the Residences, and Rimba's landscapes is that the original resort was more traditionally Balinese in detailing and overall appearance.
"In the early 90's, when the original Ayana Resort was being developed, visitors to Bali wanted a traditional Balinese feeling where they stayed, whereas today, visitors tend to appreciate a design which is fresh, modern, luxurious, and has more subtle hints of Bali."
Selinger explains that they knew from day one that the overall design of Rimba needed to be kept much simpler than Ayana and needed to be a hotel that was more modern looking, with clean, uninterrupted lines and above all be an entertaining hotel.  "The Rimba was a big departure from the design of Ayana and is much more modern and not as "Balinese", except for some deliberate traditional accents.  We believe guest expectations are going in this direction and cleaner, more modern lines have been successfully applied over the last few years into a number of new Balinese projects."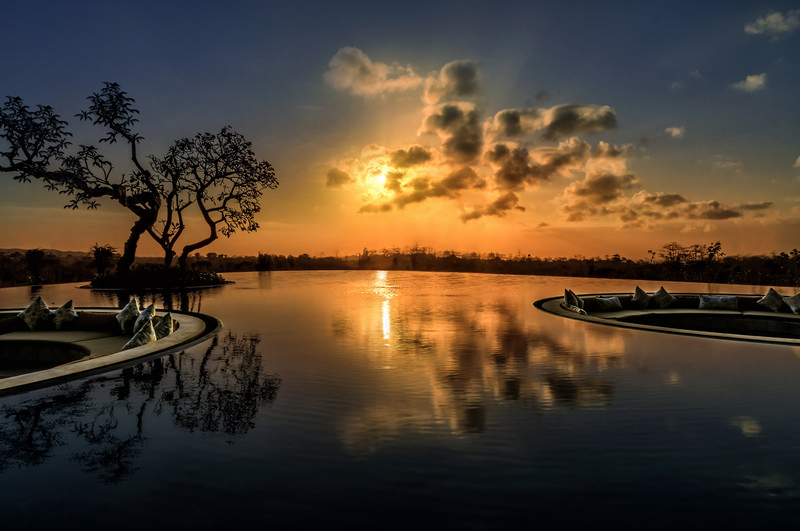 "Since Rimba is set back from the coastline with no immediate relationship to the ocean, it was also key to have lots of water in the landscape design.  Guests enter the lobby and immediately see a reflecting pond with a horizon view of the ocean."
"Starting from the lobby as the highest point, five terraced pools cascade into each other and even over-hang each other.  To make this possible, St. Legere made the key decision to raise the lobby level by several metres, affording the view, more height for cascading levels of pools and also allowing back-of-house and services to be located underneath the lobby which saved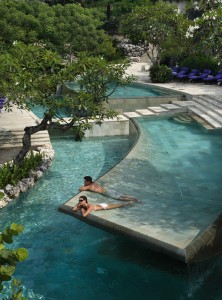 the huge expense of any excavation into the very hard limestone base on which the resort is built.  A sixth roof-top pool is part of the design elements of the "Unique Bar" venue with panoramic views, which will also serves the adjacent function roof and create a destination in its own right."
"As things go, the designs we created have been able to raise the standard of the hotel and room rates above what was first envisioned, and we expect this to be another very successful venture for the client," says Selinger proudly.
Looking to the future 
Selinger is delighted to state that work will be ongoing with the client who built both Ayana and Rimba resorts, with another expansion planned for the Spa, a new multi-use venue (meetings, events, weddings) on the cliff edge, expansion of the Sami Sami Restaurant and new Cliff Bar (auxiliary bar to the very successful and famous "Rock Bar"), as well as more commercial, residential, and hotel sites within the Ayana Resort area.  St. Legere is also currently working with the same client on several new or expansion projects in Jakarta, including the Intercontinental Hotel, Kemang Residences, Riverside Data Center, and Karawang Delonix Hotels.