(Hong Kong, 14 May 2015) Announced by Jamie Oliver himself earlier this year, Jamie's Italian, the neighbourhood's favourite Italian restaurant serving delicious food made with the freshest ingredients, is set to expand with the opening of an impressive second location due to launch at Harbour City later this month.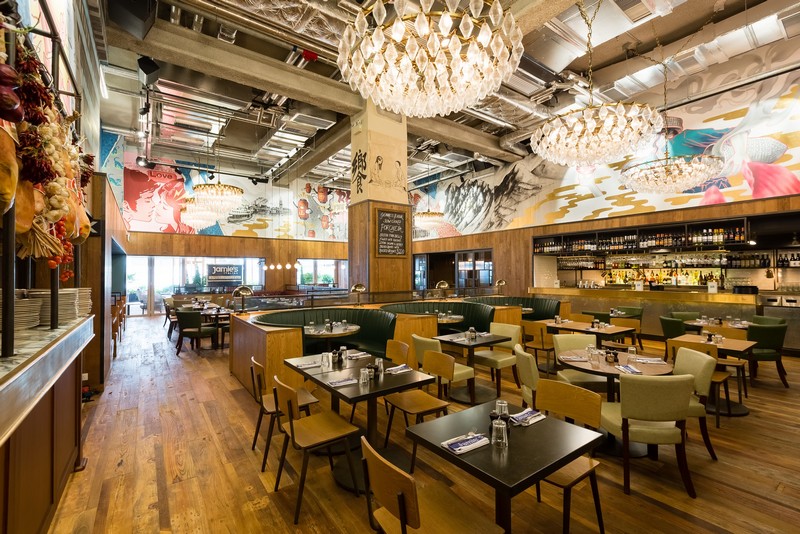 Joining over 51 uniquely-designed Jamie's Italian locations worldwide, the new Hong Kong site will follow in the footsteps of the flagship store at Causeway Bay, maintaining the brand's signature friendly and relaxed atmosphere, but incorporating many exciting new additions and unique elements, reminiscent of the surrounding area of Kowloon and Tsim Sha Tsui.
At the new Kowloon location, guests are greeted at the entrance by smooth marble worktops and brass fittings that make up the restaurant's signature bar area, as well as a retail section that sells Jamie Oliver's popular merchandise. Exclusive to the Harbour City site, the bar doubles up as a coffee station for guests to grab delicious pastries and coffees in the morning, either to devour in-store at the bar's casual seating area, or on the go as a tasty breakfast treat!
Past the coffee bar and a highlight of the new 6,000 square foot location, is an open pizza oven surrounded by a tiled flame-motif, where fresh, handmade Jamie's Italian pizzas are baked for diners to feast on. Continuing to offer guests a fully transparent dining experience revolving around key fresh ingredients, the restaurant's signature antipasti bar will be positioned next to the pizza oven, serving Jamie's Italian world-famous planks as a foodie focal point, with colourful fresh produce and cured meats on display.
On entering the main dining area, guests will be immediately wowed by a vibrant graffiti mural surrounding the entire top panel of the restaurant ceiling, creating a 360 degree visual sensation! Designed and painted by Jamie Oliver's long-time friend and urban artist Barnaby Purdy as well as talented Hong Kong artist Peter Yuill, the colourful masterpiece pays homage to the unique history of Kowloon and Hong Kong, from the 19th Century to modern times. Starting with an image of a Chinese fisherwoman, the unique artwork represents the origins of the territory from a humble fishing village to a thriving port, with a mountain mural depicting the 9-dragons including Lion Rock, alongside romantic old Hong Kong landmarks including the General Post Office and Old Star Ferry terminal. A plane flying low over Kowloon from the old Kai Tak airport is also illustrated representing an iconic historic shot before the development of the new airport.
Moving onto modern times, the mural evolves into lively panda pop art and comic inspired art with a wall paper effect as part of the sequence illustrating the connection between East and West seen during the 50's and 60's. An image of modern day Canton Road also pays tribute to today's neighbouring area of Tsim Sha Tsui with a beautiful painting of Hong Kong's national flower, the bauhinia. At the core of the restaurant is a central pillar depicting the etymology of the Chinese character(to enjoy). The character develops and evolves from the earliest oracle bone script to a variation of bronze scripts, and then into the modern Chinese character as we know it today!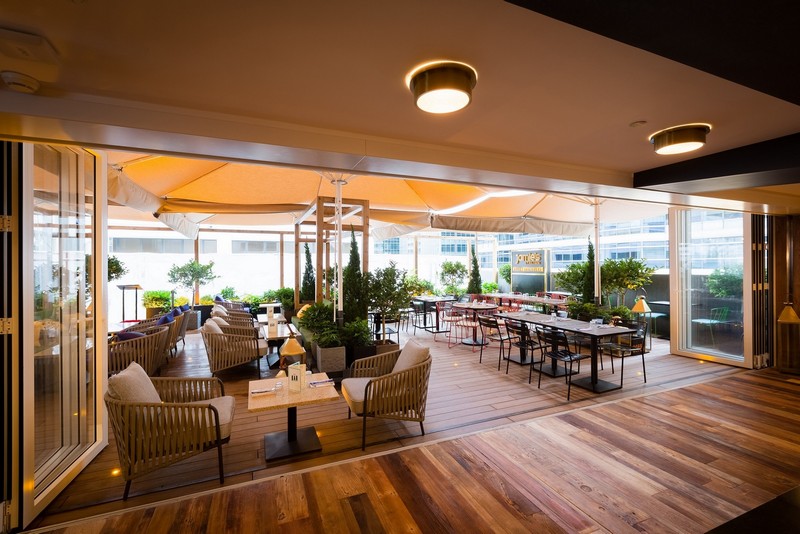 Seating 164, the main dining room is spacious and airy featuring six metre high ceilings, comfy booths and in true Jamie's Italian style – an open kitchen, which draws the eye and nose to an array of culinary delights, from watching the chefs at work to the amazing aroma freshly cooked pastas.
Classic cocktails will also be served from the bar alongside the open kitchen, for guests to sip along with their meal. For those special occasions, a private dining room is also available for parties up to 12, featuring sliding doors made up of a mosaic of six different types of glass, allowing diners some privacy without being cut off from the action of the main dining area.
If that's not enough to excite guests, floor to ceiling French windows will lead out to a private 1,500 square foot terrace for those who seek an alfresco dining experience. The generous outside area is exclusive to the Harbour City restaurant and seats 70. Under the shade of umbrellas, it is nestled comfortably between the buildings of Tsim Sha Tsui and is decorated with potted plants and pontoon lights to create a romantic and relaxed secret garden experience for guests, allowing them to kick back on the comfortable sofas and low slung chairs and enjoy delicious food outdoors.
"We are extremely excited to launch the second Jamie's Italian in Tsim Sha Tsui to bring our beautiful recipes of fresh, honest food to more people in Hong Kong," commented William Lyon, Chief Executive of Big Cat Group. "The new site will feature that famous Jamie's Italian welcoming atmosphere including signature elements such as the antipasti bar, fresh pasta-making station and lively open kitchens, but with many other exciting new elements such as an open pizza oven, coffee and pastries station and 1,500 square foot terrace," he continued. "We look forward to welcoming families, friends, foodies and those visiting Hong Kong into our new restaurant!"
Focusing on fresh, sustainable, higher welfare and traceable ingredients and bold, simple flavours, Jamie's Italian inspires a relaxed way of enjoying and sharing dishes with family, friends and loved-ones. Together with his old friend and trusted mentor, Gennaro Contaldo, Jamie's Italian adopts a truly Italian attitude towards food – passionate, humble and sociable. In line with the first Jamie's Italian in Causeway Bay, the Tsim Sha Tsui site will be available to all walk in guests whilst offering an increased number of seats allocated each day for reservations through online booking at www.jamiesitalian.hk or by phone +852 3958 2222.
The Jamie's Italian second site will open at the end of May at Harbour City – Shop 412, Level 4, Ocean Centre, Harbour City, Tsim Sha Tsui, Kowloon.