L'Avenue Shanghai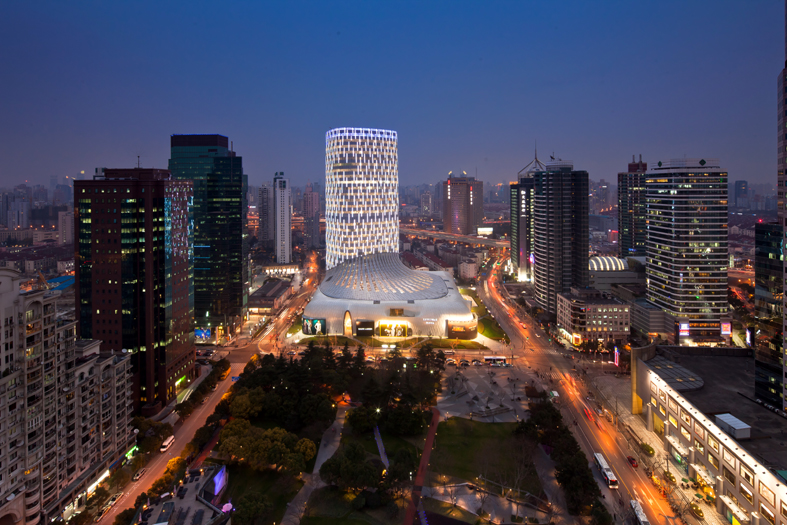 Located in Shanghai's Chang Ning District, L'Avenue Shanghai is a 24-storey commercial development that includes an office tower, four-storey retail podium and four-storey basement, with a total GFA of 140,000 square metres.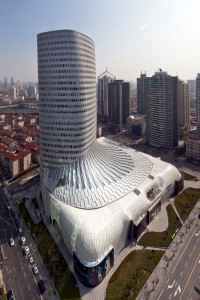 Built as a flagship project for one of the world's most prestigious retail brands, L'Avenue Shanghai is acknowledged as a landmark building in the district and a precursor of future developments in the surrounding area.
In collaboration with conceptual designer Jun Aoki, Leigh & Orange was the architect and lead consultant, delivering the project from schematic design to construction completion. The unique architectural form conveys the subtle fluidity of the overall design from the tower to the transitional skylight, finishing at the three dimensional, curved formed podium structure.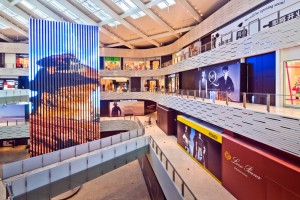 The free from approach used in the design of the building's curvaceous and twisting form immediately conjures images of an elegant  evening gown formulated through the application of unique craftsmanship and a commitment to perfection, allowing the building to express its elegance through the uniquely shaped and meticulously crafted shop fronts and canopies.
The integration of architectural fins and lighting within the building envelope also successfully introduces the concept of a "waterfall" into the design. BIM software was used to document the organic form of L'Avenue Shanghai's facade.
Office spaces are benchmarked to international Grade-A standards with high standards of air-quality and acoustically superior spaces with high ceilings and raised floors.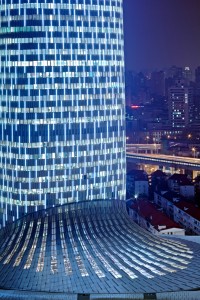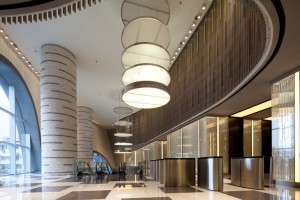 The project has achieved LEED Gold certification accreditation and incorporates several innovative sustainable features, such as recycling rainwater for irrigation, recycled construction waste, reduced water consumption and high-energy and efficient plants and equipment, as well as the creation of a large area of green, visually attractive landscape around the building to absorb heat and soften the hard edges usually associated with an urban built structure.
The overall form flows seamlessly from the transitional fan shaped skylight spanning over 60 metres to the natural light-filled atrium space below, where unique terraced arcades seemingly create an outdoor shopping experience within this luxurious and air-conditioned environment.
A performance stage situated at the centre of the atrium creates an ideal entertainment space and a focus for visitors, while novel, changing feature walls strategically placed throughout the complex guarantee something new to view during each visit.
The fluidity of form continues its flow onto the skin of the retail mall and is designed to integrate the overall structure and the façade. A 3D shell structure of 175mm reinforced concrete with internal stiffeners is finished with glazed ceramic tiles is capture the subtle sparkle emanating from this dynamic, free from structure.