1 December (Hong Kong) – With global political instability, the recent double stamp duty increase and an anticipated US interest-rate hike, residential affordability remains a major concern for local potential homebuyers.  Abundant supply, economic and policy uncertainties may drag down Hong Kong's mass residential prices in 2017. In Mainland China, destocking property inventory will remain a major task in 2017, particularly for lower-tier cities.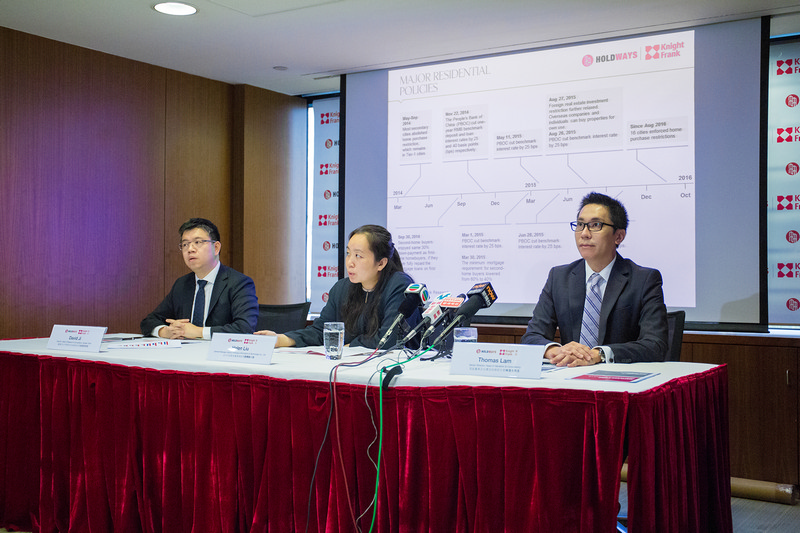 At a press conference held in Knight Frank's Hong Kong office this afternoon, Thomas Lam, Senior Director, Head of Valuation & Consultancy, Knight Frank, David Ji, Director, Head of Research & Consultancy, Greater China, Knight Frank, together with Helen Liu, General Manager, Beijing Holdways, presented their forecasts for Hong Kong and Mainland China's property markets for 2017.
Mainland China Residential Market:
The slowing Chinese economy is stabilising and is expected to maintain at 6-7% growth in the next few years. However the government will need to find a way to absorb increased people's income which generates investment demand, much of it is expected to go into real estate.
The mainland's residential market improved throughout 2016 with more cities seeing price increases. By the end of October, 62 cities out of 70 recorded month-on-month home price increases compared with zero a year ago.  Home prices in first-tier cities in particular recorded a strong growth, with Shanghai seeing the fastest year-on-year mass home price increase in October (37.4%), followed by Shenzhen (32.1%) and Beijing (30.2%).
Since August, the Central Government re-introduced Home Purchase Restriction (HPR) to some 16 cities amid fast house price growth. However, due to strong demand,Helen Liu expects HPR in Beijing, Shanghai, Guangzhou, Shenzhen and Sanya to remain in place.
Looking ahead, the Central government will continue HPR on these cities in 2017, with more cities set to join should their housing markets overheat.
However destocking property inventory will remain a major task in 2017, especially for lower-tierand inland cities, such as Shijiazhuang and Dalian, which are expected to take over 2 years to clear their existing inventories. First-tier cities recorded lower inventory levels of 8.5 months.
2017 Mainland China residential price forecasts (overall)
| | |
| --- | --- |
| | Prices |
| First-tier cities | +3-5% |
| Major second-tier cities | +2-4% |
Hong Kong residential market:
Mainland developers have been increasingly active in residential land site acquisition in Hong Kong. So far in 2016, over 30% of residential land went to the pockets of Mainland developers in terms of developable gross floor area (GFA).
Mainland buyers have also been active in the local luxury residential market. Of the primary luxury sales worth over HK$30 million, 27% involved Mainland buyers during the first 10 months of 2016. The share increased to 47% if we talk about the top 30 deals during the period.
Total residential sales are expected to reach about 50,000 in 2016. While the stamp duty rate rise to 15% will suppress investment demand, end-user demand will remain strong. Developers are expected to offer various beneficiary packages to lure buyers and the primary sector will remain dominating. Residential sales volume is expected to remain stable in 2017 compared with 2016.
In 2015, 31% of residential stock in Hong Kong was sized below 430 sq feet (saleable area). Small units will remain the market focus, with 36% of new flats to be provided in 2017-2019 being sized below 430 sq feet.
Thomas Lam does not expect a mild US interest-rate rise to dampen the local residential market. For example, A 50 bps increase in mortgage rate will only increase monthly mortgage payment by HK$1,000 in monthly repayment for every HK$4 million mortgage loan borrowed (assuming a 20-year repayment payment).
With various cooling measures, including lowered Loan-to-Value (LTV) ratios, tightened stress test requirements and increased stamp duty rate to 15%, residential affordability remains a major concern for potential homebuyers. To be eligible for a mortgage (with a 50% LTV ratio) to buy a HK$15 million flat, for example, the buyer must have an income of at least about HK$86,000 per month, which represents only 8% of the working population in Hong Kong.
In the coming years till 2020, the annual average residential completion is expected to reach 19,000 units. Abundant supply as well as economic and policy uncertainties may drag down mass residential prices by 5% next year. Luxury residential prices, with the scarcity of the stock, will remain stable. Home rents are set to move upward next year with some potential homebuyers shifting to the leasing market given their unaffordability.
2017 Hong Kong residential market forecasts:
| | | |
| --- | --- | --- |
|   | Rents | Prices |
| Luxury residential | +1-2% | +5% |
| Mass residential | +3-5% | +/-5% |