(5 April 2016 ,Hong Kong) – Mandarin Oriental, Milan is now offering guests two suites inspired by Milanese design masters, Piero Fornasetti and Gio Ponti. The new Milano Suite and Premier Suite complete the hotel, which opened in July 2015 and is characterised by  eye-catching interiors that include the monochrome, geometrically designed Mandarin Bar, and stylish, Michelin-starred restaurant, Seta.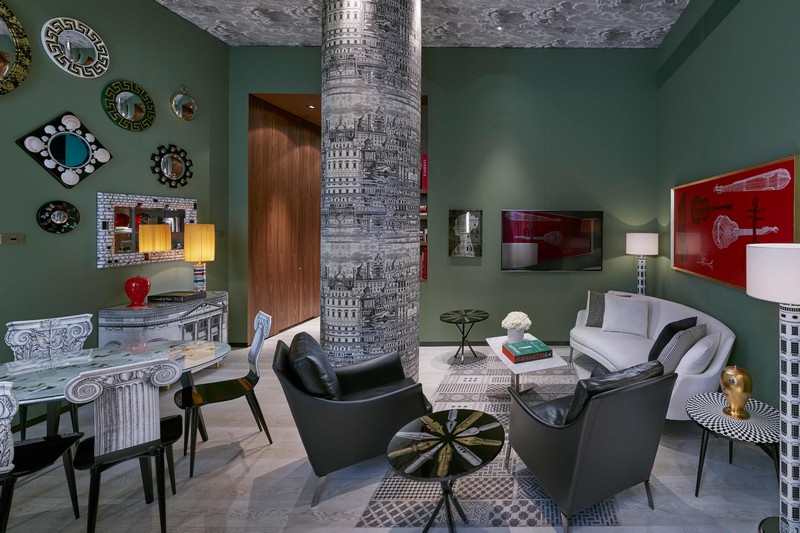 Overlooking Seta restaurant's courtyard and the picturesque Vicolo Giardino, the two new suites interiors balance Milanese elegance with functionality. Both are 100 square metres in size and each has a living room, bedroom, master bathroom and separate guest bathroom.
Milano Suite
Dedicated to Piero Fornasetti, the Milano Suite is furnished with original Fornasetti pieces. It is adorned with decoratively framed mirrors on the green walls of the lounge, where a Venetian trumeau and a 'Riflesso' wallpaper-covered central pillar hold the attention for that room. This pillar also acts as a divide between the 'Ultime Notizie' table and 'Capitello' chairs in the dining area, and the 'Fly' coffee table, the 'Guscio' sofa and a 'Boss' black leather armchair.  Other features
include a Spoon XL bath tub, a writing desk from the 'Farfalle'
collection in the bedroom and an 'Architettura' console table in the corridor.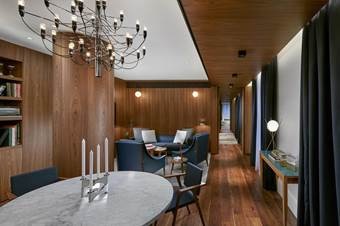 Premier Suite
A tribute to Milanese rationalism and the minimalist style of Gio Ponti, who has inspired many artists since the 1950s, the Premier Suite is decorated in black walnut. Its striking features include Mangiarotti's 'Eros' marble table illuminated by an iconic '2097-30/50'' Sarfatti chandelier. There is also an original console table by Gio Ponti and Citterio's 'Simpliciter'sofa. The bedroom is furnished with navy blue textiles that harmonize seamlessly with the upholstered Catilina armchair, while the bathroom features a Spoon XL bathtub alongside other pieces of design such as the 'Cilindro' pouf.