The last decade in commercial development has seen a tremendous shift towards mixed-use product types in order to accommodate more complex, enriched environments.  With that, often comes verticality – a major challenge with development in Asia – and while most urbanity occurs at the pedestrian and street levels where constant human interaction happens, innovative design and programming can bring that activity up into higher density projects.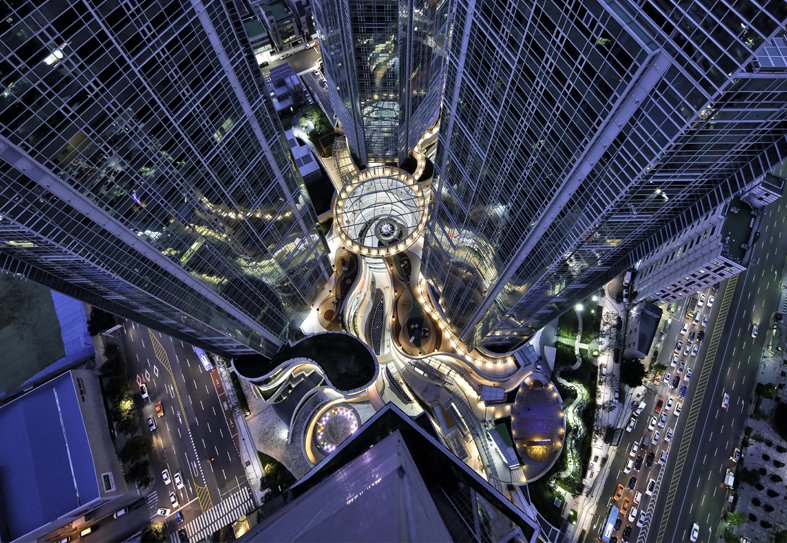 Mixed-use in Asia is about integration, not separation.   
As Asian cities continue to evolve at breakneck speed, they face any number of critical issues related to growth and urban planning, such as the danger of over development, volatile economies and increasingly, the growing expectations of customers. Therefore it is all the more imperative that developers, public figures, city planners, as well as architects, continue to respond appropriately by delivering solutions that advance community, sustainability and liveability.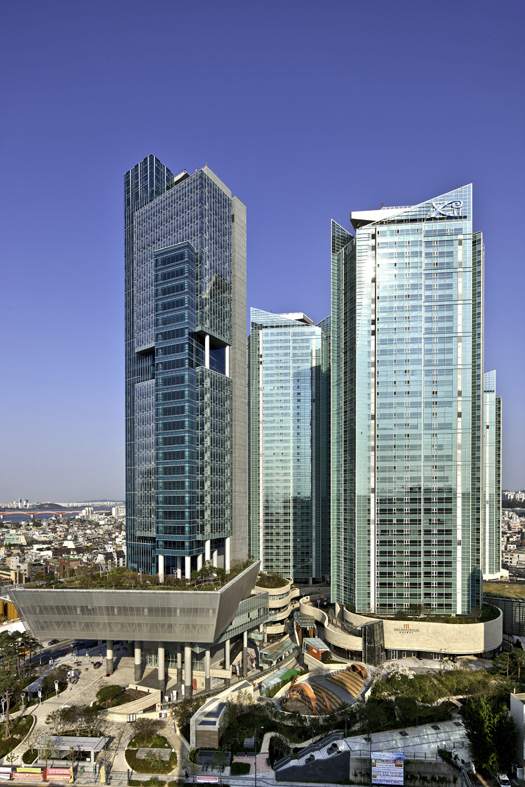 The desires of people and customs from as far north as Shenyang, China, to further south in Jakarta, Indonesia, are increasingly related to urban lifestyle and places that offer public experiences contained within seamless and dynamic nodes of activity –both horizontally and vertically.  New projects in Asia have the opportunity to introduce culturally-rich environments where people can come together in a visceral setting to enhance city life.   
New mixed-use district a 'Postcard' for Seoul 
Mecenatpolis, a 300,000 square metre mixed-use, transit-oriented project in the evolving Hapjeong neighbourhood in downtown Seoul, is one of the latest Jerde Places to open in Asia.  
Seoul's newest integrated district sits adjacent to the Hapjeong train station and provides a dynamic, cohesive gathering place for the resurging neighbourhood's diverse community of business professionals, residents, university students, and tourists.  Developed by GS Engineering & Construction Corp. Sejin, Mecenatpolis features three high-rise luxury residential towers and one high-rise class-A office tower above an open-air public realm which features retail, dining and landscaped communal spaces.  
Anchoring the soaring landmark towers and providing a new social destination is a modern leisure district comprising nearly 90,000 square metres of retail and dining, as well as an events auditorium and public park for recreational and cultural activities where visitors and residents can gather and engage.  
The park serves as an outdoor garden where sculptures from local students are displayed.  Terraced balconies, glass bridges, landscaped roof gardens, open-air spaces, interactive water features and a grand central plaza all reinforce the idea of a fluid and choreographed circulation system at the core of the complex.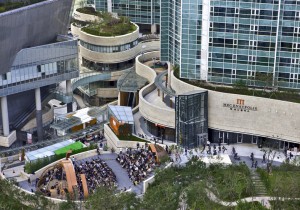 "We were very thoughtful during the design process about how to successfully integrate the project into the existing urban fabric. The organic design evolved by reinforcing key connections through the site from the station to the surrounding neighbourhoods, creating a unique pedestrian experience at the street and up into the project, while linking to one of Seoul's busiest transportation hubs," stated Eduardo Lopez, senior design principal, The Jerde Partnership. 
"Transit-oriented development can work as a catalyst to revitalize certain areas and that's how we saw this project.  By incorporating another layer to the dynamic urban atmosphere, in the most organic way possible, we will bring together the many people who are drawn here to work, live, study, play and visit every day."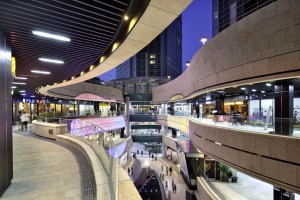 "From our many years working in Korea, we know that people there like to walk and greatly enjoy the outdoors and explore their surroundings," said Danny Ha, Jerde's design principal.  "An important priority for us was to create an urban park in the middle of Mecenatpolis that would give people a place to wander, sit and read, or simply a break from the busy city.  We sought to keep the pedestrian realm authentic to the culture of Seoul and give people a resource that they could really use and enjoy."  
Mecenatpolis completes a trio of key destinations designed by Jerde which ring one of Seoul's major transit lines that is stimulating both investment and revitalization.  The others are Daesung's D-Cube City that opened in September 2011 and Star City that opened in 2006.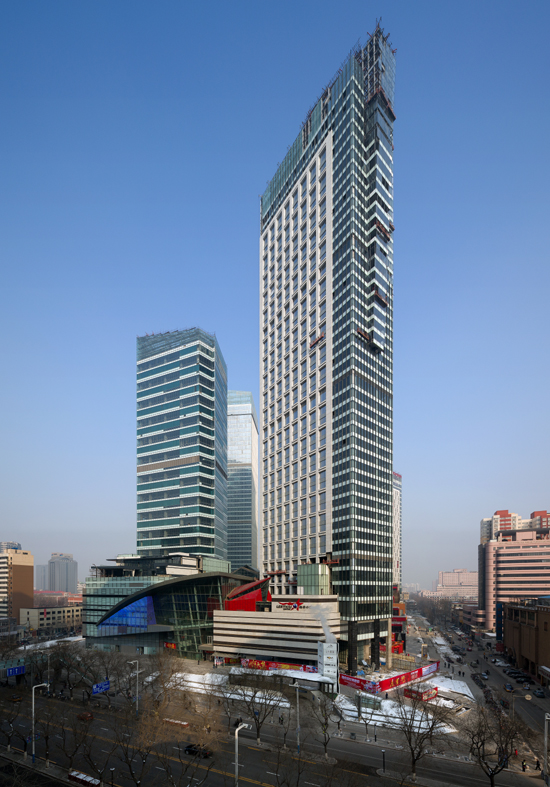 Lerthai Center – Urban Benchmark for Shijiazhuang, Hebei, China  
China's emerging second and third tier cities are placing an increasing emphasis on PlaceMaking to elevate their status as dynamic, modern metropolises. The Jerde designed Lerthai Center, in the city of Shijiazhuang, China, has created the region's inaugural benchmark mixed-use urban environment, encompassing over 620,000 square metres within an integrated high-rise and public commercial district.  The project includes hotels, offices and apartments and a first-to-the-market shopping centre which integrates international and local leasing strategies for retail, dining, entertainment and leisure facilities. 
"When people visit Shijiazhuang, Lerthai Center will be the go-to place as it offers something dynamic, authentic and never before seen," stated Tammy McKerrow, senior design principal, The Jerde partnership. "Our design approach aimed to attract the local population by introducing real experiences, knowing that tourists and visitors will follow because they want to be immersed in the city's most interesting place."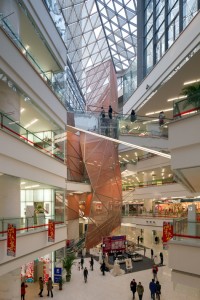 Upon opening to the public in December 2012, the six-level, approximately 200,000 square metre district of indoor shopping and entertainment at Lerthai Center was already fully leased; and ties the larger urban complex together as an experiential public space.  
Set on eight city blocks, the project's urban design concept is broken down as individual city-scaled buildings.  The 'site parti,' or big idea, was in keeping with the Lerthai Chairman's vision for a project that would resonate with place; the fundamental armature is of a gently arching interior street running parallel to an exterior entertainment village street, with hotels anchoring both ends of the site. Each block responds to and engages with the surrounding localized neighbourhood and street character.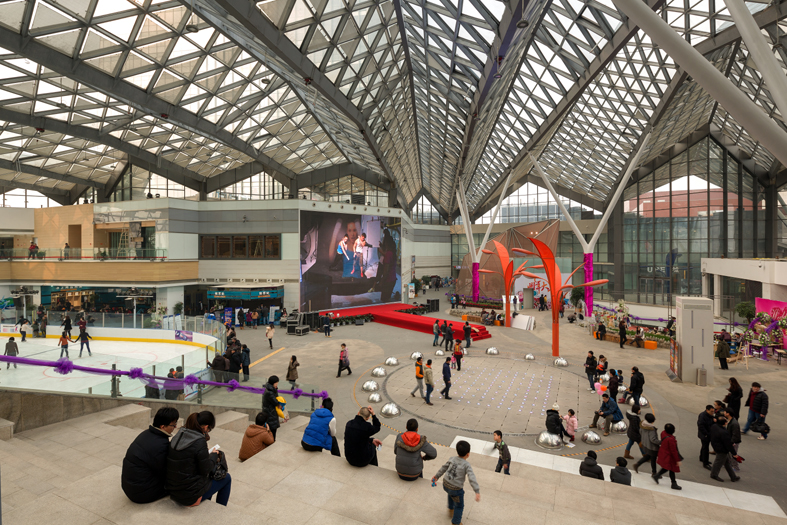 Highlighted by stunning spatial volumes and an interior pedestrian street, the retail program and circulation is broken down as human-scaled compartments that feel like genuine Chinese streets and urbanity.  Complementing the indoor retail is the outdoor SJZ Street – an eclectic village atmosphere with a collection of restaurants, bars, nightclubs and an inviting outdoor garden terrace that draws visitors from the street into the centre.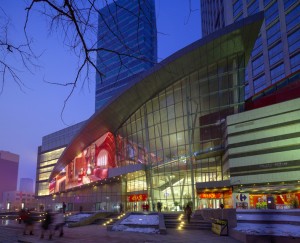 While the interior retail areas maintain a modern approach, SJZ Street is reminiscent of the rich cultural and traditional elements of city life in Shijiazhuang. Its strategic location and design is inspired by the existing context of a nightlife street that once occupied the area.  Opening in stages throughout 2013 will be four landmark towers: a 44-storey 5-star Marriott Hotel & Service Apartments (currently open); a 44-storey Class-A, work-smart office building; 29-storey Office Loft building; and 35-storey boutique Spa Hotel.  
Further mainland development 
Eight more Jerde Places in China that are under construction include: Northstar's Xin He Delta in Changsha, a 520,000 square metre premier waterfront mixed-use district (winner of the 2012 MIPIM Asia Silver Award for Best Chinese Futura Mega Project, and planned for completion in late 2013);  Guotai Plaza, approximately 65,000 square metre underground cultural leisure project in Chongqing (expected completion 2013); China Overseas Plaza, a mixed-use retail and office complex in Jinan (expected completion summer/winter 2013); Longshen Plaza, a nearly 100,000 square metre mixed-use complex in the Minhang district of Shanghai (expected completion 2013/2014); HuaYuan Mixed-Use in Changsha (expected completion 2013); Haitang Bay Resort in Hainan (expected completion early 2014); Jiangmen Hilton Resort & Villas at Yu Lake, Jiangmen, China (expected completion 2014); and Tianjin Forte Riverfront Plaza (expected completion 2014). 
For more information, please visit: www.jerde.com  or www.jerde.cn