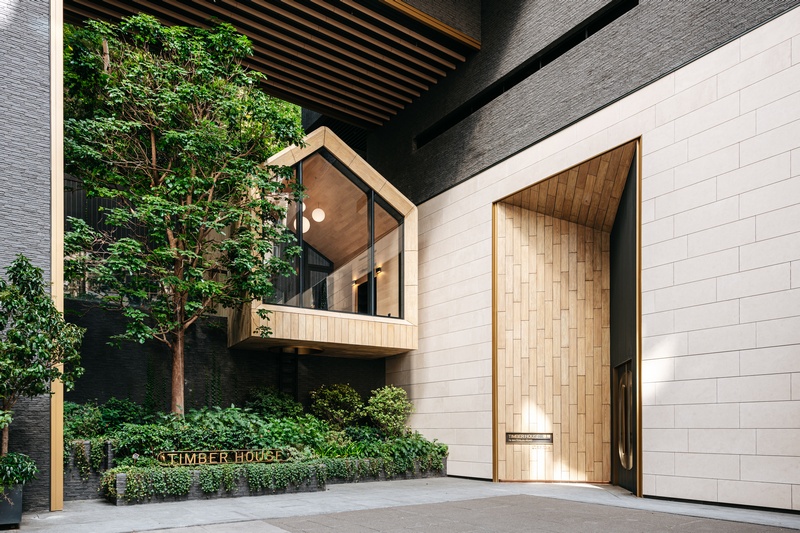 The Timber House Integrates Avant-Garde Tree House Design and Adventurous Architectural Elements with Patented Smart Home Devices that Take Modern Living to Another Level.
(17 June 2021, Hong Kong) New World's new 24-storey "Timber House" is the latest residential project from the Group's innovatively artistic Bohemian Collection which combines modern technology with traditional craftsmanship to create unique homes that are filled with personalized elements.
(按此瀏覽中文版)
Curated by Adrian Cheng, the Chief Executive Officer of New World Development (NWD), and their construction team, together with award-winning Hong Kong design houses AGC Design Ltd, Adrian L. Norman Ltd and NC Design & Architecture Ltd.,the single-block Timber House lies in the prestigious area of Ho Man Tin and epitomizes the originality of NWD's exclusive Artisanal Living style.
Taking inspiration from the natural geographical uniqueness of the area, the design team made full use of the surroundings to incorporate an innovative Tree House concept as a design blueprint throughout the property. With creative craftsmanship ranging from the entrance and clubhouse to the apartments, the tranquil residence is filled with lush greenery to lure residents into an adventurous Curiosity with Nature journey that repositions modern city living within a sense of nature.
Brimming with New World Development Group's unique Artisanal Movement brand identity, the Timber House combines art and culture, and sublime design aesthetics with modern intelligence to encourage a harmonious lifestyle that adapts to and respects the local neighborhood.
Curiosity with Nature, Explore life in a Treehouse
Nestled in a quiet alley of Yau Moon Street in Ho Man Tin, adjacent to bustling Waterloo Road, the Timber House is seamlessly connected with the local culture and inspired by the tranquil surroundings and the natural hilly terrain. The design team has incorporated rarely seen forest and treehouse elements throughout the overall design of the residence, with the aim of building a tranquil forest residence in the midst of a bustling downtown area.
The design team has used the lush greenery of the terrain behind the property to highlight their main design concept of Curiosity with Nature and covered the retaining wall with climbing plants as a background, to an iconic Nordic-style glass treehouse at the main entrance, next to an 8-meter high evergreen Autumn Maple. Along with the wooden wall at the lobby entrance, this creates extraordinary scenes of forest living in contrast with the adjacent main road just a few steps away.
The 24-storeys "Timber House features an innovative vertical garden design along with a glass façade, while gardens on each floor are planted with native greenery. Small shrubs are also planted on every four floors, allowing residents and passers-by to feel the lush greenery and vitality within the area. The overall curved design adds a rich three-dimensional visual effect to the building facade. In addition, the building also features a stilted floor design to enhance natural lighting and ventilation efficiency throughout the property.
Continuing the nature theme, the project is designed with a Curiosity Palette of colors, including olive green, light grey, and matt copper materials specially curated by the design team to present an exclusive forest atmosphere for the residents.
Every inch of detail shows the perfect blend of nature, art, and architectural aesthetics. Design highlights include eye-catching artwork in the lobby created by Chinese artist Lu Song. This artwork called Blue Pond 2, features different shades of green and rich layers of texture to encourage the viewer to search for natural wonders.
The designer has also used intriguing metallic materials to create an infinity ladder in the lift that suggests climbing up to the treehouse in a journey of exploration. The rooftop garden overlooks the stunning West Kowloon skyline and is planted with varieties of unique species such as Shameplants, Gomphocarpus Physocarpus and Antirrhinum Majus.
An urban farm box filled with herbs and various kinds of edible plants has been placed in the rooftop garden so residents can enjoy an exclusive farm-to-table experience at any time and discover the possibilities of developing a sustainable self-sufficient urban lifestyle and explore nature in different ways.
The Treehouse Club is the 4,360 sq. ft residential clubhouse that is designed with a flexible configuration including movable bi-folding doors and partitions to accommodate residents' requirements for different occasions. The clubhouse also features state-of-the-art facilities, including the signature Timber Lounge, a well-equipped gym, a banquet hall – The Feast, as well as a spacious indoor Adventure Playland specially designed for kids; thus providing a stylish living experience for all age groups.
In line with the property's signature design concept of Curiosity with Nature, the Adventure Playland is designed with different styles of freestanding treehouses and a series of recreational facilities that enable children to freely explore and experience the play area and cultivate an adventurous spirit from an early age. A lively and comfortable reading corner is also designed to nurture kid's interest in reading.
Exclusive Patented Designs Take Smart Living to A New Level
The New World Group has developed a series of people-oriented home design that keep pace with the times and integrate appreciation and functionality with the Group's accumulated architectural wisdom and understanding of Hong Kong people's lifestyles, and allow residents to start enjoying a better smart home life from the moment they arrive.
Some of the design patented applications include ARTISHANDLE®, MIRROR®, MIRROPHONE®, and the latest tailored design for the Timber House called "CURIOSITY LIGHT" This is installed at the front door and the balcony, and mimicks an adventure journey with a magnifying glass, encouraging the residents to explore things happening around them.
MIRROR® is a mixed-use mirror complex equipped with a USB hub that is ideal for city dwellers with busy schedules, completing their daily routines while using their electronic gadgets in the washroom. All of the new people-oriented designs showcase how "Artisanal Living" cares about people's lives.
Privacy and Security are essential elements in any modern home nowadays. To this end, NWD has combined new technology with unique craftsmanship and developed the new patented ArtisLock® for all the new homes in Timber House. Residents can simply scan their fingerprints or use the exclusive Artisanal Living Mobile App to open and close the front door, mailbox and the elevator. This truly takes residents into a touchless age and raises the security bar. The Artisanal Living Mobile App also allows temporary key usage for family and friends when they visit, thus letting residents organize their household routines with flexibility. In response to todays' extremely high requirements for public hygiene and personal healthcare, an infrared temperature detector is installed in the lobby to monitor every visitor's body temperature. The elevator is also operated by a touchless feature, minimizing any potential transmission of germs and bacteria. To further enhance a high level of sterilization, all of the public lobby and residents' floors, the clubhouse, and elevators are sprayed with a long-term disinfection coating by HUMANSA. that is affecting in killing a variety of bacteria and viruses including COVID-19.
*Project photos by Kevin Mak of 1km Studio