(7 December 2022, Hong Kong) Leading diversified professional services and investment management company Colliers (NASDAQ and TSX: CIGI) has today announced the launch of its latest Colliers' Radar Grade A office: Leveraging Hong Kong's business districts, which takes a detailed review of Hong Kong's core business districts (CBDs) from an occupier perspective. The report compares the leading Grade A office locations of Central, Island East, Kowloon East, and the emerging area of Kowloon Station, against total NFA Grade A floor space, age of assets and rental rates.
Hong Kong's office sector has long been constrained by a lack of buildable land, limited new supply and ageing assets in the traditional business districts. This often leaves tenants with limited options and has restricted development options for landlords and developers to create better quality assets. This dynamic has led to the rise of alternative submarkets in recent decades as public and private entities have flexed to meet the city's growing demand and support economic growth.
Kathy Lee, Head of Research at Colliers, commented: "We currently view Hong Kong as having four main CBDs that provide a total of 42.8 million sq. ft. of Grade A office space. Strategically positioned, these locations have enabled economic growth and created a range of well-defined office products to give occupiers more flexibility as they establish their footprint in Hong Kong."
"We know office location is important in meeting the needs of a business. Picking a new area, or staying in sitchu, will be driven by cost optimisation, consolidation or flight-to-quality needs. But what we are seeing, and think we will continue to see, is that different industries will dominate districts, creating sector-led hubs for occupiers to consider," added Lee.
Central: There's only one Central Business District (CBD)
Hong Kong has seen sustainable growth across Central, Island East, and Kowloon East, creating a diverse range of office solutions to meet the needs of occupiers. However, Central still remains Hong Kong's premier location for Banking & Finance and Professional Services, with a combined occupation of 65%, totalling 14.2 million sq. ft. of available Grade A office space.
Major Grade A office occupier mix in Central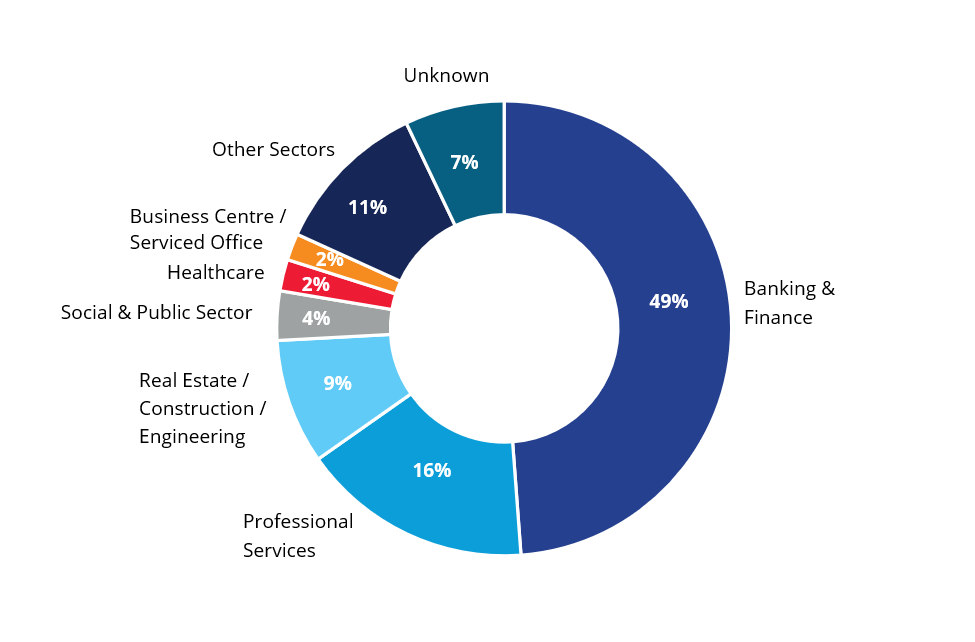 Fiona Ngan, Head of Office Services at Colliers, said: "Central remains the primary CBD in Hong Kong, but we are seeing occupiers flex their approach as their business needs change. Major occupiers are carrying out regular workplace reviews to ensure the situation is still fit-for-purpose, which is important as the Hong Kong market is sensitive to both macro and micro trends."
"The quality of space now weighs more heavily on the decision-making process, and businesses are testing the value proposition of being in Central. The rise of flexible working has provided the tipping point in this process, or it's at least made it easier for major occupiers to consider alternative locations as part of their workplace strategy," added Ngan.
Island East: Affordability, diverse and green
lsland East's Grade A office market differentiates from other business districts by offering a higher percentage of newer green certified buildings and a more spacious and integrated work environment. This has attracted a diverse mix of large occupiers such as IT, telecommunication, wholesale and retail trade, and the professional services industries, which all have between 8% and 11% of the area's Grade A office space.
General information / specifications of Grade A office in Island East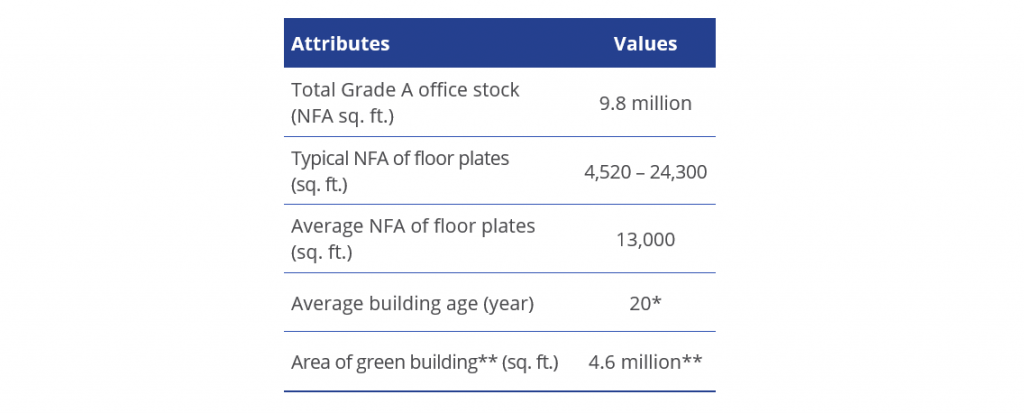 Chris Hui, Executive Director at Colliers, commented by saying: "Island East is a popular location for decentralised tenants. Unlike Central, the average age of a building being is 12 years newer, but in terms of growth rate, new stock has also slowed since 2010 due to a lack of available commercial land. This will be a limitation of the area moving forward, with landlords and developers needing to consider how they maintain the competitiveness of this leading business district.
Kowloon East: An established and stable commercial area
Kowloon East is a product of the Government's initiative, Energising Kowloon East, and over the last decade, it has gradually transformed into a well-established commercial district. The area used to be a core industrial zone, but has seen rapid growth as developers have taken upgraded assets to become to become a leading business district that houses the largest cluster of Grade A office in Hong Kong at over 17.1 million sq. ft.
"Kai Tak is a prominent and modern development in Island East and is attracting attention from a range of occupiers. Its occupiers have also benefitted from a very stable rental environment, which feel will continue into the longer-term, suggesting that relocation for both cost saving and flight-to-quality purposes are great options for prospective occupiers," suggested Ngan.
Kowloon Station: An extension of Central
There is only one Grade A office space in the Kowloon Station location, albeit the iconic 118-story International Financial Centre (ICC). This will significantly change over the next five-years, with the area set to jump to 2.4 million sq. ft. and become an extension of Central and a regional transport hub.
"There are a number of commercial developments in Kowloon Station that will drive the area's transformation. We expect it will become a vibrant business hub that will attract cross-border businesses, capital and talent looking to connect with Greater Bay Area (GBA) opportunities. We believe that the Kowloon Station area will not compete with Central, but become an extension to form a wider CBD," concluded Hui.