Celebrating 40 years of crafting mixed-use developments, some of the key thinkers at Jerde reflect on why sunny Californian optimism works so well in Asia
(Santa Monica Place, California Central Courtyard)
If you need convincing that our environment shapes who we are, look no further than Jerde. For 40 years – happy birthday, Jerde – the architecture practice and masterplanning firm has been a perfect expression of the Southern Californian lifestyle; open, chilled, charming, different, sunny. So sunny they lopped the roof off of an unsuccessful renovation of Frank Gehry's original Santa Monica Place to create an open-air shopping mall. It saved the shopping centre, respected the area's low-rise vibe and has helped inspire another wave of revitalisation in the Santa Monica downtown area.
The mall's rebirth is an example of the type of projects that Jerde does best. Jerde calls their method "placemaking"; the creation of a commercially driven space that is sensitive to what people actually want, ensuring a mixedused development people actually want to visit, repeatedly.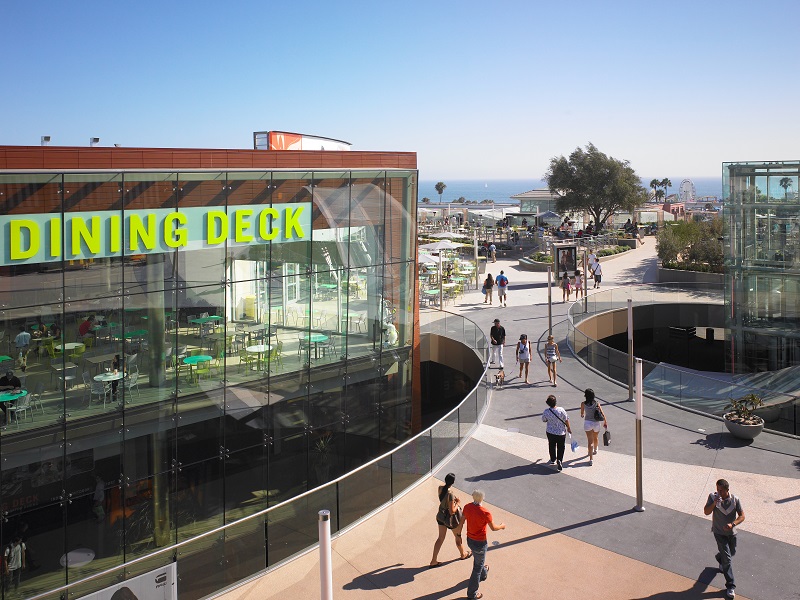 (Santa Monica Place, California Upper Roof Deck View to Pacific Ocean)
At the other end of Greater Los Angeles is another take on placemaking. Pacific City is 1.7 hectares of opportunities to eat, drink and shop, laid out along a seaside promenade at Huntington Beach. "Every public space has multiple uses. You can use it just as a deck or for the tenants to frame and spill out into the space," says Tammy McKerrow, a Jerde Senior Vice- President and Senior Design Principal.
"People are evolving, social space is evolving, and I think Pacific City is a beautiful place to study how people really do use these types of projects and how they become more than what you designed them to be."
Jerde layers density, adds light and water features, utilises uneven levels, manipulates light and shade, choreagraphs pedestrian flows to create spaces that people like to explore. When Founder Jon Jerde took control of the design for the Horton Plaza in San Diego, he levied these devices to great effect, throwing the spotlight onto the place and not the product. In 1985, Horton Plaza was a uniquely designed place that people wanted to visit repeatedly, not just a shopping centre.
Asia's Finest
The practice's Californian roots run deep. Managing Director of Asia Pacific, Phil Kim helped set up the branch office in Hong Kong more than two decades ago. He's on record as saying the West Coast experience and sense of sunny optimism is what has driven the development of the placemaking ethos in Asia, though adapted to each local context.
The practice has led some seminal Asian developments, from Tokyo's Roppongi Hills and the City of Dreams masterplan in Macau to Osaka's Namba Parks. There's more recent work in the mainland Chinese city of Xiamen, where the second phase of the Powerlong Xiamen International Centre – otherwise known as Powerlong The One – has been completed. Among the work under construction closer to Hong Kong is the Chang Hua International Centre, a development in the Pearl River Delta powerhouse city of Foshan.
Lessons from Culture
The commission at the Chang Hua International Centre includes indoor and outdoor retail, residential, dining, a theatre, library, youth centre and landscaped amenities in a sleek urban hub. The heart of the development is a four-level retail podium that loans some of the spirit of Foshan's lantern-making and ceramics traditions.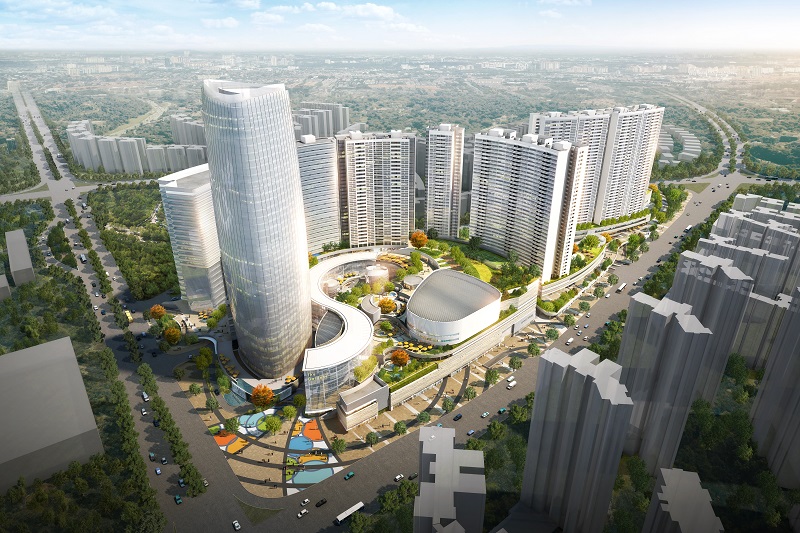 (ChangHua International center, Foshan, Expected Grand Opening in 2019)
There's the trademark density and walkable city-within-the-city idea that will help craft a new town centre woven into the fabric of retail, leisure, entertainment and dining environments. Multi-level bridges and walkways connect people to greenery, to promenades, courtyards and public plazas. The sense of place, space and of discovery are built-in. Completion is scheduled for the middle of next year.
Elevated Everyday
The One Mall in Fujian province opened in October. It's the second phase of the Powerlong Xiamen International Centre, a three-phase development delivering about 400,000 square metres. Phase one included commercial office buildings, dining and entertainment. When the third phase is completed next year, it will have a showcase W Hotel, office tower, small-home-office high-rise tower and a self-sustaining restaurant.

(Powerlong One Mall, Xiamen)
The One Mall is six decks of leisure and pleasure. Located directly above a transit station that has been integrated deeply into the design of the mall, greenery spills vertically throughout the mall, playing on a sense of tight integration. The upper levels deliver extended entertainment and leisure in a Deck format; dining, entertainment, culture and knowledge. The remainder offers a world-class shopping experience that mainland China's middle class has not always been fortunate enough to enjoy.
The luxury mixed-use development is the first of its kind in the area and is designed to be a catalyst for the high-end development to follow. The sentiment of providing a place that people can use and feel they can express a connection to, has been a guiding force at Jerde since the beginning.
"As we see throughout the world, people tend to drift back into the city. The creation of higher density and more population within the urban fabric makes it more viable for mixed-use development to co-exist. These factors made wonderful opportunities for vibrant places that weren't there ten years ago," says John Simones, Chairman of the Board and Design Director.
Thinking for the big stage, while remembering the people and planning for the future, is exactly what makes Jerde's practice tick.