Representing the exceptional in sustainable building and biophilic design is the award-winning Qianhai Kerry Centre located in the central business district of Shenzhen. Located on the stunning Qianhai Bay waterfront, the project was designated for a mixed-use development comprising office, residential, retail and hotel space, with a vision to create a modern, integrated hub for work, business and urban living.
(按此瀏覽中文版)
Its eco-friendly design has won Kerry Properties several top-tier accreditations for sustainable development, including Project of the Year (Honorable Mention) at the LEED Homes Awards, gold for Best Mixed-Use Development and silver for Best Green Development at the 2020 MIPIM Asia Awards, highlighting the project respectively as an exemplar among mixed-use buildings, where the functions of each component are physically and functionally integrated, and as an environmentally-sound and resource efficient building with a life cycle engineered to positively shape the future.
The project has also achieved Platinum (Office) and Gold (Residence) ratings under 'LEED – Core and Shell Certification', WELL Building Gold Certifications, and a Three-Star China Green Building Evaluation Label, and as such is the first building complex to be triple green certified in Qianhai.
Adhering to the design concepts of sustainable development, green ecological community and people-orientation, Qianhai Kerry Centre encompasses a variety of environmentally friendly designs and innovations. With a design focused on integrating the building complex and surrounding public open spaces, the project also embodies a variety of wellness features, which seek to integrate people and nature into its architectural and spatial design.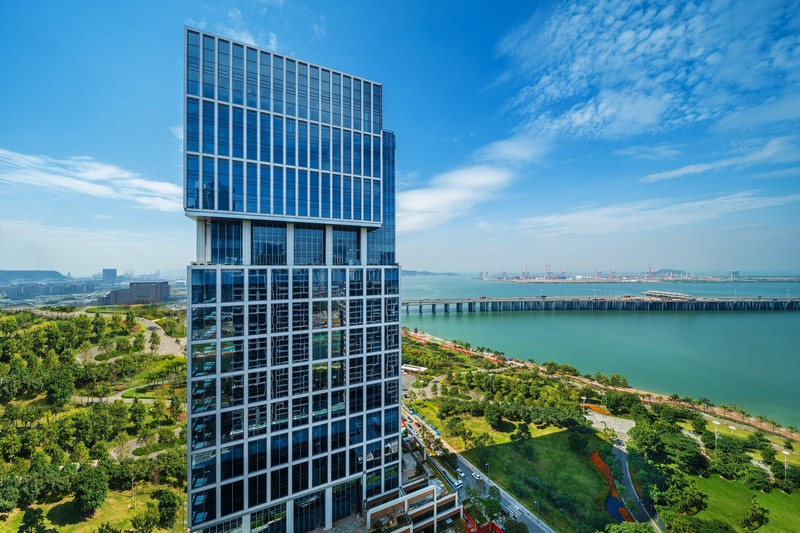 Sustainable building highlights
Qianhai Kerry Centre is a pioneer of leading wellness practices in its designs and daily operations. Indoor air quality is improved with detection sensors installed on each office floor to monitor performance of air conditioning and ventilation systems, with light settings programmed to adjust incrementally as the natural daylight changes to produce the best colour temperature for occupant comfort and ultraviolet water filtration systems to eliminate harmful microorganisms and maintain healthy minerals. The biophilic design includes over 3,000 sqm of open public space, including a central park and harbourfront plaza.
Highlights of the projects sustainable design features include an impressive site greenery of over 30%, with a rooftop garden showcasing local plant species, and a curtain wall made with low-emissivity laminated glass units to reduce solar heat radiation. Other notable features include an energy-efficient public air conditioning ventilation system, motion sensors for LED lighting, electric vehicle charging facilities, low-flow water-efficient sanitary fittings, drip irrigation and soil moisture sensors, and rainwater harvesting and air conditioner condensed water recycling systems.
Landscaping public space
Qianhai Kerry Centre also sets out to redefine the relationship multidimensionally between the landscape and the building itself, through publicly accessible green space, shaded gardens, lushly planted balconies and outdoor atriums. The approach not only focuses on the construction of highperformance buildings from an energy and resource usage perspective, but also seeks to contribute to the wellness of the district and to develop an elegant urban space whilst creating a diverse neighbourhood. Indeed, whilst each group of buildings is unique in their design, each works well together as a unified and recognisable identity for the district as a whole.
In this sense, the public spaces within the development are used as a means to bring everything together, with new parks, streets and plazas connecting the buildings while acting as a new centre for leisure along Qianhai Bay.
Taking advantage of the spectacular waterfront location, the design successfully integrates the surrounding landscape both horizontally and vertically, across two public spaces – a green lawn to be used for year-round activities, and a central square forming the civic heart of the district.
However, landscaping and garden space is not limited to the ground level. Another key feature is a vertical sunken garden that extends down to the lower levels to connect to public transit points, bringing light and air and a sense of nature and the outdoors to spaces that would normally feel very enclosed.
Qianhai Kerry Centre is being built in three phases and is the first development under Kerry Properties in the Shenzhen Qianhai Shekou Free Trade Zone. With the first phase already complete, and the second well underway, each complex within the development stays true to the developer's aim of creating a unique identity of its own whilst sharing an architectural language of sustainability.
Another key feature of the development, and a first for Kerry Properties, is the Kerry+ Smart Service Platform, which leverages the power of the Internet of Things or IoT, that combines big data analytics to provide real-time energy usage data to reduce energy consumption and facilitate property management within the properties. Its community function also allows tenants to stay in touch with all events, using a click and pay function to book meeting spaces via the platform.
This is addition to numerous engagement activities designed to enrich the community, including a variety of wellness programmes such as yoga classes to promote the physical and mental health of the community, the Qianhai Music Festival which was first held at Qianhai Kerry Centre in 2021, and charitable activities, such as children's book collections from Shenzhen Kerry Plaza and Qianhai Kerry Centre being delivered to rural students by employee volunteers.
To conclude, Qianhai Kerry Centre's clear focus on nature reinforces the sustainable mission of the development – one that makes every effort to integrate landscape and nature into the built form, while actively mitigating the heat island effect and improving the comfort and well-being of the district's city dwellers and its visitors.