Currently under construction on the site of a former golf driving range and scheduled for completion in 2014, Shanghai Tower will complete a triple trio of super tall structures in Pudong, soaring 632 metres into the sky above one of the fastest growing and most dynamic cities in the world.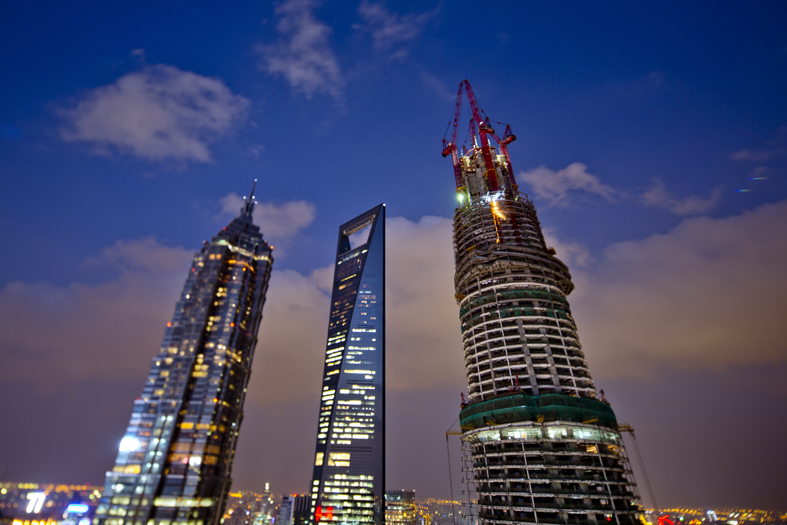 Shanghai Tower joins Jin Mao Tower and the Shanghai World Financial Centre to complete the vision for the Lujiazui financial district as originally conceived back in 1993 when, the Chinese government set up a Special Economic Zone in Chuansha, creating the Pudong New Area, the western tip of which was designated as the Lujiazui Finance and Trade Zone. Jin Mao Tower represents China's past and draws upon the influence of former traditional buildings in the city and their distinctive facades to signal a new 21st Century era of China structures and architecture. As the World Financial Centre represents China's present, it is Shanghai Tower that represents China's bold future.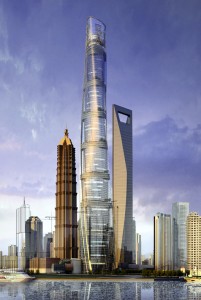 Construction of this mega tower is being realised under the direction of 2DEFINE Architects, established by Marshall Strabala, Zhang Qiao and Zhou Shimiao in 2010. The practice is currently starting construction on three other significant buildings in China. Notably, in 2010, Strabala and 2DEFINE were also appointed to the Yingkou Convention and Exposition Centre in Yingkou, China, alongside the project's architect of record and national partner, Dalian Urban Planning and Design Institute. 
For the last 6 years Strabala has been the Chief Architect of the Shanghai Tower. Prior to coming to Shanghai, he was an Associate Partner/Studio Head at Skidmore, Owings and Merrill LLP.  He worked in Chicago for 18 years and directed the design for a clutch of other notable and globally recognised structures, including Hong Kong Convention and Exhibition Centre, the world's tallest building – the Burj Khalifa in Dubai and the 450m tall Nanjing Zifeng tower. He was recruited by the international interiors firm, M Arthur Gensler Jr & Assoc. Inc, to develop an architectural practice.
In 2006, Strabala led the original design team to the winning competition entry, beating out KPF, Fosters and his former colleagues at SOM. Strabala moved to Shanghai in 2008, to lead the Shanghai Tower design team, for schematic and design development, and never left.  
Unique design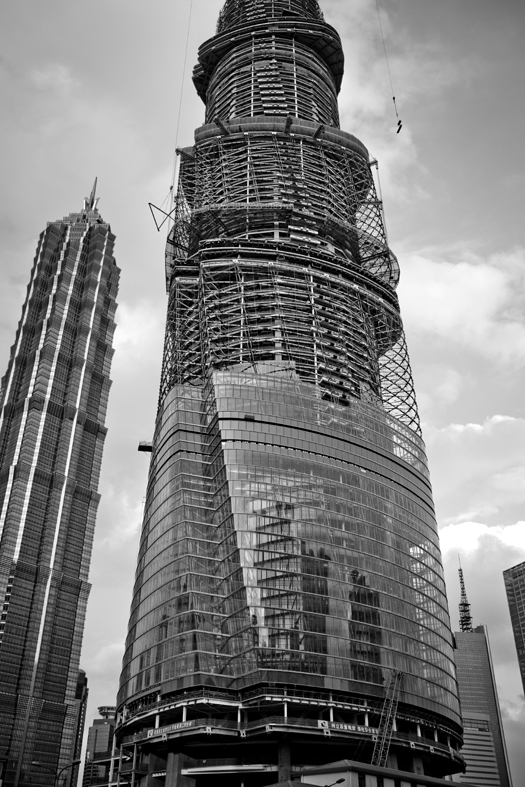 Built on former Pudong farmland comprising a primarily clay-based soil typical of a river delta, Shanghai Tower is supported by 831 reinforced concrete bore piles sunk over 80m deep into the ground. The 4.5m thick foundation mat was achieved by a small army of workers engaged in a marathon 60-hour continuous concrete pour utilising more than 61,000 cubic metres of concrete.
Strabala employed the lessons learned on the Burj Khalifia to create an elegant and efficient structure. Shanghai Tower assumes the form of nine distinct cylindrical buildings or zones that are stacked one on top of the other. This form is then wrapped in a second skin so that the entire 121 floors are enclosed by two glass facades. When complete, Shanghai Tower will be the world's tallest double-skin building.
"Shanghai Tower's transparent facade is also unique, as most buildings only have a single façade comprising reflective glass in order to reduce heat absorption. In comparison, Shanghai Tower's use of a double layer of glass eliminates a need for the traditional opaque single façade," Strabala says.
"Between the inner layer and the outer layer, which twists as it rises, are nine distinct indoor zones, each 12-15 storeys high. These start with retail being housed in zone 1, through to office spaces in zones 2 to 6, to a hotel and boutique office in zones 7 and 8. The observation and cultural facilities located on zone 9 will culminate in an outdoor observation deck. Each zone will also provide public spaces for visitors and its own atrium featuring naturally growing gardens, restaurants and café outlets, retail spaces and what will undoubtedly become the most stunning panoramic views across any metropolis in the world as a result of the 360 degree views."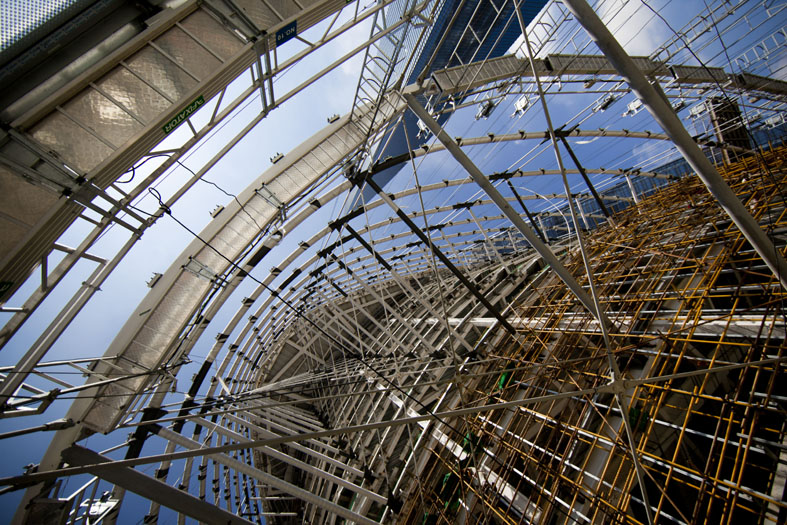 The retail podium will actually comprise two levels below ground and four above and has been specifically designed to provide a world class retail destination within the Lujiazui financial district offering premium brands, specialty retailers and high end dining outlets. Strategically placed entrances from the tower, street, and underground transit station will also guide the public into various public spaces that will all be connected by a network of concourses, escalators and stairs.
Sustainable structure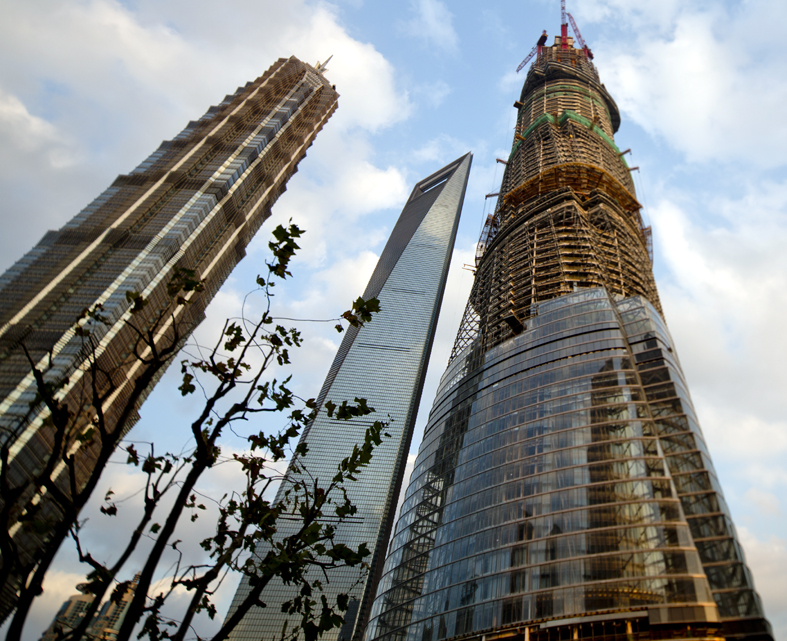 Upon completion, Shanghai Tower will already be one of the most sustainable tall buildings in the world and has been purposefully designed to achieve both the USGBC's LEED Gold certification and a China Green Building Three Star rating. This integrated approach to its design was achieved using simulation studies to optimise the building's overall performance. 
Strabala asserts that the twist is essential to both the aesthetics and the performance of the building.  Wind tunnel testing focused on defining the optimal shape of the exterior skin and confirmed that by reducing wind load the result was a lighter and more efficient structure that also conserves natural resources. "Everything in this building does two things," states Strabala.
The transparent second skin that wraps the entire building was at the core of achieving a more efficient MEP system and the atriums help conserve energy by modulating the temperature within the void. This space acts as something of a buffer between inside and outside. This double skin acts much like a thermos bottle, the void space acting as insulation, keeping  more heat in the  building through winter and  limiting  heat gain in the  summer. 
Also key to the sustainable design of Shanghai Tower are the state-of-the-art water resource management practices and high efficiency building systems, namely, that 33 percent of the site is green space with landscaping that breathes fresh air into the city. Locally sourced materials with high recycled content have also been used wherever possible.
"The building's heating and cooling systems will also tap the power of geothermal technology to deliver energy from fluids maintained at the earth's constant temperature. The result of these sustainable strategies as applied to Shanghai Tower will reduce the building's carbon footprint by 34,000 metric tons per year."
Vertical city a taste of things to come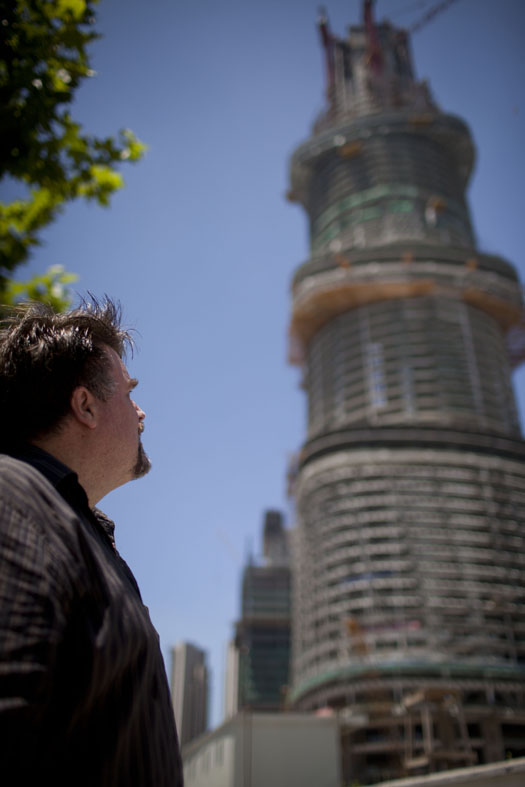 As buildings around the world continue to soar ever higher the design of Shanghai Tower also provides a glimpse into the future and our relationship with tall buildings in coming decades.
"The vertical transportation requires so many lifts that we used 5 sky lobbies to reduce the size of the core, and create public spaces where the occupants transfer to the local lifts. These public spaces, including shops, restaurants and other urban amenities strategically located on the floors that also feature public atriums. Each of Shanghai Tower's "neighborhoods" rises from a sky lobby at its base, a light-filled garden atrium that creates a sense of community, as well as supporting the needs of daily life in much the same way as city squares and plazas do today, by promoting the gathering and interaction of people throughout the day," Strabala concludes.
Shanghai Tower is a city within a city and is a preview of how many future generations will exist and live as vertical living increasingly becomes the norm around the world in coming decades. This is tomorrow today, where workplace, residential and leisure facilities are all wrapped together in one convenient, secure and sustainable environment.
2DEFINE architecture is an  international  architectural practice  with  offices in Chicago, Seoul and Shanghai.
Photography: Nick Almasy & 2DEFINE Architecture