(5 July 2016, Hong Kong) – The overall office rents in Hong Kong continued to rise in Q2 2016 despite increase in the overall availability and a plunging absorption to the negative level of 77,746 sq ft, as DTZ/Cushman & Wakefield, a global leader in commercial real estate services, revealed in its Office and Retail markets review today for the second quarter. The retail market has yet to see major positive development but the fall of high street rentals have slowed.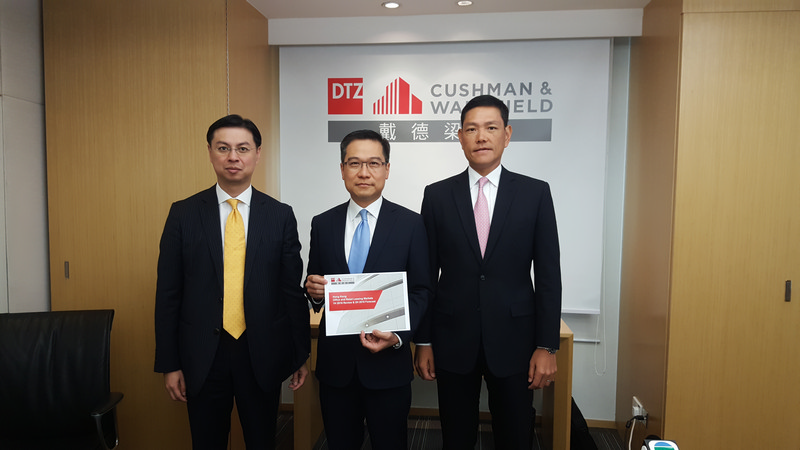 Grade A office leasing activity remained stable in the second quarter, driven by the banking and financial sector and serviced office operators. In particular, the demand for office space on the part of Mainland banking and financial companies helped push the net effective Prime Central and Greater Central rents to HK$132.03 and HK$118.41 per sq ft per month respectively, each with a rise of 2.4% over Q1. In fact, Mainland companies took up 63% of major new lease in Greater Central this quarter, up from 53% in Q1.
On the contrary, rentals in Kowloon East and Kowloon Others (Hunghom and Shatin) fell by 1.8% and 2.7% from Q1 respectively. At HK$29.77 per sq ft per month, the rent in Kowloon East was especially under the downward pressure as the district faces the impact from increased availability due to upcoming lease expiry of companies and a large amount of new supply to hit the area.
Still, the monthly territory-wide average office rent managed to rise by 0.4% quarter-on-quarter to HK$78.68 per sq ft, despite the rising availability in most districts to an overall 6.4%. Mr Andy Yuen, DTZ/Cushman & Wakefield's Director of Office Agency in Hong Kong, explained, "The territory-wide absorption fell to -77,746 sq ft this quarter, mainly due to released space in Greater Central, Tsim Sha Tsui and Hong Kong South."
Apart from the banking and finance sector, serviced office operators were another highlight of the office market in Q2. This was most representative in the lease of 94,000 sq ft in Tower 535 in Causeway Bay by foreign-based WeWork, which would soon turn it into one of their first co-working spaces in Hong Kong.
Mr John Siu, DTZ/Cushman & Wakefield's Managing Director, Hong Kong, commented, "As expected, rental growth in Hong Kong has slowed in Q2 due to corporations' concern about the prospects of the global and China markets. We believe this concern is to extend into the second half of 2016 and we foresee further slowdown in the pace of rental increase, although Greater Central would still be underpinned by the strong interest from PRC companies."
For the retail market, the total visitor volume from January to May2016 declined by 8.4% year-on-year, the percentage was smaller than the 13.6% year-on-year drop recorded from January to February. As for retail sales, sales of jewelry & watches and fashion & accessories recorded a milder drop from January to May (down by 21.3% and 8.9% respectively) than between January and February (down by 24.2% and 10.8% respectively), while food, alcohol & tobacco posted actual year-on-year gain.
The ease in the drop of both visitor volume and retail sales cast a positive light on the trend of retail rents. High street shop rents in Causeway Bay, Tsim Sha Tsui, Central and Mongkok recorded a quarterly fall between 3.6% and 5.1%, which was on a lesser scale than in Q1 when the average rents in these districts dropped by 5-7%.
Mr Kevin Lam, DTZ/Cushman & Wakefield's Head of Business Space, Hong Kong, commented, "Retail rents are still falling but at a slower pace, and we expect the trend to continue into the second half of 2016. Among all districts, Causeway Bay would be under the greatest pressure in terms of rental correction due to the bigger surge in the district in the past few years."
With landlords being more realistic, the bigger drop in rents in Causeway Bay favored the taking up of vacant street shops, causing the vacancy rate to improve from 5.3% in Q1 to 0% in Q2. Vacancy in Tsim Sha Tsui remained stable, while the number of vacant shops has increased in both Central and Mongkok during the course of the second quarter.
On the other hand, the food and beverage sector, which has been witnessing stable rental growth since 2010, began to show signs of concern: Chinese restaurants recorded a drop of 0.5% in year-on-year sales in Q1 2016, the first drop over the course of the past six years. Mr Lam said, "With the slowdown in business, Chinese restaurant operators became much more cautious than at the beginning of 2016 and they generally have less desire in expansion in the second half of this year. This quarter, F&B rents in Central dropped 0.1% from Q1. Although this is statistically mild, it is an indication that F&B rents are perhaps close to the ceiling, and the sector will be trending towards a plateau or even trending downward should the local economy deteriorate."