(30 September 2021, Shanghai) Swire Properties and Lujiazui Group today celebrated the opening of Taikoo Li Qiantan, their joint-venture retail complex situated at the heart of the Shanghai Pudong New Area. Taikoo Li Qiantan, the first "Taikoo Li" project in Shanghai, is tailor-made for the Qiantan International Business District and follows the successful landmarks of Taikoo Li Sanlitun in Beijing and Sino-Ocean Taikoo Li Chengdu.
(按此瀏覽中文版)
Taikoo Li Qiantan is opening with an 11-day "Wellness Festival" celebration. Yang Chao, deputy head of the Pudong New Area, Li Jinzhao, Chairman of Shanghai Lujiazui Group, Xu Erjin, General Manager of Shanghai Lujiazui Group, Tim Blackburn, Chief Executive of Swire Properties, and Han Zhi, Director, Retail at Swire Properties were joined by notable guests to celebrate the start of Taikoo Li Qiantan's "Wellness" journey.
First "Taikoo Li" in Shanghai, some 250 premium shops reinforce Shanghai's position as an international consumption hub
Spanning a total floor area of approximately 120,000 sqm, Taikoo Li Qiantan maintains the essence of the "Taikoo Li" brand, renowned for its open-plan and lane-driven architectural design. The project features the "Double-open park concept", a wide expanse of open green space and lanes across the ground level and rooftop, connected by an 80-metre-long Scenic Bridge overlooking the Huangpu River.
Taikoo Li Qiantan's unique wellness-themed shopping concept is showcased with the south and north zones, also known as the "Stone Zone" and the "Wood Zone", which feature a naturalistic design concept inspired by stone and wood across the façade and which are connected via an 8,000-sqm central park. The two zones offer a diverse mix of luxury and contemporary fashion labels, lifestyle brands and F&B concepts, with all of these elements coming together to create a unique 'Wellness' experience for visitors.
Taikoo Li Qiantan features a host of international luxury brands, including Audemars Piguet, Balenciaga, Bulgari, Cartier, Dior, Fendi, Giorgio Armani, Gucci, Hermès, Loewe, Louis Vuitton, Moncler, Prada, Saint Laurent, Tiffany & Co., and Zegna. Alongside some 50 brands that are debuting their first stores in Pudong, over 20 tenant partners are showcasing unique "Garden-concepts" to echo the Wellness theme of Taikoo Li Qiantan: a temporary store by Louis Vuitton with a new design concept inspired by Louis Vuitton's Monogram 4 petal flower pattern; the first Oasi Zegna Garden in the Chinese Mainland; Boucheron Jardin d'Hiver – a first in Shanghai presented by Boucheron; Starbucks' Greener Store Lab, a global first; and AVENUE & SON's first store in the Chinese Mainland with a skatepark. Other special concept stores include Moncler's Biggest "House of Genius" store in the Chinese Mainland, CASA LOEWE Shanghai, and the first MOViE MOViE cultural and lifestyle concept cinema in the Chinese Mainland.
Anchor tenants on the rooftop (L4) include Japan's TSUTAYA BOOKS' 3,000 sqm flagship store, as well as Japanese professional sports brand ASICS' first RUNNING STATION in the Chinese Mainland, creating a community hub where like-minded visitors are connected via cultural, entertainment and wellness events.
On 29 September at Taikoo Li Qiantan, the Pudong New Area Government held the launch event for "Global Consumer Brand Gathering Plan, New Landmark and First Stores". "In the three years to come, Pudong will focus on brand promotion, fashion leadership and enrichment of tenant mix to establish itself as a first-choice destination for brands to appeal to the global market, launch new products, and lead the latest fashion trends," remarked Yang Chao, deputy head of the Pudong New Area. In recognition of its status as a major new shopping destination in the district, representatives from Taikoo Li Qiantan also attended a signing ceremony hosted by the Shanghai Municipal People's Government in September. During the ceremony, the Government reinforced its pledge to promote "Shanghai Shopping" as a slogan, and by the end of the 14th Five-Year Plan, to firmly establish Shanghai as an international consumption hub, showcasing the debut of new labels, "first stores" and new collections from global brands to reinforce the city's competitiveness, reputation and global influence.
"Shanghai is a city of great significance to the Swire group, as the place where the Group first set down roots in the Chinese Mainland over 150 years ago. We're particularly thrilled to expand our presence in this thriving metropolis with this groundbreaking new project, Taikoo Li Qiantan," said Tim Blackburn, Chief Executive of Swire Properties. "Taikoo Li Qiantan is a proud new addition to our incredible 'Taikoo Li' brand, offering a 'Wellness' journey, complete with the latest in digital innovation and an exciting and fresh brand mix for Shanghai. We're confident that Taikoo Li Qiantan will help to shape Pudong as a famous shopping circle in the years to come, further elevating Shanghai's global influence as an international consumption hub."
"Heart of Urban Living" leading the way to a brand new Qiantan
With Lujiazui Group taking the lead in its development, Qiantan is fast emerging as an international Central Activity Zone (CAZ). Located at the heart of Shanghai along the Huangpu River, the district spans 2.83 square kilometers. Development of the area commenced in 2012 and since then, all projects have entered the construction phase, with construction for more than 58% of the gross floor area now completed. Qiantan adopts the development philosophy of "liveability and workability; integration of industry and community". Besides Grade-A office buildings and residential buildings, the area also features green space, parks, international educational and medical institutions, public spaces for cultural, artistic and sporting facilities, and more. With its multi-functionality, diversified businesses and exceptional quality, Qiantan encapsulates quality living and aims to become a new "Shanghai city centre 3.0", following in the footsteps of the Bund and Lujiazui.
Taikoo Li Qiantan is superbly located at the intersection of three Shanghai Metro lines, giving easy access to key business zones such as Lujiazui, Xujiahui, the People's Square and Shanghai Disney Resort. Together with the adjacent Grade-A office tower New Bund Center, and the five-star luxury hotel Shangri-La Qiantan, the mixed-use development is expected to become Qiantan's "Heart of Urban Living". Since its completion in July 2020, the 280-metre New Bund Center has attracted internationally renowned companies such as PwC and Takeda Pharmaceutical as tenants, with its current occupancy rate reaching 83%. Shangri-La Qiantan is a luxury hotel which combines Shanghai culture with green spaces. The hotel has 531 regular rooms, 54 suites, 4 restaurants and conference venues spanning more than 7,000 sqm. The hotel is expected to officially open in October 2021.

"Qiantan International Business District has a visionary plan to combine quality commercial, residential, sports, cultural, educational and leisure resources. The recent successful launch of various premium commercial projects – represented by Taikoo Li Qiantan, is a testament to the successful transformation of Qiantan as a thriving business district," said Xu Erjin, General Manager of Shanghai Lujiazui Group. "We admire Swire Properties' long- term vision and its innovative placemaking approach to creating communities. It is our shared vision that forged our remarkable partnership. I am confident that Taikoo Li Qiantan will not only redefine how a beautiful lifestyle is interpreted by customers in Qiantan, or the city, but also become a vibrant city landmark that reinforces Qiantan's position as an international commercial hub. This new landmark promises to further upgrade the city's urban culture and accelerate the arrival of a new era for Qiantan."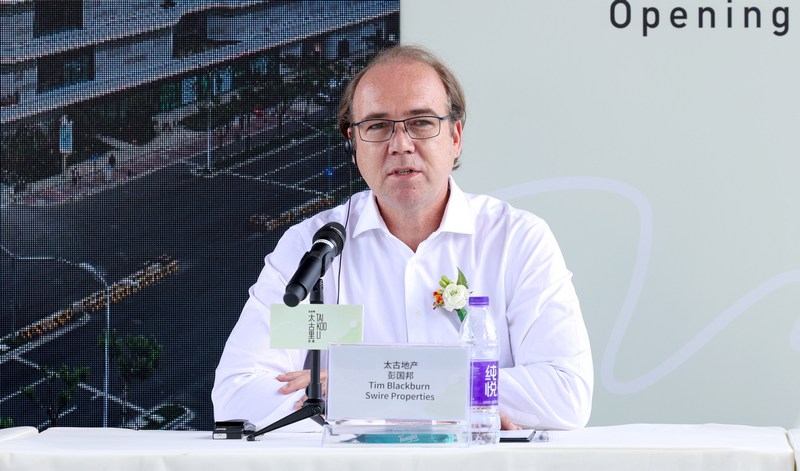 Blending wellness with technology to create a new lifestyle experience
Taikoo Li Qiantan incorporates innovative digital technology to appeal to customers across different age groups. A major highlight is the 450-metre Sky Loop surrounding the rooftop of the complex. As Shanghai's first AI digitalised running track within a mall, the Sky Loop features professional running and walking tracks, equipped with facial recognition technology. The track provides digitalised changing rooms as well as a gentle slope that rises to the roof of TSUTAYA BOOKS, providing an interesting yet challenging route for runners. Wellness has been infused throughout the complex, with art installations integrated into the architectural façade, the provision of baby-care rooms, as well as a smart car parking system.
As part of Taikoo Li Qiantan's Wellness Festival, Canadian new media artist Cinzia Campolese has curated the lighting show "The Journey of Water" at the central installation, Please Be Seated, by British designer Paul Cocksedge. Ever-changing ripples spread across the entire art installation, with beautiful sound and lighting elements added to create an exceptional multisensory experience. The show is a unique blend of innovation, sustainability and art, a perfect showcase of Taikoo Li Qiantan's creative placemaking vision for the whole community.