The stage of commercial property development has been in Era 3.0. Boundaries between commercial formats will be blurred, more and more mixed formats will emerge. To meet consumers' current and future demands for consumption, the role and function of public space will be more important and efficient use of space will also be paid more attention. In terms of urban future, commercial renewal is not only a rebate of convergence, but also an industry mineral deposit containing huge benefits.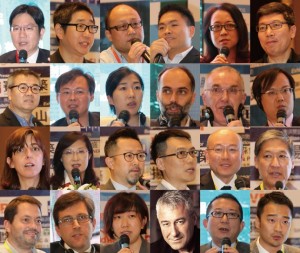 Focusing on "Commercial 'Renewal', Leading Urban 'New' Vitality Cities", The 4th Annual Green CREP Summit (CREP4) has been a great success on 19th November in Shanghai Marriott Hotel Luwan China, to solve the problems how to  make powerful basis for Operation+, from commercial reconstruction, architect upgrading and space regeneration at early stage of commercial projects.
Over 180 professionals and elites gathered in CREP4. 47% of them are from property owners and developers; 41% are from leading architecture design firms; and 8% are solution providers.
Property developer delegates are from China Merchants Property Development, Hangzhou Xintiandi Group, URBN Hotel Shanghai, Ocean Wide Holdings, Zhao Tai Group, Poly Commercial Real Estate, Dongyuan Real Estate, Central China Real Estate, Hong Yang Group Company, Thaihot Group, Suzhou Chinaing Real Estate, Top Spring International Holdings Limited, Gemdale, Huarong Real Estate, Aoyuan Property Group, Century Golden Resources Group, ZNC, Golden Eagle Real Estate Group, Yangguang Co., Ltd. etc. Design delegates are fromThe Oval Partnership,Benoy, The Jerde Partnership, HPP International, RTKL, Purcell, David Chipperfield Architects, SUNLAY DESIGN, SAIYO Construction Engineering, SHING & PARTNERS, GD Lighting Design, TECHNOVA, MOQI, Cendes Arch, CDI, etc. Products & Solution providers are from AET, Persagy Technology, Knauf New Building Material, etc.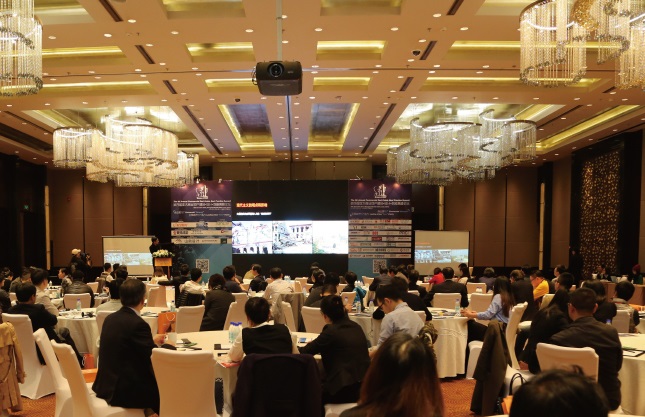 Ting Chih-Cheng, CEO of Urban Regeneration R&D Foundation, Taiwan; Zheng De Gao, Director of CAUPD Shanghai; Zhou Gang, Executive Director from Shanghai Institute Of Industry Transformation And Development; Chen Hong, Vice President from Shanghai DOBE Cultural & Creative Industry Development (Group) Co.,Ltd. as well as Wang Lin, the former Division Chief of Historical Features Department of Shanghai City Planning and Land Resources Management Bureau. They discussed on "Keeping 'Root' & 'Soul' of a City" and proposed the following 6 key points in order to reach the goal: first step should be function, next should be investment, third should be policy, fourth should be mood and the last should be inherited story.
Wu Wen Yi, Executive Director & Design Director shared us how they regenerated the Zhong Guan Cun Venture Street from book malls into business platform, brought this project new soul and more cozy and flexible platform for entrepreneurs.
The topic "When "Old" Commercial Buildings Interface with "New" Ideas" gathered Xu Tian Ming, Managing Deputy General Manager of Hangzhou Xintiandi Group, Claire Hara, General Manager of  Urbn Hotel Shanghai, Andrea Destefanis, Founder and Chief Architect of Kokai Studios, Brian Anderson,Partner of  Purcell and Zhao Qiang, GM of Technova(BeiJing) Co.,LTD. They all believed that when old building interface with new commercial environment, the developers should bring the project new life, value and format to meet new demands. Meanwhile multi-cultural integration, environment protection and zero-discharge should be attached more attention.
Zhang Ming, Deputy Director & Professor of Department of architecture from Tongji university , he suggested that we should pay more attention to urban historical environment & building regeneration in dynamic protection way instead of static protection, that's to say, bringing the historical building new function and culture through renovation and repair.
Marta Pozo, Asia Pacific Director of MVRDV brought all guests into a colorful world — Markthal Rotterdam. Since this is a big-scale renovation project and located in the center of the city, so a good understanding of social & humanity environment is necessary for integrating this project into the real market.
Andrea Destefanis, founder & principal of Kokai Studios introduced K11 project to us. "Art, Humanity, Nature" is the three pillars of this project. K11 is not only a shopping mall, but also an art gallery. K11 tour is like a journey; people of all ages enjoy it. The essence of it is no longer a shopping center, but a public space where people can comprehensively experience K11 concepts.
Yang Jing, General Manager of Shanghai Saiyo Construction Engineering Company shared her experience in big-scale renovation projects. She raised a topic that mechanical and electrical engineering is the indispensable core factor of a good and fantastic building project.
Pang Qin, GM of Benoy Shanghai shared their renovation process of the Bullring Shopping Mall. The project is located in a self-height difference street, Birmingham. Benoy designed not only overall regional commercial buildings, but also comprehensive traffic plan for old blocks. The soul concept for the master design is the convergence of the whole commercial street.
Wahbo Ng, commercial design director from Shing & Partners shared several commercial project cases to explained how to attract and guide the people flow in shopping malls. He pointed four key defining factors: Value-centered, respect of city icon, detailed design from a user point of view and emphasis on development, forward-looking planning and leveraging the technology in a creative way.
Christopher Law, director and founder from The Oval Partnership explained the project of Sino-Ocean Taikoo Li Chengdu. He shared his design concept of well integration of modern and classical elements and how to completed a unique retail concept of a "Fast Lane" and a "Slow Lane", delivering a real and comfortable shopping experience to visitors.
Paul Senzaki, SVP from the Jerde Partnership shared the renowned renovation project Santa Monica Place and he explained how to get the support from local residents by providing details of project status and expected results.
Mark Randel from David Chipperfield gave us the keynote speech talking about their ongoing project Rockbund Shanghai and shared his experience on project renovation and refurbishment by well combination with new commercial function and preservation of the old building architecture in order to keep historical cultural identities and respect the soul of a city.
Finally, William Lang VP from RTKL hosted the last panel discussion with other panelists including Sunny Wu from GD Lighting Design, Jens Kump from HPP and Paul Senzaki from the Jerde partnership. They had a heated discussion on topic of turning shopping into an emotional experience. Jens shared the case of LOOP 5 and explained how to design a new shopping destination in the remote areas. Also he pointed the defining factors to made this place more and more attractive by using the existing resources and new value-add methods.