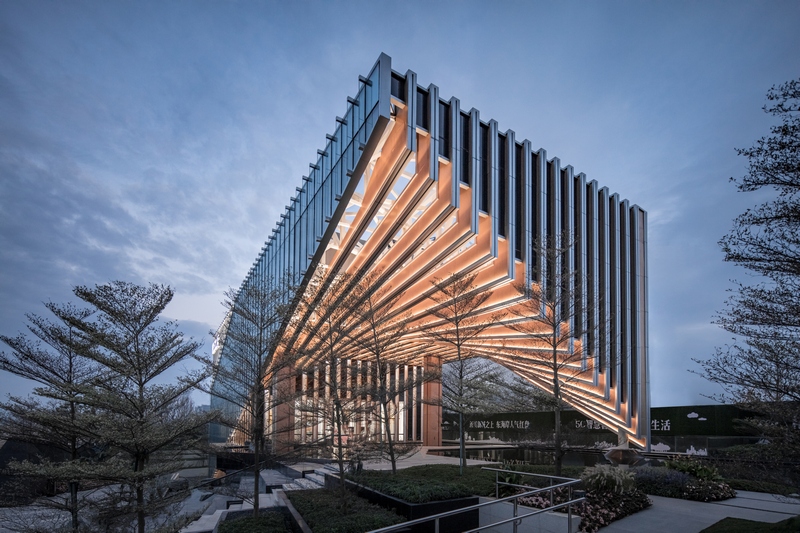 Located in the centre of Shantou's New East Coastal Area and adjacent to Xinjin River, The Riviera is a 301,900-square-metre residential development enjoying expansive views of the seacoast that is a kilometre away.
Acting as the gateway to the community, its sales gallery demonstrates delicate bespoke design with a façade inspired by the elegant form of traditional Chinese folding fans. The extensive use of glass curtain walls invites ample sunlight into the building, promoting visibility and spatial interaction between outdoors and indoors. The building mass is strategically subtracted to open up a wide, progressive archway, creating public space and guiding visitors towards this work of art. Through precise calculation and design of the truss system, the massive arched roof converges from height towards a single tip that touches down on the waterscape. After project sales, the gallery will turn into a cultural and recreational centre which also houses the property management office.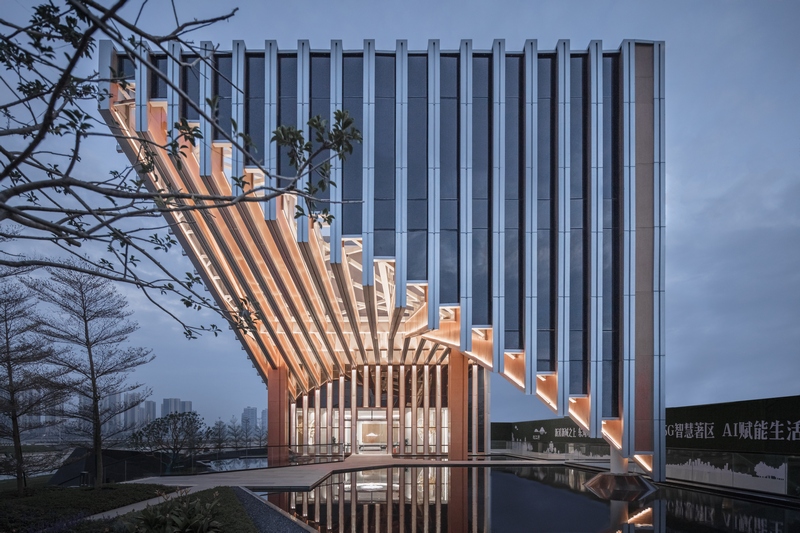 From Wikipedia, the free encyclopedia
Shantou, alternately romanized as Swatow[2][3] and sometimes known as Santow,[4] is a prefecture-level city on the eastern coast of Guangdong, China, with a total population of 5,391,028 as of 2010 and an administrative area of 2,064 square kilometres (797 sq mi). Shantou, a city significant in 19th-century Chinese history as one of the treaty ports established for Western trade and contact, was one of the original special economic zones of China established in the 1980s, but did not blossom in the manner that cities such as Shenzhen, Xiamen and Zhuhai did. However, it remains eastern Guangdong's economic centre, and is home to Shantou University, which is under the provincial Project 211 program in Guangdong.
Project: The Riviera
Location: Shantou, China
Client: China Overseas Grand Oceans Group Limited
Architect: LWK + PARTNERS
Site Area: 66,153.8 sqm
Gross Floor Area: 301,900.31 sqm