(5 July 2017, Hong Kong) Colliers International (NASDAQ and TSX: CIGI) releases its latest report summarising the ups and downs in Hong Kong's property market, together with its view on the SAR's future development following its 20th anniversary of the handover. Despite its achievements, Hong Kong needs to devote more resources to technology, innovation, and infrastructure in order to capture the new opportunities offered by China's emergence as a world leader, such as the Belt & Road initiative, the Greater Bay plan and the closer collaboration with Shenzhen to foster greater competitiveness for both cities.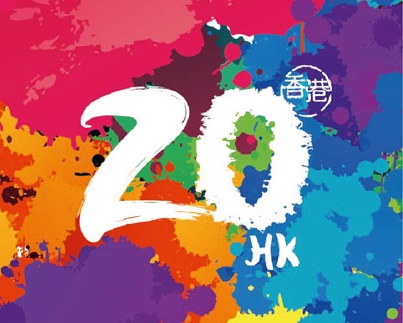 With a strong focus on financial services, trade and logistics, professional services and tourism, Hong Kong retains its status as the world's freest economy for the 23rd consecutive year by the Heritage Foundation and is ranked the most competitive economy by the Institute for Management Development (IMD) in 2017. Nevertheless, the economic growth rate of Hong Kong has been slower than our neighbouring cities.
Despite different rounds of economic and external turbulence in the last 20 years, the property price has reversed the downward trend from the Asian Financial Crisis and SARS epidemic to reach a record breaking level in 2017. Although residential prices have become less affordable, the property market in general is in a healthier condition than 1997's as demand is currently driven by domestic end-users. The number of resale transactions of apartments purchased within 24 months remained low in Q1 2017, which is 0.7% out of total transactions. The number is well below the monthly average of 2,661 cases or 20.0% from January to November 2010, when Special Stamp Duty had not been introduced.
Looking back in time, Hong Kong property market was hit hard by the housing bubble burst during the Asian Financial Crisis in 1997, followed by the toughest period of severe acute respiratory syndrome (SARS) epidemic in 2003. Despite the slump, home prices were able to experience a dramatic 460% rebound between the trough in July 2003 and April 2017. To date, property prices still have room for growth, but official figures reveal that the cooling measures are conducive to easing the rising trend.
"We believe home prices are healthier than 1997's as demand is predominantly driven by domestic end-users rather than speculators, and as banks have been carefully monitoring the approval of residential mortgages. The rising population and number of households, together with the surge in financial strength of home buyers, have driven the organic growth of demand." Zac Tang, Senior Analyst said.
Leasing demand from PRC companies for office spaces in Central has pushed up rents, triggering the decentralisation of traditional tenants and the adoption of flexible workspace solutions to lower their real estate costs.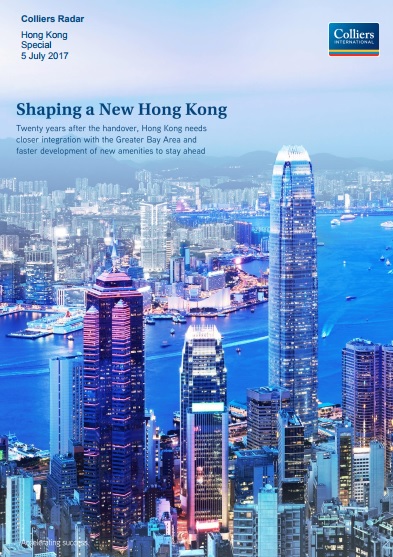 The change in the shopping pattern of Chinese visitors has put an end to the golden age of Hong Kong's retail market. By the end of 2016, Hong Kong's retail rent had fallen back to 2009's level while retail sales declined to just below 2012's level. Industrial rents have been driven up as a result of the redevelopment of industrial buildings and the government's initiative in 2001 to gradually rezone industrial lands for commercial or other purposes. The authority put further pressure on the supply by introducing the revitalisation scheme for industrial buildings from October 2009 to March 2016.
In the upcoming decade, the Belt & Road initiatives and the Greater Bay Area plan provide a visionary blueprint for Hong Kong's economic development. The limited developable space, however, has restrained Hong Kong's development. Hence, the city will need to expand its capacities in creating new infrastructure, business districts, high-tech parks, cultural facilities and tourism attractions to accommodate new demands.
"The future urban framework of Hong Kong will become multi-polar with new economic hubs emerging around the future border crossing areas, such as the new high-tech park at Lok Ma Chau Loop, a new business hub on North Lantau, and large new towns in Northwest New Territories." Daniel Shih, Director of Research said.
On the other hand, redevelopment in the traditional urban core area is essential to maintaining a vibrant city centre. "Hong Kong's existing building stock is aging rapidly. About 40% of Grade A office buildings in Central were built before 1988 and will have to be redeveloped to meet tenants' requirements. Also, it is necessary to redevelop industrial and residential buildings in central Kowloon to re-energise the communities." Daniel added.
The report concludes that Hong Kong's position can be further strengthened by closer economic integration with South China under the Greater Bay Area plan. During this process, there will be plenty of opportunities for the local real estate industry for both new developments in urban fringe areas and urban renewal in the existing core areas.
Please click here to view the full report.