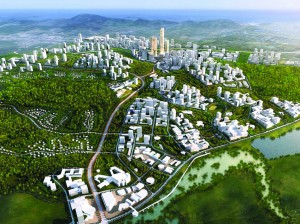 Cities today hold over 3.5 billion people. Every month the world gains urban population equivalent to the entire nation of Brunei Darussalam (about 300,000 people). The Global Urban Studio at Woods Bagot, under the helm of Steven Townsend and Richard Marshall, is at the forefront of this urban growth reality.
This decade is a unique window of opportunity in the world's trajectory of the evolution of human society, and the right time to achieve a greater mission through the profession of urban design and planning. Urbanization, immigration, mobility and social networks are fast orienting urban citizens to a daily life that transcends, even forgets, place. This is an exciting yet unfortunate phenomenon. 
Thus the need for places to be grounded in cultural, economic and natural heritage has never been more relevant. The Global Urban Studio is producing work that recognizes human behaviors, relationships, experiences, and aspirations over generations, and provides resilient and regenerative frameworks that let society do what it does best: adapt and flourish over time. The practice is built around a diverse team of professionals from around the world: interdisciplinary, focused on the underlying contextual story behind the place, and the defence of public good. 
As part of a global guild of experts, the urban designers behind these projects may not see the fruits of their creativity and strategic thinking for decades. But the beauty of their flexible frameworks is that they allow end users to fill in their stories, and thus achieve a legacy that continues to be relevant for generations.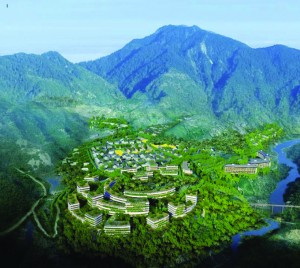 Sustaining Community In China 
These two master plans go beyond trendy "greenwashing", tackling social and heritage sustenance in globally competitive times. Both projects have been recognized by the American Institute of Architects for Urban Design Merit. 
Langfang Eco-Smart City
Because Langfang is sinking due to dropping ground water levels, the masterplan employed blueway corridors, redevelopment strategies, transit-oriented development, and agricultural economic resuscitation to recharge the city with water and life. Unlike inherently unsustainable model "ecocities", the plan makes a real, existing city of today into tomorrow's ecocity. 
Dalian Future City
A sensitive response to watersheds created an ecostructure around which the masterplan is built. The real challenge was fostering social networks for the in-migrating talent from around the region, and the solution carefully threaded retail, education, and entertainment magnets to nurture community. 
Natural and cultural heritage anchor master planning, applicable to both region-wide and micro-community scales. This village nestled into existing palm and mango orchards celebrates existing stone wells and the hydrological heritage of this part of Bangalore, focusing on community-building clusters that uniquely respond to the evolving 21st century family and household. It exemplifies the team's sensitivity to a balance between local custom and increasingly global makeup of urban citizens worldwide. 
As champions of the public good across multiple scales and settings, urban design creates a fabric for social networks that survive over generations.