(6 August 2016, Hong Kong) In celebration of 30 years in the Audio-Visual and Information Technology (AV/IT) industry, Mr. Laurie Chow – Founder and Managing Director of Vega Global – hosted a commemorative celebration at Sheraton Hong Kong Hotel, where over 300 participants, including VIP guests, business partners, clients, Vega overseas branch leaders and Hong Kong staff were in attendance. Most of the participants attired in red and black to match with the corporate colour of Vega.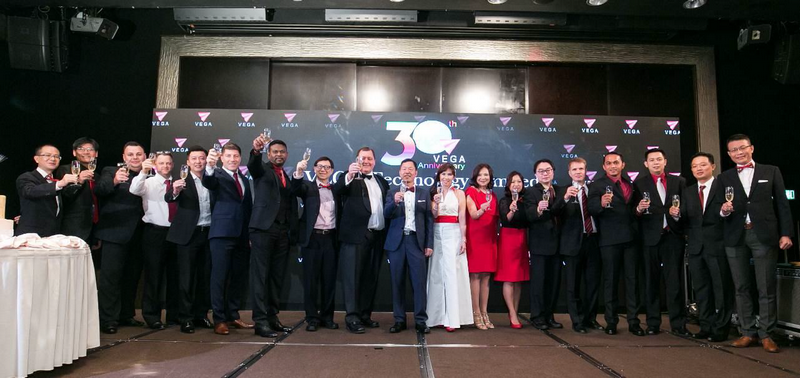 The event was unveiled with a "microfilm" to showcase the autobiography of Mr. Chow and how Vega was born and has grown to be a global company under his leadership. In his opening speech Mr. Chow shared his business visions and mottos contributed to his successes. He also expressed his heartfelt thanks to all business partners and Vega staffs that contributed and helped Vega reach different milestones over the past 3 decades.
Before the dinner started, management team and the heads from all branches were on stage to express the gratitude for all participants. Mr. Matthew Deayton, Global Business Development Director, led the toast in honour of Mr. Chow to celebrate the event and the great successes of Vega. The company also took this opportunity to recognise the significant contributions of 54 particular staff members by presenting the long services award to them.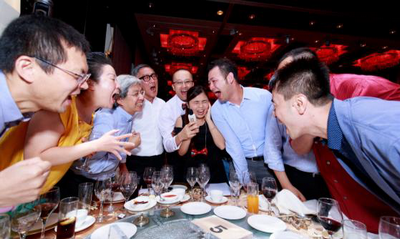 A specially-composed Vega theme song was broadcasted, which brought another climax for the event. Every participant got involved in the event and enjoyed a memorable night. "Vega stands for one of the brightest stars in the sky and can be seen by everybody easily." said by Mr. Chow. "I will let Vega to sparkle continuously and focus on our core business so as to grow together with all group members and partners in future."
Some of our VIP guests have expressed their thanks and appreciation for the evening.
"It was a pleasure and an honour to be a part of the excellent celebrations to commemorate your 30 years of business. A big well done to you and your team and we look forward to many more years of business growth and success with Vega." – Argon Ho, General Manager of Cisco Systems HK Ltd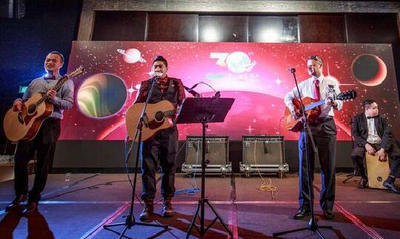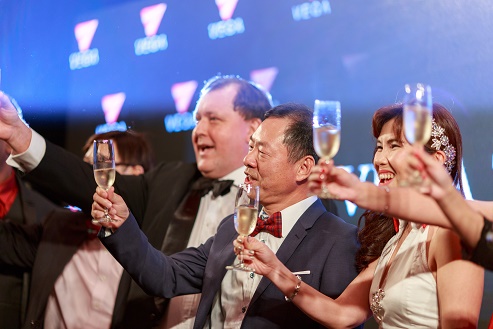 "The autobiography video of Laurie is very inspirational to all the people who are striving for their life career target. 30 years struggle is not an ordinary story. And I was lucky to witness Laurie's success & Vega's growth." – Patrick Tse, Senior Manager of Shun Hing Group
"I was very pleased to attend the grand event last Saturday. Congratulations for this achievement and bringing the Vega wide team together. It gave me the chance to catch up with people I already know and to get to know new ones, was great." – Bruno Villette, Asia Sales Director of Onelan
"It was a well-planned event and I can feel everybody is enjoying it. The short movie clip and the corporate song is really one of a kind which got to show the effort, professionalism and most importantly the pride in the company's success. I must admit that this is one of the best event I have attended and the support from internal and external Vega customers are strong. With the vision Laurie Chow had, the part that was inspirational would be the effort he has put in and shown it by bringing the Audio Visual Industry to the next level and keeping it sustainable in growth as well. To summaries, it is an excellent event and effort from a great company – Vega" – Daniel Poh, Asia Sales Manager of Extron
"It is a very successful event and let us understand better on Vega's growth and a great opportunity to meet up with old friends and meeting new ones." – Adrian Lim, Group Director of Business Development of ihD
About VEGA Global
Founded in 1986, Vega evolved from a local distributor of audiovisual equipment to a total solution provider in pro AV/IT industry with more than 500 professionals working at more than 20 branches in APAC, Europe and USA. Today, we are one of the leading international AV/IT companies and have the full capability to serve the global corporate clients, no matter the size of their projects and the locations. www.vega-global.com
VEGA 30th Anniversary special video: