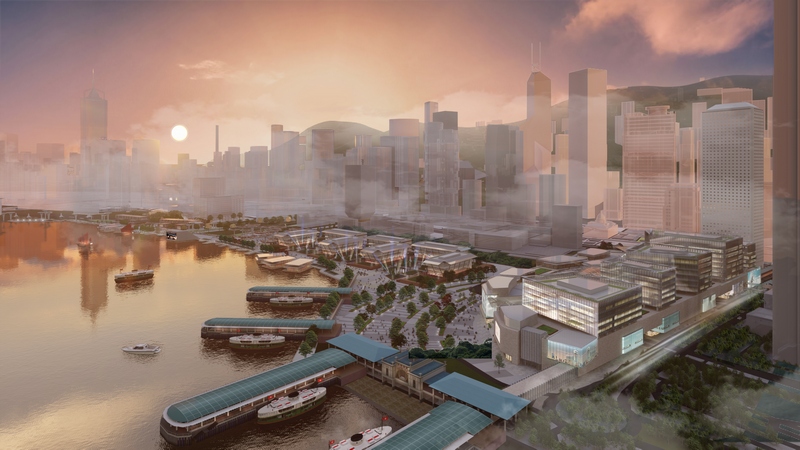 Over the years reclamation of land on Hong Kong's Victoria Harbour has resulted in new potential sites being made available with varied commercial and public realm potential. The current Approved Master Plan of the Hong Kong Central Harbourfront was published by the Hong Kong government in 2011; its focus was on the almost 11 hectares of public harbourside open space, set to form a green and unifying edge to the harbour via a major east-west pedestrian link along the northern shore of Hong Kong Island.
(按此瀏覽中文版)
As we head into 2021, PRC talks to Amarindra Rana, design director at Atkins' Hong Kong design studio, about his vision for what could be possible for future developments at Hong Kong's harbourfront, extending almost two kilometres from Hong Kong Island's ferry piers through to Tamar Park and on to Hong Kong Convention and Exhibition Centre, and why.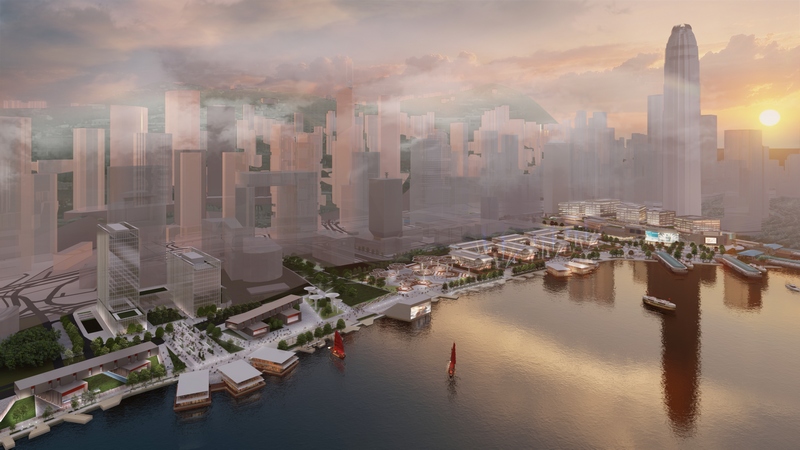 Rana said: "Hong Kong is without doubt one of the world's most famous waterfront cities, thanks to the world-class view along the Victoria Harbour. However, if you look at how some of the other famous waterfront cities capitalise on their assets, such as Sydney or Copenhagen, I think there is an opportunity for Hong Kong to up its game a notch. This is the reason for our visionary project. Our vision is to strike a balance between commercial viability, activation and public use in a bid to create a world-class vibrant, green and accessible harbourfront that is symbolic of Hong Kong and that we can all be proud of."
"For ease of understanding, we have characterised the seven sites detailed in the government's masterplan into three zones or precincts, first around the existing IFC, second around Tamar Park, and third around the Convention Centre. Taken together, these areas represent some of Hong Kong's most valuable pieces of real estate facing Victoria Harbour. Our aim when starting this visioning project was to work within the constraints of the masterplan," he tells PRC. "It is also worth noting that Atkins' multidisciplinary design and engineering team was the lead consultant for Central Reclamation Phase III and the associated roadwork for the Central-Wanchai Bypass. Our integrated design capabilities can ensure the viability of our vision."
Greater connectivity through Site 3
Atkins' vision is heavy on Site 3, as at 157,400 sqm, it is the largest and has the most commercial potential. Citing the existing site condition of the Statue Square Corridor, Rana points to the fact that there is currently only one existing elevated pedestrian bridge connecting to IFC, Jardine House, Exchange Square and the Star Ferry Pier, one of the main and most historical points of commute from Hong Kong Island to greater Hong Kong. He also highlights the potential for façade uplifts with added F&B facilities and publicly accessible rooftop spaces, as well as low-density developments aligned along this corridor and designed to enhance the visual permeability to the harbourfront. The vision includes the creation of a new Ferry Pier plaza that will provide an indoor or shaded connection to Statue Square.
"Our design vision for Site 3 is once again compliant with the master plan in terms of height limitations and overall allowed GFA. We would propose a flexible approach to the balance of retail and office space, as demand for these evolves coming out of the pandemic, and a future developer looking into this site may have alternative business models, which could also be jointly explored. We have also taken into account the road connections at Lung Wo Road and Yiu Sing Road, and made it more connected with potential for drop offs and a public courtyard space, replacing the existing bridge. Where possible we have made connections on ground level as well as elevated pedestrian levels, which connect Statue Square into the plaza and on to the ferry piers."
For Rana, it's a logical and feasible plan, subtle and humble in its approach, whilst respecting its vicinity, the sites surrounding it, the history of the development and what was previously proposed in the approved master plan – a vision of activated waterfront offerings, active ground planes and green courtyards.
"I think it's a really good example of what that space could be about – a big plaza space, connected well for pedestrians – a public domain encapsulated by a commercial entity. It's possible that a commercial entity could maintain and brand it and ensure that the quality of that space is enough to generate monetary value for the developers as well as value to the people of Hong Kong," he adds.
Attractive public realm
Moving east we encounter a space that includes the vast, as-yet unprogrammed Tamar Park, which has sat empty for several years, a potentially great public space which is currently dominated by fast-moving traffic. Lacking the supporting facilities that residents and tourists alike would look for to make it a viable place to visit, the area is set to include the Tamar Central Government Complex, the new Legislative Council Complex and a large public open space referred to as the 'Green Carpet'. For the government, its primary purpose is to create a civic core connecting to the waterfront, to include a diverse mix of public uses set around courts and plazas and shaded public spaces. For Atkins it marks an opportunity to provide an extension to the Civic Corridor, linking Tamar Park and a waterfront cultural plaza that includes a series of canopy structures to create a focal point and space for social gatherings, as well as a distinctive core that connects the waterfront promenade.
"Our vision is to create a new destination to attract people. We see the frontage of the harbourfront being broken down into little pockets of space where people can sit, relax and enjoy the view. It's a very narrow site in front of a road with heavy traffic, so the smaller buildings we have proposed come in the form of rectangular container box buildings. Given their proximity to the Academy of Performing Arts, we want to use this space to promote the arts so they could be used to house art galleries. We have also included F&B pods that could project into the water to provide commercially driven and leasable spaces, along the lines of what you can see in Sydney and Melbourne, and we envision a space for an outdoor cinema and amphitheatre," explains Rana.
Enhanced commercial value
Rana's vision looks at activating the entire waterfront, with pockets of parks and integrated F&B. Site 4 plays a major role in adding F&B as a series of simple low-rise blocks, designed around public courtyards, activated with outdoor performances. It could possibly become another version of Lan Kwai Fong along the harbourfront, and balance commercial enterprises such as retail, SOHO, offices, galleries etc., with the public realm.
Next to Site 4 is Site 5, which offers the second largest GFA after Site 3. Once again, in accordance with the approved master plan and guidelines, it is ideal for a commercially oriented development, including office space, hotel and supporting facilities. For Rana the landscape design facilitates a direct and axial connection from the waterfont promenade to this new development, and to the Citic Centre building and beyond, bridging over Lung Wo Road. The design of the site also ensures that the view of the harbour from the Citic Centre is not obstructed and that connections from the plaza are maintained.
Rana says his primary motivation is to generate a dialogue between the developers, the government, and the public, with the ultimate objective to capture the great opportunity to strengthen the sense of pride and further cement Hong Kong's world-class recognition in many ways.
"I see something that is elegant and serves its purpose. It is not our intention to create a new iconic building, but rather to propose something pleasing to the eye whilst being fully functional in line with the approved master plan. We believe that public space should be for the public and we believe this can be achieved easily by updating the design and redistributing GFA. Our vision is a design that is compliant with all major aspects of the master plan and we could like to restart the dialogue between developers, architects, designers and the public to bring the concept to reality. Once we can do that, everybody wins," he concludes.
Design team: Amarindra Rana, Katherine Zhang, Aaron Wang, Alvin Zhuang, Rowell Campos, Maulik Bansal, Debarati Basu, Karin Lam. Renders: Strawberry Wong.