(9 February 2017, Hong Kong)The world's most dynamic cities in JLL's (NYSE:JLL) fourth annual City Momentum Index (CMI) share the ability to embrace technological change, absorb rapid population growth and strengthen global connectivity.  According to the report, this year, five mainland Chinese cities made it in the top 30, with Shanghai ranking fourth place. Asian cities make up half of the top 10, with Bangalore grabbing the top spot for the first time—the spot previously held by London in the last two years.
Covering 134 major business hubs across the globe, the annual index tracks the rate of change of a city's economy and commercial real estate market and identifies which cities have the most dynamic conditions.
Five Chinese cities from China are—Shanghai (4), Beijing (15) , Shenzhen (22), Hangzhou (26) and Nanjing (29)—made it in the top 30, even as the Chinese national economy shows signs of slowing.
Infrastructure investment has been key to Shanghai's recent momentum, and the Shanghai metro plans to add another 250 kilometres of track and nine additional lines by 2025 to relieve congestion around the city, while also leveraging and integrating the strengths of the wider Yangtze River Delta region in order to create a globally-competitive city-region.Continuing deregulation of the financial sector is already having an impact, with more commercial banks setting up offices in the city, while the Shanghai stock exchange is now linked to the Hong Kong exchange (Shanghai-Hong Kong Stock Connect). Shanghai is also leading the way for reform of state-owned enterprises (SOEs). Many Chinese SOEs are held at the city or province level, and the city has encouraged consolidation and reorganisation of SOEs.
Joe Zhou, Head of Research for JLL China, said: "Shanghai has strong ambitions to continue its growth and explicitly aims to become a global centre for both financial services and technological innovation. For now, Shanghai real estate market remains one of the world's most dynamic market, with strong demand being driven by the growth of domestic Chinese firms. "
Hangzhou features among the Global Top 30 cities for two of the index's three sub-categories, ranking 22nd for real estate momentum and 19th for socio-economic momentum. In many ways, Hangzhou's growth story is symbolic of China's ongoing transition from a manufacturing centre to a technology and service-based economy.
There are a number of key drivers of Hangzhou's dynamism:
The strength of Hangzhou's services sector as China transitions to its 'new normal'. This is driving strong demand for office space, and adding momentum to the city's real estate market;
Hangzhou's rise as a growing technology hub, catalyzed by the emergence and international expansion of Alibaba;
The hosting of the G20 Summit in 2016 brought global visibility to the city, alongside new investment and infrastructure improvements;
Its existing role as a tourism and leisure hub, and its increasing focus towards the MICE (meetings, incentives, conventions and exhibitions) sector;
Increasing connectivity within Hangzhou, as well as the growing connections with the broader Yangtze River Delta mega-city region.
"Hangzhou is now a budding innovation hub, with strong government support and local start-ups occupying more than 500,000 square meters of space.Hangzhou office completions and net absorptions are among the highest in the world. Hangzhou benefits from a thriving services sector, a strong tourist industry and a growing tech scene, as well as its strategic location within the dynamic Yangtze River Delta region. " said Joe Zhou.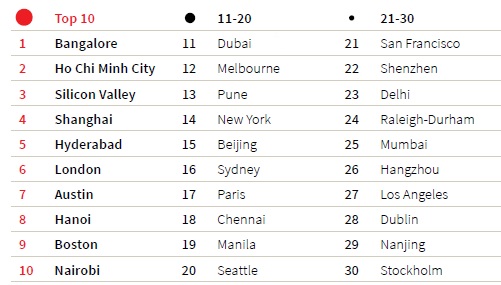 "Our research shows that the Asia Pacific region is home to more than half of the globe's 30 most dynamic cities and real estate markets, highlighting the rise of commercial cities such as Bangalore and Ho Chi Minh City as major hubs of commerce," says Dr. Megan Walters, Head of Research, Asia Pacific at JLL. "Technology is becoming a major driver of momentum, with several Asian cities providing fertile environments for innovation and successfully integrating into global networks."
To learn more about JLL's CMI, please visit JLL's Cities Research Centre.