Alter is a concept store in Shanghai, an alternative fashion store, designed by Francesco Gatti of Italian design house 3GATTI. 
Owner Sonja Long, a Shanghai native, sought to open a boutique to represent European designers as yet unknown in the Orient and sought to do this in Shanghai's trendiest district, the fashionable Xin Tian Di. Whilst many areas of Shanghai developed into congested, high-density districts, in the 1990's those responsible for Xin Tian Di's development set out guidelines to reconstruct the quarter as it was in the 19th century, as a network of narrow alleys lined with shikumen, two- or three-storey houses influenced by the Western culture of the day.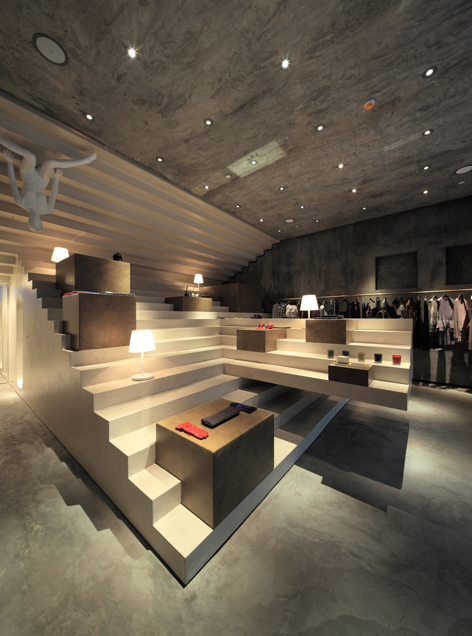 The old residential make-up of the area has given way to an upmarket, design oriented destination full of luxury boutiques and eateries. 
Alter is located in a new building, Xintiandi Style Mall on Madang Road. With an internal area of just 100 square metres, available space is limited. The owner sought to maximise the space available in order to display a diverse range of designer items from household goods to fashion and accessories.
Yet her vision was not of the main stream. Hers was a vision about inverted values, alternative beauties and subverted point of views. 
The philosophy of Alter, as the word implies, is to be and inspire an alternative world, so as a designer Gatti imagined an alternative architectural space like the ones in the drawings of Escher, where gravity and the rules of the normal world doesn't exist, where there is no "up" or "down", no "left" or "right", and where everything seems possible.  
To achieve this reality, Gatti created a stepped space, a series of elements that cascade down from the ceiling along the walls, creating a continuous space which runs from display units to the street-front window. The furnishings are not an element in their own right, but shape the space as a whole, creating a visual continuity in which the architect has included alcoves for the seating and fitting rooms.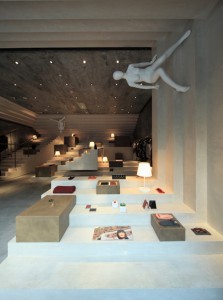 "The space was small but needed a lot of functions and rooms, so it was a natural gesture to develop a staired surface to cover the office and fitting rooms and at the same time exhibit the products in a multidimensional way, states Gatti. "The design was fast and spontaneous, as usual I designed like a child, without inhibitions."  
To reinforce the juxtaposition of the seemingly non-related elements and to remove any sense of an interior made up of individual sequences, the designer brought in a series of mannequins, variously positioned around the store –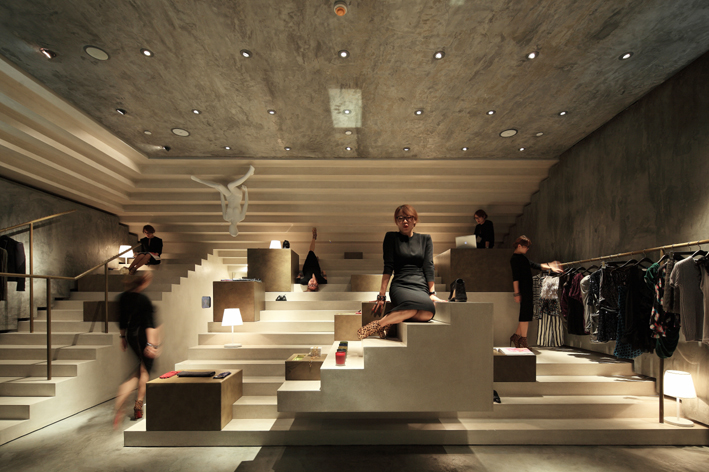 unclothed, turned on their heads and attached to the walls and ceilings. The mannequins' legs are bent to fit the stepped sequence, creating a vaguely oriental feel, with hints of typical Oriental posture. 
Owner Long says that despite its appearance, Shanghai is a very conservative city and many people are not ready to accept new ideas, especially new ideas for business. Yet she feels it is her Shanghai heritage that also made her crazy enough to want to offer a her customers a completely new model of how a high-end fashion store could be, a model that is completely alternative to that presented by the major global brands now so readily accepted by the modern rich Chinese shopper. Fortunately for Long, her alternative outlook was shared by the equally non-conformist views of talented Rome-based designer Gatti. 
For more information, please visit www.3gatti.com