Located in the heart of the city's premier shopping district, Causeway Bay, Hong Kong's highly anticipated new urban retail destination, Hysan Place, is officially open for business. Benoy Interior Architects and Designers Director, Chris Lohan, provides insights into the elements that set this new, uber-modern headquarters of personal indulgence apart.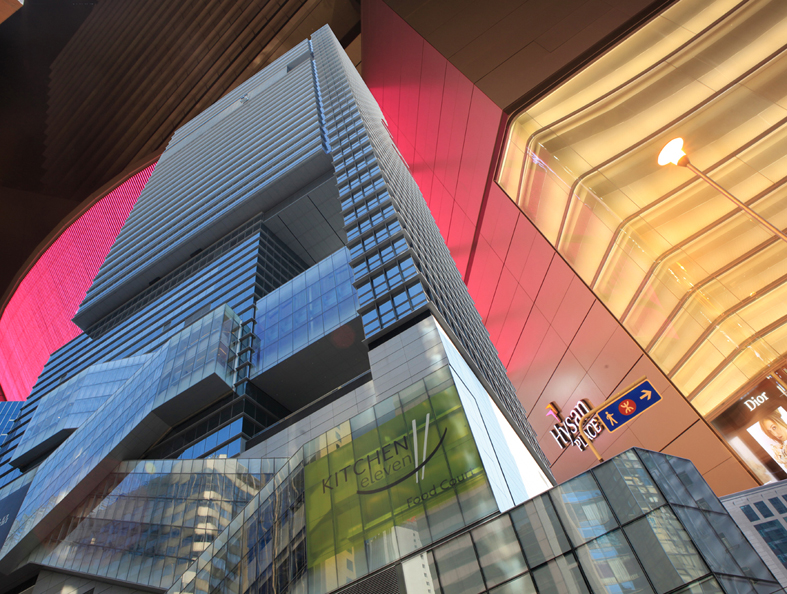 The new Hysan Place development includes 42,000 square metres of retail space occupying 17 levels. In keeping with its concept as "The Place for all things Stylish", the interior has been crafted to create a sinuous, contemporary environment through the use of a subtle, fresh, monochromatic palette complementing bold, organic, geometric architectural lines that create stunning sculptural forms that also celebrate the centre's theme as "feminine, neutral, young and fun."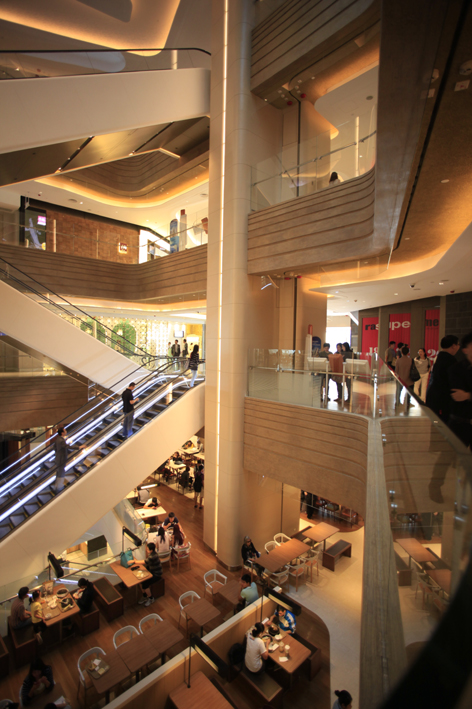 "The vertical retail style was actually inherited with the building form and its seventeen levels of shopping," explains Benoy Director, Chris Lohan. "This type of super-vertical retail arrangement is one of the most challenging to plan and we engaged many times with the client specifically to discuss ways in which it should be approached." 
Express transportation for customers 
One major new element that Benoy decided to implement as key to the overall success of the mall was the introduction of the express escalator system facing out onto Hennessy Road. 
"This system allows shoppers to travel upwards quickly by skipping past intermediary floors," states Lohan. "This feature was not part of the tower architect, KPF's, original design, so it was an especially complex and technical challenge to incorporate this massive structure into the design of the building façade so late in the design phase." 
"It allows for the rapid transportation of customers from lower to upper levels and also serves to provide a number of optional routes up through the building, thereby enhancing customers perception that they are experiencing something new each time they visit the mall." 
Other modes of customer transportation within the mall include the secondary escalator banks on the south side and arranged more traditionally they allow for vertical transportation floor by floor. 
"This secondary bank of escalators provides the shopper with a more intimate route to the upper levels," says Lohan. "There are the double deck lifts serving the upper floor dining levels, which allow for rapid transfer between lower and upper levels. All these differing modes of vertical transportation combine to reinforce the notion of explorative shopping, which we felt was essential to the successful dynamic of the mall." 
Artistic inspiration results in "fun" experience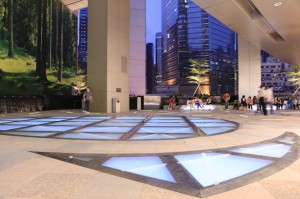 Continuing, Lohan also provides some insights into the inspirational use of abstract art forms within the shopping mall. 
"When we were presented with the challenge of a very vertical mall with a total of 17 levels with very small floor plates, we latched onto a number of themes to group different zones, some driven by the client's desires and some specifically created by us. We then distilled from those themes four key words represented by the descriptions Neutral, Feminine, Young and Fun. 
We also decided that "fun" could be represented as a series of surprises that reveal themselves in unlikely places in the journey upwards through Hysan Place. Even in private spaces, such as bathroom facilities, you are confronted with imagery with an essence of street art revealing itself in a light hearted playful way. Street art seemed the perfect platform for this particular application.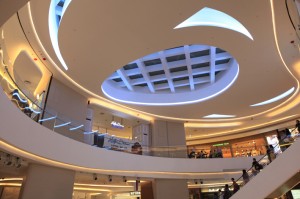 Other graphic representations reveal themselves and then disappear as you move through the space, such as pixelated images at the lift car lobbies and the forced perspective imagery at the express escalators.
The many thousands of mirrored panels in the express escalator reveal a reflected, somewhat abstract view of the external city streets, which takes on different characteristics during the day and at night. Other graphic artworks inside the lifts and in the waiting spaces around lifts are applied in an abstract way to reinforce the notion of "discovery style shopping". 
LEED pre-certification and sustainablility 
Lohan explains that Hysan Place is also a LEED Platinum pre-certified building in line with the client's wish to adopt a sustainable ethic within the complex.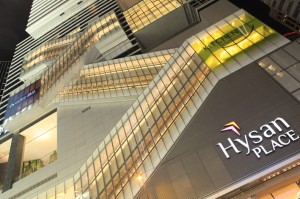 "We knew that the client was very keen to make this Hong Kong's first LEED Platinum pre-certified development," explains Lohan. "Because of this we took great care to source materials of a sustainable nature and believe that all our solutions should respect a realistic approach to sustainability we were delighted to embrace the clients shared visions for this. Where possible we selected materials that were manufactured within a 500-kilometre radius of the site and/or selected from sustainable sources." 
Benoy is particularly proud of the timber floors which were sourced from reclaimed teak stocks taken from buildings which had themselves fallen into decay. As these timbers are more than two hundred years old, they have stored historical value, are perfectly stable for construction purposes, and have a beautiful natural patina instilling an added level of character to the spaces". 
Key spaces promote journey of discovery 
There are a number of key spaces within Hysan Place that were specifically designed to provide something new for customers each time they visit the mall.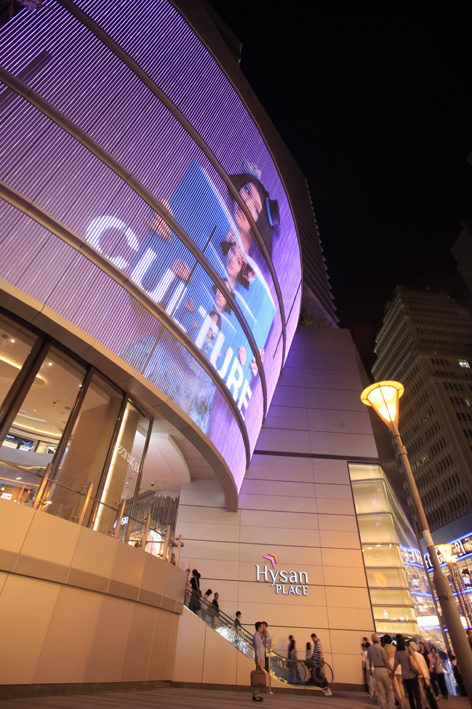 "Starting with the Level One events space connected to Kai Chui and Hennessy Road, it was very important for us to express an interesting geometry which would attract people from the street," explains Lohan.
"We expressed a feminine curve to the void edges which allowed us to play with light, shadow and contrast against the neutral white backdrop. The resulting effect is quite dramatic, as it draws shoppers into the crucible of the shopping centre and immediately removes them from the outside traffic and pedestrian chaos of Causeway Bay district." 
In addition, Benoy developed a segmented skylight at Level Four, which peels away at the edges allowing soft light to penetrate right down to the very heart of the Level One space, enhancing the serenity and drama of the experience.
Columns are unavoidable in buildings and the case of Hysan Place there were a number of them penetrating this sensitive space, so Benoy capitalised on these so that they would collaborate with their surroundings and draw the eye upwards into the space by softening their mass and introducing light into a gently curving shell. 
The Level Eleven to Fifteen atrium benefits from a different design approach, drawing on a warm timber theme, which is richer in pallet and more conducive to the food court and restaurants operations and activity. 
"The space is slightly more compact, but benefits from the skylight that we introduced at Level sixteen," says Lohan. "This funnels lights through a deep spandrel into the volume of the fine dining floors and food court below and on sunny days allows sunlight to stream into the space with dramatic effect." 
A richly creative and inspiring space, Hysan Place introduces a new dimension to the traditional shopping experience, taking the customer to new heights of "fun" and "discovery" as they indulge in all that this exciting new shopping and dining destination has to offer.