(18 April 2016, Hong Kong) - Business Environment Council Limited 商界環保協會有限公司 ("BEC") held its Annual General Meeting on 15 April 2016 and announced the election of its Board of Directors for the new term from 2016 to 2018 . Mr Richard Lancaster was elected as the Chairman.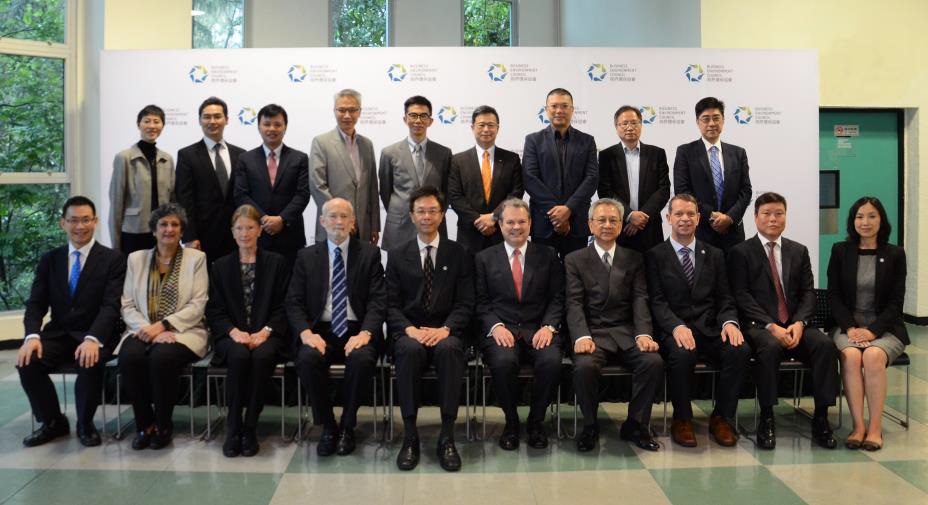 First row (from left) Mr Wilson Kwong, Ms Malini Thadani, Mrs Margaret Brooke, Mr Tony Miller, Prof John Chai, Mr Richard Lancaster, Hon Frankie Yick, Mr Anthony Small, Mr Eric Chong, Mrs Christine Cheung Second row (from left)
Members of BEC Board of Directors for 2016 to 2018 are listed as below:
Chairman
Mr Richard Lancaster, CLP Power Hong Kong Limited
Board Directors (listed in alphabetical order of companies' names)
Mr Wilson Fung, Airport Authority Hong Kong
Mr Chris Chan, Dow Chemical Pacific Limited
Prof Daniel Cheng, Dunwell Enviro-Tech (Holdings) Limited
Prof John Chai, Fook Tin Technologies Limited
Mr Anthony Small, Gammon Construction Limited
Mr Randy Yu, Henderson Land Development Company Limited
Mr Victor Kwong, The Hong Kong and China Gas Company Limited
Ms Malini Thadani, The Hongkong and Shanghai Banking Corporation Limited
Mr T C Yee, Hongkong Electric Company Limited
Dr Eric Su, Hongkong International Terminals Limited
Mr Andy Yeung, Hongkong Land Limited
Mr Wilson Kwong, Jardine Matheson Group
Mrs Margaret Brooke, Professional Property Services Limited
Ms Joanna Chow, Shell Hong Kong Limited
Mr Eric Chong, Siemens Limited
Mr Tony Miller, Sun Hung Kai Properties Limited
Dr Mark Watson, Swire Pacific Limited
Dr Raymond Yau, Swire Properties Limited
Hon Frankie Yick, Wheelock and Company Limited
BEC Chairman Mr Richard Lancaster said, "It is my honour to be elected as the Chairman. I have witnessed many innovative initiatives by BEC since I joined as a Board Director in 2012. I look forward to working even closer with the Board and BEC team in furthering BEC's vision of promoting environmental sustainability to support the transition to a low carbon economy."
"On behalf of the Board, I would like to thank all the Board Directors for their invaluable advice and support during the past years, as well as welcoming new Board Directors joining us. We also thank our immediate past Chairman Prof John Chai for his contributions and visionary leadership in steering BEC's work since he was elected as the Chairman in 2009," Mr Lancaster added.